TAKE A BATH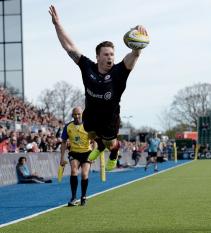 By INNINGS
March 27 2017
On my way home this evening, two thoughts rather intruded as I wondered how to approach this match report:- As Wayne Barnes was recently criticised for letting a match run 20 minutes over the 80, into 100 minutes, should he have averaged out his season by stopping this one after 60, to save Bath from further punishment, as we used to say in amateur boxing?
Do I really want to spend over 10% of match time waiting for Owen Farrell to take another kick at goal?
And then, as I started writing, a third wayward thought came to mind:
Does the RFU code of standards to prevent bullying cover the way in which Maro Itoje terrorised the entire Bath team (well, not really a team but 15 players) for the final quarter of today's game?
Having got those thoughts out of the way, on with the report.
When the team sheets went up I think that few, whether Bath or Sarries supporters, really expected Bath to win. Whatever happened at the last meeting, at the Rec, no team led by Brad and including Owen and Maro is ever going to roll over gently and ask for its tummy to be rubbed. Indeed, I expected a grim struggle for dominance in the packs, with that shaded comfortably to Sarries' benefit, which would in part be countered by a very potent Bath back division.
Allianz Park was looking perfect, and the weather was kind to the spectators in the north stand, temporarily roofless in anticipation of Glasgow's forthcoming visit. The sun shone, and not so low in the sky as interfere with the view from the east stand or for the players. There was an unusual wind, turning the indicator on top of the post at the south end all over the place, in speed and direction.
When Bath come out for the first half, it was clear that they were unhappy at starting with the wind behind their backs. Several seemed to want to stray southward. However, Sarries had obviously won the toss, and as always when they do, they elected to play into the wind to begin with. They like to know what they will have to do in the second half, with the wind advantage. Around me, the knowing ones, and Waldo, seemed to think that we needed to limit Bath to a 10 point lead at half time, giving the weather advantage and our finishers, as we now have to call them, time to reel in Bath after the break.
The first half began with much of interest. Within 11 minutes, Francois Louw, the outstanding player in Bath colours and the only one whose performance today made me think I'd like to see him as a Sarrie, had made two excellent turnovers, but also made two unnecessary errors. With the errors more important than the turnovers, Sarries were able to set up a drive from a penalty after four minutes and put Jamie George over for the first score. Eight minutes later, a combination move involving Goode, Wiggy, Ashton twice and finally Goode again delivered one of the season's outstanding tries, to set us thinking of a good afternoon ahead. Austin Healey correctly called it 'one of the great tries' and another commentator's 'boring, boring Sarries' was an apt ironic comment even at this early stage.
From 12 to 17 minutes Bath pressed hard, but their afternoon was perhaps established when 21 phases on the Sarries line fizzled out with a knock on, forced by Sarries' relentless defensive pressure. However, the try did arrive for Bath, if I'm honest, helped by Sarries' defensive failures. Watson sliced through the Sarries' defence to score and Ford converted.
After 25 minutes the score was 12-10, and Bath really needed to see a lead from their advantage of playing with the wind. However, what they did not need was a 40th minute try in a phone-box from Maitland, when he managed with an inch to spare to pick up over the try line and dot down. Going in 17-10 down cannot have raised Bath spirits.
The first 19 minutes of the second half saw much effort, what the late Field Marshal Haig called the 'wearing-out phase'. It brought the small return of a Farrell penalty, but no sign of the BP try. So, at 59 minutes, Sarries led by 20-10, scarcely a reward for the play so far, and perhaps Bath had some hope of salvaging more than an LBP at this stage. But the wearing out had achieved its aim, and in the space of 17 minutes, (59 to 76) Sarries scored 33 unanswered points, including five more tries.
(Ed update – the first of these and the bonus point try, followed a Sarries' line out which Ash had conjured up when throwing the ball at his tackler as he was pushed into touch and was an inevitability once the rolling maul was set and Brits came up with the ball. The second came from a superb Wiggy break and was scored by Captain Fantastic Brad Barritt (it seemed the extra attention paid to Itoje and the Vunipolas allowed Brad considerably more freedom and several excellent runs which eventually saw him win man of the match.) One also wonders whether Mr Barnes should have had another look at the suspiciously illegal challenge on Barritt in the moment of scoring which saw him leave the field a few minutes later. The sixth try was a typical Ashton special capped off by his signature swallow dive. Love it or hate it, it's been too long since we saw it. The seventh try saw Billy barge his way over – by now Bath appeared to have given up and just wanted to go home. The final try was Ash's second:- Taylor intercepted a wayward Bath pass and Ash popped up where he had no right to be and scored again with an even better swallow dive.)
We played out four minutes before Mr Barnes called off the punishment, and Sarries could walk off, thoroughly satisfied with the result, with an emphatic statement to all pretenders to their titles as home and European champions. The coaches could also look forward to working on some obvious weaknesses in the performance, not least the abnormally high number of turnovers.
There were many sub-plots played out here. Seats on planes are at stake, and several head-to-head encounters could be expected to have a bearing on who travels on which plane. For me, Warren Gatland will be inking in four names on tickets, Farrell, Itoje and the Vunipolae. Ford's chances of New Zealand seemed to be vanishing by the minute, as his game management went totally absent at times, his line kicking went from hit and miss to plain miss, and his defensive role saw him reduced to being a modest speed bump hoping to slow down the traffic until someone who knows how to tackle can arrive to save face. Faletau and Charteris for Bath are unfortunate. Charteris is not likely to take a seat in the most hotly competitive area of the plane, and Faletau could achieve only intermittently against the power and pace of the Sarries defence. Jamie George did his chances no harm, and it is a mystery to me why Eddie Jones cannot see what Chris Ashton and Alex Goode (Welcome back to him) bring to the party. Maitland may be in with a shout on the wing, and I'd want Wiggy for his immaculate kicking game ahead of some other contenders.
At the end of a weekend of unusually one-sided games almost everywhere, I looked at three statistics from this game:
Carries – Sarries 142, Bath 83
Tackles – Sarries 75, Bath 152
Carries over the gain line from the starting set-piece – Sarries 84, Bath 20
Todd Blackadder says he is a bit disappointed by the Bath performance. I'd like to know what performance would make him very disappointed; this truly was as one-sided as a count of eight tries to one suggests.
What does this all mean in the context of the season? Sarries are one point behind Exeter and the Chiefs know that they cannot afford the slightest slip if they are to secure a home premiership play-off spot. Glasgow will arrive next weekend primed for one of the biggest games in their history, knowing that Sarries are firing on almost all cylinders with almost a full squad available for selection. Sarries, meanwhile know that they are entering the business end with the blocks all in place and the orchestra all in tune. Not one side will fancy a game against Sarries at the moment.
SARACENS
Goode, Ashton, Bosch (Taylor), Barritt (Lozowski), Maitland, Farrell, Wigglesworth (Taylor), M Vunipola (Lamositele), George (Brits), Figallo (Koch), Itoje, Hamilton (Conlon), Rhodes, Wray (Brown), Vunipola
BATH
Watson, Rokodoguni, Joseph, Taapaui, Banahan, Ford (Hastings), Fotuali'I (Cook), Catt (Obano) Batty (Brooker), Lahiff (Palma-Newport), Ewels, Charteris (Stooke), Ellis, Louw (Grant), Faletau
SCORERS
Saracens: Tries (8) George, Goode, Maitland, Brits, Barritt, Ashton (2), Vunipola; Conv: Farrell (5), Pen: Farrell
Bath: Try: Watson, Conv: Ford; Pen: Ford.
Att: 10,000
Referee: Wayne Barnes (RFU)