ALL RHODES LEAD TO WEMBLEY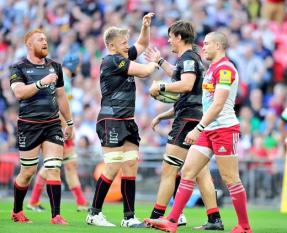 By Darraghgirl
April 9 2017
According to Saracens official website, the team play at Wembley: "because it's a good day for the fans and it's a great place to play". I can't speak for the latter but I didn't come across any Sarries fans who wouldn't rather have been at Allianz today, especially after the atmosphere of last week. It may have been our home game but Quins are far more used to playing on grass these days!
Still 71,324 can't be wrong – except when you take out Rock Choir and their hangers on, the little "Dancers with Louisa" and their admirers and the "larger" ladies' dance troup (I can say that cos I'm a girl!) and their supporters plus the freebies to the Emergency Services (all very noble) and the dirt cheap tickets to anyone who wanted them (the guy in Asics told me there were loads of tickets going for £8) what have you got left? Added to that there was the hassle of getting to Wembley (which genius managed to put on a big game at Wembley, a big game at Twickenham AND a home game for Barnet v Luton – which gummed up the parking at Stanmore and Cannons Park – all on the same Saturday?); there was indifferent beer at nearly £6.00 pint (cards only madam, sorry) and the usual unenticing assortment of suspiciously enterocoli-containing eateries. Still I did get some new running shoes at the Outlet Centre and we managed to put one over the gate man by taking the top off our water bottles before entry "good girls you know the drill". (No we're not stupid, we've put the tops in our pockets!)
And so to the game. Both Owen and Maro were on the starting list (so we know they will have to miss Saints next week). Koch replaced the injured Figallo, Duncan Taylor gave Bosch the week off (and how nice that he came through a whole game unscathed). After his cameo last week, Brits was the starting hooker ahead of Jamie George and perhaps surprisingly Spencer started ahead of Wiggy having just recovered from a few weeks off with injuries and paternity leave.
Early exchanges were scrappy and the breakdown was looking dodgy. It was too much to hope that the team could continue on that stratospheric level of the last couple of weeks. Quins suffered an early blow when Jack Clifford collided with Brad Barritt and limped off after 4 minutes for a HIA which became permanent. A rather late tackle by Collier on Brits earned Sarries a penalty only for this to be reversed following handbags for which Billy was deemed culpable. Quins won a second kickable penalty and Nick Evans made no mistake and put his team into an early lead. Finally Sarries got a bit of play in the Quins 22 although they wasted the opportunity by allowing a promising scrum to be disrupted. From the resulting lineout, however, Alex Goode grubbered the ball through for Ashy to chase. He stripped Mike Brown all ends up, allowed him to fumble the ball and then touched down for the opening try. Faz kicked a lovely touchline conversion and Sarries took a 7-3 lead.
From the restart, Vincent Koch made a brilliant steal and set off for the try line with the ball under his arm only to drop the ball – a "Koch-up" exactly the same as last week. He really does need some glue on those hands. There followed some promising play by Sarries with a lot of pressure on the Quins line but their defence held firm and eventually Quins forced a turnover. With the ball back in the Sarries' half, Ashton kicked a gem of a ball cross field, deep into Quins territory. Yarde was forced to turn and with Maitland steaming up on his shoulder Yarde had no option but to kick the ball into touch. Sadly at this point Big Jim left the field clutching his back. To quote him from The Rugby Pod Pod Pod, "the Well was well and truly dry". He got a big cheer from the Sarries supporters (to the bemusement of everyone else), and was replaced by Joel Conlon with Mike Rhodes moving back to his "favourite" position at lock. Brits took the line out and eventually the maul was set and trundled over the try line with the help of Duncan Taylor. Mr Tempest went to the TMO and the try was awarded to Brits who seemed to get clobbered in the act of scoring. Faz again converted for a 14-3 lead.
From the restart Brits, possibly still a bit groggy from the challenge, knocked the ball into touch giving Quins an attacking line out. Sarries were definitely not reading referee Mr Tempest very well and several penalties followed in quick succession 2 of which were kickable and Evans converted to keep Quins within touching distance at 14-9.
Conlon, who looked lively from the moment he came on, made a super break, found Goode inside him who passed the ball out to Ashy on the wing, not a great pass but one he will have been disappointed to fumble with the try-line beckoning. The try-scoring machine is human afterall! Sarries managed a lovely passage of play with the quick hands which has become a hallmark of their game of late – this time it was Maitland who couldn't quite hold on to another tricky pass from Goode. Fortunately Sarries had a penalty advantage which Owen kicked once again. Barritt was seen to be having a heart-to-heart with Mr Tempest so hopefully things would get sorted out. From the restart Brits made amends for his earlier error with a superb steal which put Sarries back on the front foot. Rhodes was prominent in a move which almost put Ashton through again but the pass from Goode was marginally forward. Quins ended the half with an excellent 3 minutes pounding the Sarries' try line helped by an uncharacteristic fumble of the high ball by Goode, but there was no breach and eventually Sarries turned the ball over and Conlon kicked it out for half time. On another day the try bonus would already have been in the bag.
Most of the crowd, apart from the supporters of Louisa and her Dancing Girls, and Rock Choir, disappeared inside to watch One for Arthur gallop home in the National while others peered anxiously at their phones to see if Bristol could pull off the impossible down at Sandy Park (only for Exeter to score the winning try in the final play). To be fair, the acoustics at Wembley did no favours to Louisa or anyone else for that matter. It was almost impossible to hear the stadium announcer.
Sarries started the second half with another Farrell penalty which made it 20-9. Mako limped off soon after with a sore knee – a tad worrying (although later Mark McCall said it was just "precautionary"). Quins exerted another period of pressure although the play was moving slowly backwards but eventually Itoje conceded another penalty and Evans reduced the deficit to 20-12. Almost at once more indiscipline gave Quins another penalty and allowed them to clear their lines. Wiggy joined the fray and both sides engaged in a period of aerial ping pong. Wiggy then uncharacteristically mishit a clearance giving Quins an attacking lineout. Brits was replaced by Jamie George whose first effort was to chase a turnover ball the length of the pitch and give Mike Brown the fright of his life as Jamie's not inconsiderable frame made a beeline straight for him.
With 20 minutes left the dreaded Mexican Wave began. It seemed to originate from the corner which held Louisa's Dancers so maybe not surprising but it is one of the most irritating things about Wembley, or indeed the Double Header. The game was interesting if not riveting and the whole thing was irritating to anyone who came to watch the rugby and frankly disrespectful to the players.
Petrus replaced Koch (wow some hair!!) and Sarries won a penalty when Marler failed to compose himself (sorry!). Owen justified the decision to go for the points landing a tricky kick for 23-12 and finally a bit of a cushion. Quins set Yarde free down the left wing but the combined tackles of Ashton, Taylor and Goode defused the situation. More Quins pressure but finally the ball was cleared with another Jamie George kick special! Visser and Matthews seemed to clash heads in the air and both were prone in their own 22 requiring 2 stretchers to be brought on but in the end neither was needed although Visser left the field to be replaced by Alofa Alofa (so good they named him twice!). Tompkins replaced Ashton with Taylor moving on to the wing and Marler departed to be replaced by Lambert.
Tompkins immediately made his presence felt with a lovely tackle on Mike Brown which dislodged the ball. Barritt was clobbered with a high tackle by Sinckler. Faz kicked the penalty with his longest kick of the season to make it 26-12. Into the final 10 minutes and although the win looked safe, the bonus point was still some way off.
Yarde again looked dangerous and put Brown into space wide on the right. Maitland's tackle was marginally late and Mr Tempest asked the TMO to look at a possible trip but common sense prevailed. Barritt left the field dripping blood after a collision (a few more stitches to add to the 1,000 he has already had) to be replaced by Lozowski and another reshuffle in the backs. Sarries stole 60m with a quick drop out and Maro stole the line out and Goode found Rhodes who was now on the left wing. With a surprising turn of speed he sold Yarde the dummy and broke through the Quins' defence over the try line and had the presence of mind to run in field and ground the ball close to the posts to give Faz an easier conversion. 33-12.
Sarries thought they had stolen the restart but Mr Tempest felt otherwise and awarded Quins another penalty. (Given the penalty count against the Men in Black, perhaps we were fortunate to keep 15 on the pitch). Maitland was replaced by Flanagan (much to just about everyone's surprise, not least Maitland's) leaving Sarries with no width at all. Swiel, who had replaced Evans, kicked to the corner and Quins drove over from the lineout with James Horwill touching down and Swiel converting for 33-19.
3 minutes left and it was looking like another 3-try day, particularly now the team was lacking in width and wingers. The one positive was that Quins were looking weary. Wray did an excellent impression of Ashy and was forced into touch 5m out but Jamie Roberts. With 2 minutes left, Sarries had a penalty advantage, Farrell and Rhodes combined to put Goodey over for the bonus point try. Farrell completed a full house for all the kickers by adding the extras and the final whistle went with the score at 40-19.
So to a bit of Lion's watching. Goodey had a real curate's-egg of a day with some excellent touches and a try but he unusually dropped a high ball. Brown was his usual 1-dimensional self and Ashy clearly out paced him. Ashton continued his excellent try scoring form and put in a couple of good tackles but would have been disappointed with the "one that got away". Maro was his usual amazing self although his tendency to give away too many penalties is getting a bit worrying. Billy was on fire, maybe running a bit too hot! Wiggy showed his class when he came on for Spencer (although to be fair, Spenno hasn't played for a month so must have been rusty) and was the best scrum half on show today. Jackson Wray was phenomenal again – surely he must go to Argentina? Jamie George looked dangerous from the minute he took the field. Farrell was his usual imperious self and didn't ever look like missing a kick. More than anyone, we will miss him next week.
It was great to see Duncan Taylor complete a whole match and he was given Man of the Match by BT Sport however for most of us that accolade went to Mike Rhodes who showed his versatility again in the back row, at lock and finally on the wing! What a shrewd acquisition he was!
So victory today assures us of a semi-final place for the 8th successive season. Realistically Wasps are favourites to finish first (although Sarries' visit to Coventry on 6th May could yet alter things). Sarries need to keep the pressure on Exeter with good wins against Saints and Bristol. Exeter also have 2 of their final 3 games away from home – at Quins and Gloucester – with a home game to Saints in between. You would expect them to maintain their 1 point advantage but stranger things have happened! Anyway as someone near me said "We've won it from 1st, we've won it from 2nd and we've won it from 4th so this year we'll win it from 3rd!"
SARACENS
Goode, Ashton (Tompkins), Taylor, Barritt (Lozowski), Maitland (Flanagan), Farrell, Spencer (Wigglesworth), M Vunipola (Lamositele), Brits (George), Koch (Du Plessis), Itoje, Hamilton (Conlon), Rhodes, Wray, B Vunipola
HARLEQUINS
Brown, Yarde, Marchant, Roberts, Visser (Alofa), Evans (Swiel), Care (Mulchrone), Marler (Lambert), Buchanan (Gray), Collier (Sinckler), Merrick (Matthews), Horwill, Robshaw, Clifford (Ward) Luamanu
SCORERS
Saracens
Tries (4): Ashton, Brits, Rhodes, Goode; Conv (4) Farrell; Pens (4) Farrell
Harlequins
Try: Horwill; Conv: Swiel; Pen (4) Evans
Attendance 71,324
Referee: Ian Tempest (RFU)