SHOULD AULD ACQUAINTANCE BE FORGOT?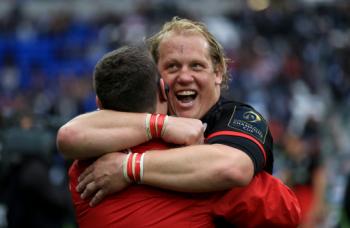 By Darraghgirl
April 29 2017
Harlequins' defeat of Wasps put a rather different spin on Kelly & Neil's leaving party because all of a sudden the result mattered. Things were back in our own hands. A win today and another next Saturday would give us a home semi-final. Unfortunately someone forgot to cancel the clown!
Bristol, our invited guests, were saying their own goodbyes to the Premiership. They were also intent on being party poopers! The team was selected before the Quins result and featured Kelly & Neil in starring roles along with Brits making his 200th appearance, Ashy playing (probably) his last home game and 2 other (rumoured) departees: Petrus & Big Jim on the bench. Quite a few of the regulars had the week off (maybe they were still in Barcelona – for the first half at least I think most of the team were still in Barcelona!) On paper it looked quite experimental: Loz and Tompkins in the centres looked pacey on paper but was it solid enough on the field?
Much emotion at the start as first Kelly then Neil plus sprogs came onto the pitch to a standing ovation. Then came Brits, also plus kiddies, for his 200th cap. Then came Faz, captain for the day (no kids) but celebrating his 150th cap. And finally everyone else. Bristol, already on the pitch, must have wondered if they were in the right place? The old gold they were sporting was a perfect match for "the yellow one" with only the blue sleeves of his under-armour separating him from Homer Simpson.
The less said about the first half the better. To be honest we were awful. Whether the team had tears in their eyes, hangovers or what, the kids who played at half-time would have put up a better show. Perhaps they made that grave mistake of underestimating the opposition. Bristol may be down but they were definitely not out and when you are reigning Double Champions, everyone wants to take a swipe at you, everyone raises their game another notch or 2 (while Sarries have always had the habit of playing to the level of the opposition).
Fittingly for a party we started with some pass the parcel which ended in the first (of far too many) knock on. A messy scrum which Sarries seemed to have mullered (but referee Andrew Jackson thought otherwise) was reset and led to a Bristol free kick. Ashy intercepted bundled his way for 10m through the Bristol defence with bodies in his wake and was stopped with a high tackle. Faz stepped up for a pretty straight forward penalty –and missed. At that point we should have known it wasn't going to be easy!
Nothing quite worked. The off-load game ended in a knock-on, the kicking game was too short, the catch and drive didn't get going. The Bristol line-out was hopeless but still Sarries couldn't get an attacking platform. Finally Loz intercepted a pass, made a break down the field and saw Ashy on his outside with no one to beat. The pass came – and Ashy dropped it. At last, after 22 minutes Ashy looked to have made amends. A Bristol clearance was charged down – Ashy kicked the ball through, charged after it, hacked it on again and grounded the ball ahead of the Yellow One. Try at last! They even announced it and played the music. But wait – what is happening here? Long discussion between Mr Jackson, the touch judge and the TMO (one David Rose) and the try was disallowed for offside. Worse was to follow, Bristol were awarded the penalty instead, wide out on the left and the Yellow One became the Golden One as he kicked it over to put Bristol in an unlikely 3-0 lead. A second penalty followed when George Kruis, whose leg appeared firmly held in the ruck, was penalised for not rolling away. Again the Golden One slotted a pretty good kick for 6-0.
Finally Sarries seemed to have set up a pretty good attack and Faz looked like he might get through only for Mr Jackson to blow up for a Bristol player on the ground (where he had actually been for a couple of minutes with no one very interested). Faz was livid which probably contributed to Bristol's next score when they were awarded a scrum penalty when the Sarries' pack seemed to be walking right through them. I suspect Faz had a rather inappropriate word because Mr Jackson marched the ball forward 10m and into kickable range for Goldenballs who duly obliged. 9-0. WTF was going on? This was supposed to be a party and it was turning into a wake.
Finally 5 minutes before half time, Faz landed a kick to ironic applause to at least get Sarries on the scoreboard. Maybe now things would improve? Far from it, Sarries lost their own attacking lineout in the Bristol 22, managed to win a kickable penalty which went into touch and as the clock went dead a terrible pass put Ashton into touch. It was all a bit too shipshape and Bristol fashion for the visitors (I had to get that one in somewhere!)
If ever there was a need for a half-time talk it was now! Mark McCall earn your money!
To be honest the second half picked up where the first half left off. More promising attacking play and more knock-ons. Then at last Tompkins made a lovely break and found Ashton outside him. Ashy showed his class, grubber kicked the ball ahead, rounded the defender, regathered the ball and scored. (Ashton through the gate you might say – sorry!). Faz landed a tricky touchline conversion and at last, after only 47 minutes, Sarries took the lead.
The score seemed to galvanise the team. From the restart, they managed to drive the ball over half the length of the pitch only to lose the ball in open play.
And now the theatre began. First to take his bow was Neil de Kock to a standing ovation – a wonderful career indeed but the arrival of Wiggy was probably the turning point in the game. De Kock was followed by a change in the front row with Jamie George, Titi and the bleach-blond Petrus du Plessis taking the field. Finally some lovely handling from the backs earned a penalty on the Bristol 5m line which Faz put in the corner. The line out was won, the catch and drive set and the inevitable happened – except the scorer was Petrus du Plessis with his first ever try for Saracens (and apparently his first try since he was in the under 9's). Ave Maria rang out round the stands –for a horrible moment I thought the fat lady was back! Faz missed the conversion but the tide was definitely turning.
George Kruis departed for the "melted wheelie bin" himself Big Jim Hamilton. Immediately Burger stole a Bristol line out and superb hands from our Jim, picking up a pass from his ankles, set up a third try for Nick Tompkins when a gap the size of the Bristol Channel opened up for him. Faz again missed the kick but at 20-9 normal service was being resumed. Not before time! So 20 minutes left to get the bonus point. Bristol changed most of their team but no one noticed because now it was time for Kelly Brown to leave the stage to another huge standing ovation and not a dry eye in the house. In quite a poignant moment, as the big man left the field he was replaced by Ben Earl, playing in his first Premiership match. The past and the future side by side.
Sarries made hard work of getting that final try. Alex Goode put in some excellent work (his best game for us in a while). Big Jim won another line out. Loz was finding some beautiful long touches. Finally Jim received the ball, juggled it as if it were the proverbial hot potato, then off-loaded to Loz and won a penalty. Faz went for the corner again. Jim did his stuff in the line-out but they messed up the catch and drive and Bristol got the turn over.
Sarries were reaching desperation stakes now and back came the errors. Even Jim knocked the ball on. Sarries were awarded a penalty, Wiggy went for the quick tap and Farrell was under the posts only for Mr Jackson to blow his whistle and insist the kick was taken from 5 millimetres to the right. Farrell did well to hold his tongue. Into the final minute and it was looking like it wasn't going to happen. Farrell put the kick into touch. This time the catch and drive was perfectly executed and none other than Petrus Du Plessis came up with the ball again. Just like buses – nothing happens for ages then 2 come along all at once! Farrell converted and although time seemed up, Mr Jackson ordered a restart. There were so many knock-ons in about 20 seconds that he had no option but to blow his whistle and end the game.
A nice touch at the end. All the players kids came on, Kelly Brown sang a song, Neil de Kock said all the right things and while all this was going on, Big Billy allowed 2 little lads to knock him down in the tackle. What a guy!
And so in the end they followed the script, got the 5 points and made it all to play for in Coventry next week. Win and we play Wasps at home (barring an amazing performance by Glos at home to Exeter), lose and we're away to either Wasps or Exeter. Top spot is still a possibility but we would need a huge favour from Gloucester and somehow I think their minds, like ours, will be on Edinburgh.
So an interesting selection decision next week. Who to play? It would have been so much easier if Quins had lost! How much do we want a home semi and what price are we prepared to pay? I would expect to see most of those who had the week off this week back next Saturday. Do we risk Mako and Billy? Both of them seemed to pick up knocks, hopefully nothing serious, but we will need them firing in Edinburgh. Thank goodness I don't have to make the decision.
So long Kelly and Neil, and for that matter Petrus, Jim and Ashy, and quite probably a few more. It's been a lot of fun.
So in the words of "Goodbye – Kelly's Song" by Alabama:
"I guess it's been too much fun
We've shared and we've won,
Yes the best is yet to come
Goodbye, goodbye, till I see you again"
Saracens:
Goode (Gallagher), Ashton, Tompkins, Lozowski, Wyles (Ellery), Farrell, De Kock (Wigglesworth), M Vunipola (Lamositele), Brits (George), Koch (Du Plessis), Itoje, Kruis (Hamilton), Brown (Earl), Burger, B Vunipola
Bristol:
Woodward (Pisi), Edwards, Hurrell, Henson (Pitau), Tovey, Searle, Mathewson (Williams), O'Connell (Dawe), Jones (Crumpton), Cortes (Ford-Robinson), Phillips (Glynn), Sorensen (Fenton-Wells), Jeffries, Robinson, Eadie
SCORERS:
Saracens (27) Tries: Ashton, Tompkins, Du Plessis (2); Conv: Farrell (2), Pen: Farrell
Bristol (9): Pens: Henson (3)
Attendance 10,000
Referee: Andrew Jackson RFU