IT'S TIME TO SAY GOODBYE - 1.CHRIS ASHTON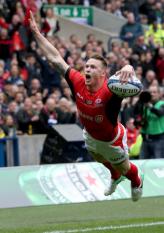 By Darraghgirl
May 29 2017
The first in a series of articles saying Goodbye to some of The Saracens of 2017 who are moving on. 1. CHRIS ASHTON
When Chris Ashton joined Saracens in 2012, it was not an acquisition welcomed by all Saracens' supporters. Chris has always been something of a marmite player – you love him or you hate him! During his time with the club I think it is fair to say he won over his critics with his skill and his charm and very few Sarries' supporters will have wanted to see him leave.
Chris is a Wigan guy, born and bred. He has an excellent "bloodline" as they say in racing parlance, his dad Kevin also played for Wigan, his brother David played for Swinton and his grandfather was a successful Gaelic footballer. Raised on League, he made his debut for Wigan Warriors at the age of just 18. In 2006 he made his England debut against France and by 2007 he had been given the No1 shirt, worn with such pride by Kris Radlinski. But already he had decided his future lay in a different direction and he joined Northampton Saints in September 2007, switching codes at the tender age of 20. That was the season Northampton spent in the National League Div 1 but probably provided an excellent learning curve in union for Ashy away from the spotlight. That season he scored 39 tries (and 1 conversion) breaking the try-scoring record for National League 1 as Northampton finished the season unbeaten.
The transition to the Premiership, however was a bigger challenge and Ashy struggled to retain a first team place that season while still learning his trade but by the 2009-10 season he began to make his mark, scoring 15 tries in 16 games for the Saints. His efforts resulted in him being named Premiership Player of the Season. He was awarded an International call up by Martin Johnson, making his international debut against France in 2010. He struck up an almost telepathic relationship with Ben Foden, fullback at both Northampton and England, and when the 2 played together they both stood out. That summer Ashy toured Australia and scored his first International try. In the autumn, he scored one of the best tries I have ever seen (and I had the privilege of being there) against Australia when he received a pass from Courtney Lawes and ran the length of the field, outrunning James O'Connor & Drew Mitchell in the process before scoring under the posts with his classic swallow dive, the "Ash splash". His international career went from strength to strength with 4 tries against Italy the following year, and 6 tries in that 6 Nations championship, equalling the record. Chris played for Northampton in the Heineken Cup final of 2011 against Leinster, coming out on the losing side. He went on to represent England at the World Cup in New Zealand and despite England losing out to France Ashy finished the tournament as joint leading try scorer (alongside none other than Vincent Clerc) with 6 tries. He also got himself mixed up in the famous "dwarf-throwing" incident. With Chris Ashton, controversy is never very far away!
Chris had a bit of a reputation for "itchy feet", for moving house every year, so it was perhaps not a big surprise that he chose to move clubs in 2012 and joined Saracens on a hugely increased salary. But he proved to be no prima donna and quickly became a fully paid up member of the Saracens philosophy. (I think he might even have said the "something special" bit). He scored on his debut at the double header and quickly established a healthy competitive relationship with Sarries' other winger, David Strettle. But intrinsic in his success was an understanding with his full-back and in Alex Goode he found the perfect foil for his abilities. Together they were so much better than either on their own.
In Ashy' first season, Sarries finished top of the Premiership but lost to Northampton at home in the playoffs (don't we remember that!). Ashy contributed 6 tries that season. The following year Sarries again topped the league, this time getting to Twickenham in that infamous JP Doyle/Graham Hughes game, only to lose to the Saints, again deep into extra time. That season Ashy scored 8 tries. But his success at club level was not reflected on the International scene whereby he was perceived to have a weak defence and lost his place under Bomber's rule. In truth I suspect it had more to do with Ashy's mischievous character (hardly a good fit for Bomber's army), the way he was being asked to play and the lack of an empathetic full back to link up with. He played won last of his 53 Caps in New Zealand in 2014 scoring 19 tries. In 2014-15, Saracens only just qualified for the play-offs with a final game demolition of London Welsh (with Ashy contributing 4 tries!). They beat Northampton away in the semi-finals and finally reclaimed the Premiership title with a win over Bath. Ashy was on the bench but came on with 20 minutes left to earn his medal. That season Ashy and Chris Wyles both finished on 13 tries a piece. His performances were enough for him to force his way back into the extended World cup squad although one rather felt Bomber was only paying lip-service to both Ashy and David Strettle. Strets quickly declined the call-up and packed his bags for Clermont Auvergne. Ashy was discarded at the first cut.
The 2015-16 season was to prove a particularly challenging one for Ashy. Once again he was at the peak of his game and could only watch from the sidelines, along with the rest of us, as England dismally failed to qualify for their own World Cup quarter finals. Eddie Jones replaced Bomber and with a fresh pair of eyes it seemed finally the rest of the world understood what we at Sarries had known all along – Chris Ashton was a very special rugby player. He won a recall to the England squad for the 2016 Six Nations. Sadly a week later, Ashy's hopes were in ruins when he was found guilty by a kangaroo court of "making contact with the eyes" of Ulster's Luke Marshall. I don't think anyone thought it was deliberate and Ashy, wanting to clear his name, pleaded not guilty. But rules is rules as they say (I believe THAT rule has subsequently been changed) and because he refused to accept something he didn't feel he had done, he was banned for 10 weeks; doubly harsh because he also lost his international place. He must have been devastated but he handled himself with dignity, sat out the ban and worked even harder on his game.
I remember being at Bath on the night of his come back. Characteristically he scored on his return –not once but twice! He was so fired up he was in danger of further trouble (and nearly got himself in trouble with an Anthony Watson red card which Bath supporters blamed on him) but the game was sensitively refereed by Greg Garner and the situation defused. He scored against his old club Northampton Saints in the European quarter final. He finished the regular season with a hat-trick at Worcester (bringing his Premiership total to 11 for the season) before winning his first European Champions Cup Medal as Sarries became Kings of Lyons and capping it off with another Aviva Premiership Winner's medal as Sarries defeated Exeter to do the double.
Ashy's "reward" for another excellent season was a place in the England Saxon's squad to South Africa. It must have seemed like a kick in the teeth and Ashy declined, citing the impending birth of his daughter. The anti-Ashton faction derided him but seriously, what were either Ashy or Eddie Jones going to learn from playing in the Saxons. (And characteristically Ashy didn't mention that his wife Melissa had already suffered a couple of miscarriages so this was an anxious time for both of them). In turning down the Saxon's place, Ashy must have known he was closing the door on his international career and probably laying the foundations of an inevitable move abroad. But he still had 2 years on his contract so hopefully he would be around for a while. And England's loss was Saracen's gain.
Events changed all that! In just the 3rd game of the season, Saracens defeated Northampton Saints once again. It seemed like a run of the mill victory but as we left the ground there were murmurings on social media that Alex Waller had been bitten – and the suspect was none other than Chris Ashton. If the previous disciplinary hearing was a Kangaroo court, this one was in La La Land. On the balance of probabilities (for that is the burden of proof in these cases) and on the flimsiest of evidence, the tribunal chose to believe the words of a man on the phone rather than one whose eyes they could look into. Again the ban was ludicrously harsh, especially in the light of subsequent offences elsewhere where the miscreants appeared to be eating their victims for dinner. Once again Ashy's not guilty plea counted against him and this time he was banned for 13 weeks. Saracens stood by him but it must have been the final straw for Ashy and he announced he would move to Toulon at the end of the season. He said: "I will leave one of the greatest rugby clubs in the world at the end of this season. The was easily the hardest decision I have had to make……I owe a debt of thanks to the Club and Management but most of all the Saracens fans. They've always been superb, the best I've played for" and he later said he made the move because he needed to take control, to make a decision for himself. Saracens understood his reasons and did not stand in his way.
Ashy returned on Christmas Eve, coming off the bench against Newcastle Falcons and he was touched by the welcome he received: "I can't thank Saracens' fans enough for welcoming me back out there this afternoon. Was gr8 to be back playing with the lads". And as we knew he would, he marked his return with a try. He may have decided to leave Saracens, but that didn't stop him playing his heart out for the Club in the remaining fixtures. In the European game away at Scarlets (later to become Pro-12 Champions) his try under the posts, deep into added time, gave Farrell a straightforward conversion, and Saracens the draw which ultimately set them on the road to retaining their European crown. 2 tries in the quarter final win over Glasgow saw him equal the all-time try scoring record held by Vincent Clerc. How fitting he scored the 37th try, to take the record for himself, in the win over Clermont Auvergne at Murrayfield as Saracens retained their European crown. In his final season for Sarries he scored 9 premiership tries (not bad when you consider he missed 3 months).
Ashy did a lot of good things off the field too, he was often to be found at Great Ormond Street or UCH visiting children with Cancer. On the field it was his support play, learnt in his league days, which lifted him to another level. Uncannily, he seemed to know exactly where the ball was going and there he was on the ball-carrier's shoulder ready to score yet another try. He was as likely to pop up on the left wing as the right and while England never really worked out how to use his unique skills, Saracens utilised his talents perfectly. Chris's "Ash Splash" divided rugby supporters. Some thought it pretentious and grandstanding – and were just waiting for him to drop the ball (I don't think he ever did) while others saw it as a bit of individuality and style, real joy in scoring a try and doing the thing he loved. I think the Premiership will be a much duller place without him.
Sadly Ashy's final appearance for Saracens did not end in the way he would have chosen or deserved – being forced to leave the pitch in the first half of the Aviva semi-final at Sandy Park with what looked like a shoulder injury. He never earned a Lions selection – such a pity for a man with so much talent. On current form he should be on the plane to New Zealand but I suspect there were other considerations when the squad were selected. So instead he moves to the Cote d'Azur and who can blame him. I really hope he can strike up the same relationship with Leigh Halfpenny (assuming he stays) at Toulon as he found with Ben Foden and Alex Goode. I am sure all Saracens supporters will wish him well in his new venture and hope he enjoys his time in France and that he thrives there. And if we do draw Toulon in next year's European Cup, maybe he could have an off-day? In the words of Gitanjali Ghei "Farewell my friend, it was good as long as it lasted".