WELCOME TO OUR WORLD 2 - Christopher Tolofua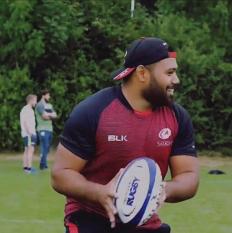 By Darraghgirl
August 11 2017
Our latest new recruit is French Hooker (now there's a thought), Christopher Tolofua. Chris was born in Frejus, down on the Cote D'Azur in France on New Year's Eve in 1993. His family originate from the French South Pacific Islands of Wallis and Futuna (google them, they look rather nice!).
His uncle Abraham played for Beziers, Montferrand and Nice in the 90's and early 2000's. He has played all his professional rugby for Stade Toulousain, making his debut in 2012 at the age of 18, against Connacht in the Heineken Cup when regular hookers Gary Botha & Akvsenti Giorgadze were injured. (On that occasion he was pulled from the French U19 squad to make his first team debut from the bench). He has become something of a fixture in the team with 72 appearances and 4 tries including 2 against Sarries:- the first in Toulouse's 17-16 victory over Sarries at Wembley in 2013 and his team's only try in a 32-7 defeat at Allianz in 2015. After 9 appearances for the French Under 20 team, he was called up to the National team in 2012. His selection by Phillippe Saint-Andre made him only the 2nd 18 year old to make his test debut in the front row since the 2nd world war. (Any guesses as to who the other one was? Answer at the end!) He made his debut on the summer tour against Argentina. He has since won 6 further caps, most recently against Italy in March 2017.
Interestingly Chris didn't start out as a hooker – he played his age group games at tighthead – perhaps that's where is 120kg+ body comes from. He found the transformation to hooker relatively straightforward, and he undoubtedly has the power to demolish opposition front rows – as was evidenced in his early days against Racing – although the art of the lineout throw took a bit longer to master, something he has worked very hard at. He said "On the throws it's obvious, the remark that made me laugh was when I was told I had to relax because it looked like I had the world on my shoulders".
Chris missed out on France's tour of South Africa this summer because of an ankle sprain. He as clear that although the injury wasn't serious, he didn't want to risk further injury before moving to his new club.
Commenting on his decision to move to Saracens, Chris said:- "I have spent a long time at Stade Toulousain, so joining another squad is a very big move for me, and I know I could not find a better team than Saracens. I'm excited to play in England next season and test myself in the Aviva Premiership. The recent past of Saracens speaks for itself, and I am very proud to be joining such a good club with great coaches and great team-mates."
On leaving Toulouse he also commented: "Despite a particularly difficult season, Toulouse and its passionate fans will obviously be very dear to my heart. I've spent some extraordinary years, built a family, earned titles and made friends for life. It's probably a sign if, even by changing clubs and countries, I don't change colors on my jersey". But not everything was perhaps quite as positive, he also said "I will need to adapt to life in England:- the weather, the schools, the food" (and with that he laughed).
Fortunately it looks like things have gone well for Chris so far and he has certainly joined in the team bonding sessions in Bermuda. In an interview with that renowned TV pundit Billy Vunipola (as Billy mentioned: "Big Jim's left so I have to take over"), he said of his time in Hamilton: "very friendly, very funny and very hard too!" He went on to say "I've had an amazing few weeks since joining Saracens. The team culture is very impressive and the guys practice every day with a smile. My teammates and I cannot wait for the upcoming season!"
Nor can we Chris!
Answer: Argentine Federico Mendez in 1990 – who also got himself sent off in the same year for punching Paul Ackford (although Paul later stated he was grabbing Mendez' testicles so maybe not as unprovoked as it first appeared).