DIAMONDS OR PASTE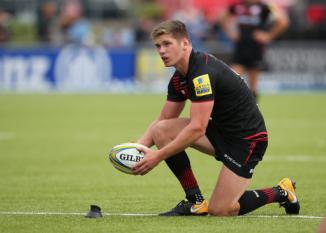 By Innings
September 24 2017
At last, a home game for Allianz Park. I'd managed to miss the LDH, having been allocated the worst seats in the entire seating plan at HQ, so this was where my season really began. And what a start! An easy drive to Hasmonean Girls, the excellent parking team all in place, the numerous Pioneers everywhere, welcoming, friendly and ever-helpful, and the stadium looking to be in good condition. I was less keen on the shop. I went to buy a new fleece of some sort and a new cap, but the queues for the tills made that an experience to be foregone – the old Don Barrell sponsors' fleece must make do for its eleventh season, and the cap signed by the professor of scrummaging will have to continue to alternate with the one signed by HRHRH himself. Both caps should have been retired as long ago as the two great players themselves, but shopping in queues is a pet dislike.
Before the game, I took lunch, in the form of a pie and IPA. I can state authoritatively that this season's steak pies are outstandingly good, better than any previous season's offerings. The new chicken and ham variety will have to wait for another day.

Part of today's anticipation was to see how five Sale players would live up to the past or present enthusiasm about their prospects on the international stage. At wing, Danny Solomona and Josh Charnley could see how they went against proven international quality, whilst Josh Beaumont could test himself against proven international quality. The famous Curry twins could see how they looked against the Sarries pairing of Wray and Itoje.

And so to the game, with Marcello marking his hundredth appearance for the club and Farrell as captain in the absence of the rested Bradley. With Will Skelton, Schalk Burger and Michael Rhodes on the medical table, Maro played 6, whilst Nick Isiekwe had the opportunity to partner George Kruis in the second row. We have strength in depth, but that depth will be tested for some weeks. Apart from these changes and a little rotation, this was more or less Sarries' strongest side.

We must have won the toss, because as usual, we seem to prefer to ride out the storm in the first half and take advantage of the wind from the west in the second period. I wondered for a moment whether we would see the all-court game that ruined Saints on opening day, or whether a flaccid error-strewn period that cost us at Bath were to be offered. The decision was made for us by Sale, who came out in a lime-green away strip that must have given Sarries memories of the opening weekend. The game intent was immediately clear. Sale would give an energetic opposition, but Sarries would produce the all-round game that makes them the most efficient side in Europe on their day. A judicious mix of heavy carries, slick distribution by Spencer, starting at 9, and some pin-point passing by the backs and forwards alike, saw Spencer under the sticks on just five minutes. I shan't bother to mention Faz's set-piece kicking after this one time; he nailed everything all afternoon. Scarcely finished celebrating that opener, largely created by a Williams break on the left wing that left Solomona flat-footed, we were treated to more evidence that MMC has completed a shrewd deal in attracting Liam Williams to Allianz Park. Some excellent midfield play gave Williams the slimmest of an opening, but that was all he needs, and on ten minutes we were 14-0 up.
The rest of the first half was flat by comparison. Sale 10 McGinty was taken ill before Kick-off, forcing Faf de Klerk to move from 9 and bringing Cliff off the bench to start. The rest of the half gave both a chance to get into the game, although Faf will never make a true 10, on this showing.

Some improvement in the second period saw a sumptuous inside line by Spencer, off a perfect inside offload by Farrell, putting him under the posts. A prolonged period of heavyweight pummelling within touching distance of the Sale try line saw just a momentary hesitation by a Sale guard, and Vincent Koch, who had replaced Juan Figallo, was able to sneak under for a try that was fully deserved after the play that created the opportunity. Job done, four tries for the bonus point, Sale out on their feet at 34-3. However, no side thinking of Steve Diamond on Monday morning ever quite gives up, and Sarries were perhaps a little less alert than they had been until this moment. Some good moves by Sale did not come off, including one chance utterly squandered by poor interchange out on the left wing, but one does now work out, and replacement 10 McGuigan was over in the right hand corner for a try that will not have pleased Sarries defence team. Nathan Earle replaced Williams at the mid-point of the half, and was able to restore the differential, but Sale had the last word, McGuigan scoring again with the clock red and Sarries already switched off. Final score 41-13.

So what to make of it all? Sale long for the glitter of the big occasions, to be numbered among the high achievers. But looking at the five players I had been keen to watch, I saw two wings, Charnely and Solomona, both of whom are excellent rugby league players out of their depth in the union game, eclipsed by longexperienced union talent in Williams and Maitland. Mr & Mrs Billy Beaumont were there to watch son Josh measure himself against Billy, but they must resign themselves to the fact that they will not be seeing their boy turn out in an England shirt any time soon, if ever. The Curry twins were simply not in the game for large parts of it. One was on for 23 minutes, the other for 80, but neither will have caused the Press to hold the front pages. The truth is that Wray, in particular, made both look ordinary.

Who were the players who made a difference? By a wide margin today, Farrell was the player whom Sale could not dominate. His game management was top-drawer, his distribution a delight to watch, including one back-handed off-load that was worth the admission money on its own. I promised not to mention his kicking again, but five tries by the team and a closing score of 41 suggest that someone must have scored the other 16 points. At 10, for 57 minutes, or 12 for the last 23, he simply develops more and more into the complete player.

The downside of a day that makes me feel fortunate to support Sarries, was the worrying sight of Billy helped off by two strong medics. He seems to have a right knee injury again, in just his second game after returning from his shoulder surgery this summer. The upside is the number of unsung players who seem always to emerge when they're needed. Just two years ago it was a boy called Maro. This year we are seeing Iseikwe, Spencer, Taylor, Thompson-Stringer joining the totally reliable Wray, Bosch, Figallo (Why does my computer insist on changing his name to Gigolo? – the man is clearly family-minded through and through, witness his wish to attend his son's birth in 2016 when, he should have been playing for Sarries). The names are not necessarily the first that come to the minds of supporters of other clubs playing Sarries, but the knowing ones know them all. And our new, more established names, Williams, Clark, Day, all seem to be fitting into the family well.

What of Sale overall? There is talk of a new beginning, ambition for top six and Europe. The reality is that, when valuing diamonds, the first test is to test whether they are genuine or not. On yesterday's showing, this set of diamonds contains some true stones, but several are paste.

And finally, as always, I think that the referee should get a mention. It a truism that a Donald Trump rally is the only crowd of 10,000 people in the world who all share the same view of events as the view of the man in the middle. At Allianz Park we came very close to the same unanimity of opinion, with 9,999 people having the same view of Tom Foley's performance. However, he thought his performance was good enough, so there was not unanimity after all. By the end of the game, players' body language told everyone what they thought of his decision-making, but the rest of us could not, on occasion, tell whether it was good or not. Foley has decided that clear signalling of his decisions, using well-understood hand gestures, is no longer part of his role, even to the extent that he regularly forgot to indicate penalty advantage plays. Perhaps the paymasters have decided that we all have to rent radio links to understand what's going on in the referees' minds.

Sarries: Goode, Maitland, Bosch (Lozowski 57), Taylor, Williams (Earle 64), Farrell (C), Spencer (Taylor 61), M Vunipola (Thompson-Stringer 61), George (Brits to great applause 51), Figallo(Koch 51), Isiekwe (Day51), Kruis, Itoje, Wray, B Vumipola (Clark 38)

Sale: Haley, Solomona (James 73), James, Jennings, Charnely, de Klerk ( McGuigan 57), Cliff, Harrison (Flynn 63), Weber, Tarus (Aulika 43), Evans, Beaumont, Ross (C) (B Curry 57), T Curry, Strauss (Ostrikov 50)
Scorers;
Saracens (41): Tries: Spencer (2) Williams, Koch, Earle. Convs: Farrell (5). Pens Farrell (2)
Sale (13): Tries: McGuigan (2). Pen: De Klerk

Referee Tom Foley, Assistants Tim Wigglesworth, Paul Dix, TMO David Grashof.