OSPREYS ALMOST GET THE FISH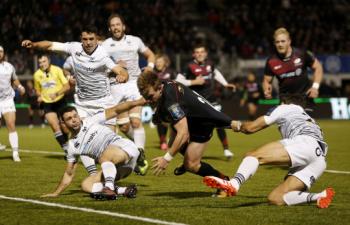 By Darraghgirl
October 22 2017
I have always liked Ospreys. They are fabulous birds of prey who were extinct in the UK until the latter part of the 20th century when gradually they began to return and now they breed successfully in Scotland, England and in Wales where there are at least 4 pairs. They are majestic black and white birds. They are supremely fit and athletic, able to endure a long and difficult migration twice a year. They are loyal to their mates and will defend their nest against anything. Our opponents tonight are well named.
This was never going to be an easy game. After the stellar performance last week at The Gardens there was realistically only one way we were going to go and the trick was not to fall to earth, quite as hard as we did at The Rec. Storm Brian was blowing hard but mercifully the rain held off. Having already lost Rhys Webb during the week, Ospreys were forced into a couple of late changes when Lidiyate and then Tipuric both pulled out with back spasms. Surely all positive omens for Sarries? Saracens made 3 changed from last week with Taylor replacing Bosch in the centres (presumably he still had a headache from last weekend) and Brits and Figallo rotating with George and Koch.
Allianz was bathed in floodlights (and strangely searchlights??) and once the obligatory fireworks had lit up the sky, Ospreys kicked off with the swirling wind (mostly) behind them. Saracens started brightly with good work from Wyles and then Williams (in defence). Sarries threatened the Osprey's line with a good break from Taylor and Williams who slipped back inside to Taylor but the Osprey's defence held (as it would for much of the evening) and it was a 5m scrum. From this Sarries won a penalty advantage but it wasn't needed and after 7 minutes a long Farrell pass found Goode who sent it out to Wyles on the wing. Wyles (playing his 50th European game) rounded Dan Evans and demonstrating footwork to please those who were missing Strictly, rather delicately placed the ball down over the top of him for the opening score which Farrell converted despite kicking into a swirling breeze. So it seemed normal service had resumed…..appearances can be deceptive!
Within 3 minutes Ospreys were level. A lovely offload off the floor from Allen found Dan Evans, whose late run left him unmarked, and he scored. Mr Mitrea asked the TMO to check the pass but there was no salvation there for Sarries and to make it worse, Dan Biggar slotted a lovely conversion to level the scores. From the restart, Saracens, usually so good at crossing the gain-line, found themselves going backwards. A feeding error at the scrum by Wiggy (well done Mr Mitrea) gave Ospreys the bit between their teeth and they took the game to Saracens with a sustained period of pressure in the Sarries' 22. For a long time the defence held firm but eventually Evans broke again from deep and round the corner to score his 2nd which again Biggar converted for a lead of 7-14. Worse was to follow: after Ospreys managed to smother a lengthy but untidy Sarries attack which ended in a knock-on (one of many by the Men in Black tonight), Osprey's forced a (rather harsh) penalty in front of the posts on the 10m line. Biggar was again on target and the score was now 7-17.
Steve Tandy had done his homework. Ospreys were playing Saracens at their own game, and playing it better! Their handling was sure, they were off-loading quickly, using their wide-men and pushing up on Sarries – in their faces – which made it very difficult for Saracens to get any momentum and forcing the errors, 2 in a row from Farrell who was getting frustrated. The wind was making it difficult for Saracens to use their renowned kicking game. Ospreys had the wind in their favour but were using it well. Fortunately Alex Goode was 100% solid under the high ball all night. (What more does the guy have to do to impress EJ?). Finally Sarries managed to win a penalty of their own and Owen found a good touch. From the line-out Saracens again threatened the try line but worryingly couldn't get over it. Taylor injured his right leg attempting to reach the try line so Sarries were a man down. Several waves of Saracen's attacks, penalty advantage and finally it seemed as if Callum Clarke had ball over the line but the TV replay showed it millimetres short. Farrell kicked the penalty to narrow the lead to 10-17. Taylor departed to be replaced by Nick Tompkins.
Sarries won a penalty in a promising position but communications seemed to break down. Wiggy went for the tap while half the team were looking the wrong way and Brits ended up knocking the ball forward. A bit of handbags followed but to be honest, Saracens seemed more frustrated with themselves. Ospreys were dominating the scrum with both Sarries props getting increasingly frustrated with the referee. (Interesting – last week it was the Osprey's scrum which got on the wrong side of the officials). Into the final minute of the half and another excellent take from Goodey set up Williams who broke down the line. The forwards couldn't get the ball over the line, Mako couldn't take the pass (but fortunately knocked it backwards) but found Brits who lifted his knees high and scored. Farrell kicked another quality conversion and somehow the teams went in level at half time.
The wind seemed to have dropped a bit for the 2nd half and although in theory Sarries now had the breeze behind them, half the time it seemed to be blowing the other way! Things didn't start too well when Ospreys had an early break in the Sarries 22 (after Sarries messed up their own lineout). Careless passing led to an Osprey's penalty which Biggar put in touch (respecting the wind). Dan Evans (now on the wing) really should have scored his hat-trick but fumbled the ball and knocked it forward a couple of paces short of the line. There was a time when a referee would have called advantage-over for that but not today. Ospreys went back for the penalty and Biggar obliged to put the Welshmen back in the lead 17-20.
Ospreys were looking confident and starting to play with the ball from their own 22 Saracenesque. Brits bashed heads with King and both went off for a blood/head injury to be replaced by Jamie George and Lloyd Ashley followed shortly by Koch for Figallo. Ospreys were starting to have to reorganise with Davies on for Allen after Leonard had replaced Hassler earlier on. Given they also had 3 props on the bench this could give Sarries an opening as the clock ticked on. There was some end to end stuff but eventually Farrell broke free and was almost there. Had he passed to Williams outside him it would have been a score. As it was, Ospreys defence held although they gave away the penalty advantage. After multiple pick and go's failed to make headway, the ball came out wide from Tompkins towards Williams. Having failed with a similar "interception" a few minutes earlier, Evans deliberately knocked the ball forward. Mr Mitrea consulted the TMO, awarded the penalty try and sent Evans to put his feet up for 10 minutes. 24-20 and a narrow lead.
Burger replaced Calum Clarke. Vunipola (of all people) punted the ball into the Osprey's 22 for Williams but Ospreys cleared. Finally a rolling maul and a looping pass almost put Wyles over but he was tackled just short and then turned over.
A paws in play - enter Scott Baldwin (but thankfully no rendition of "the Lion Sleeps Tonight! – I'm sure it was just a whim away.) Quite a handy chap to have on the bench. His first lineout was CAT-egorically not a roaring success. Tension was biting! Was there more to come in this tail? (fangs ed, that's enough of that).
Thus far Sarries hadn't exploited the extra man but finally Tompkins managed to elude the tackle, broke and offloaded to Williams outside him whose bandy legs carried him over the line to score the bonus-point try in the corner. For once Farrell missed the kick but finally a small cushion at 29-20 as we entered the final quarter. Wiggy departed for Ben Spencer. Surely now Sarries could kick-on and secure the victory?
Tompkins and Spencer then combined for another excellent move. Tompkins kicked the ball from his own 22, Spencer showed his turn of foot, chased the ball to the other end of the field, had no right to get there but forced Fonotia to carry the ball over and set up an excellent attacking opportunity for Sarries with a 5m scrum. Sarries won a scrum penalty – Owen put the ball in the corner. Surely now we could put the game to bed? But no, somehow, Sarries' all-conquering line-out managed to lose the ball and the danger was cleared.
Barrington replaced Mako and James Hook came on for Fonotia . If we thought Ospreys were going to lie down and die we were very wrong. Just as the bird from whom they take their name, grips on to a slippery, wriggling fish almost half its weight, Ospreys dug their talons deep into the European Champions. Ospreys broke from their own 22. A superb team try found Ashley off-load to Davis. He found Watkin who had a clear run to the posts. Biggar converted and with 10 minutes left it was a 2 point game.
Sarries pinned Ospreys into their own half but they weren't budging. The mixture of 2nd and 3rd choice players playing out of position was more than a match for Saracens. Finally Spencer turned the ball over, Burger broke and Jamie George was nearly over. The ball was recycled and this time Nick Tompkins deservedly scored a try of his own. Farrell landed what would prove to be a crucial touchline conversion to put Saracens back more than a score ahead at 36-27 with 5 minutes to go. Will Skelton replaced a bleeding Nick Isiekwe and Loz came on for Faz. Haverfield, the Osprey's scrum half, copped Itoje's thigh on his knee and had to depart replaced by Gareth Thomas, the prop. But still Ospreys wouldn't lie down. Gripping even tighter on to that struggling fish, they won a penalty with 3 minutes to go. Biggar put it in the corner, Baldwin's throw was true and between them Davies and then debutant Sam Cross (with 7 on his back but now playing on the right wing) evaded the entire Sarries' defence and scored their own bonus point try in the corner. Not only that, Biggar landed the trickiest conversion of the night to leave Ospreys within a kick of victory at 36-34.
A minute left. Loz put the restart deep into the Osprey's 22. Sarries pinned them there and eventually Ospreys decided to cut their losses and kicked the ball out.
Nick Tompkins was named man of the match for a superb contribution which suggested that even if Taylor's injury keeps him out for a while, we have an excellent replacement. Spencer added some drive and pace when he came on and Goode was immaculate throughout. Finally a word for the kickers: on a night when a strong wind gusted unpredictably around the stadium, Biggar kicked 6/6 and Farrell 4/5. Not a bad return.
Rarely has a 5 point win felt so underwhelming. Congratulations to Ospreys, the best team we have played this season. They came to London with a game plan which they executed perfectly and so very nearly pulled off a remarkable win. How can they have won just once this season? Still Sarries sit at the top of Pool 2 with 10 points out of 10. The back-to-back games with Clermont will be huge and Sarries will need to be aiming for the stars again. Ospreys aren't out of this – if they can beat Saints, and Clermont and Sarries share the points, we could be looking at 3 teams still in with a shout! Either way, there will be no givens when we go to the Liberty Stadium in January.
SARACENS
Goode, Williams, Taylor (Tompkins), Barritt, Wyles, Farrell (Lozowski), Wigglesworth (Spencer), M Vunipola (Barrington), Brits (George), Figallo (Koch), Isiekwe (Skelton), Kruis, Itoje, Clarke (Burger), Wray.
OSPREYS
Evans, Hassler (Davies), Fonotia (Hook), Watkin, Allen (Leonard), Biggar, Habberfield, Smith (James), Parry (Baldwin), Arhip (Fia), Beard, Jones, Mercer, Cross, King (Ashley)
SCORERS:
Saracens (36) Tries: Wyles, Brits, Pen, Williams Tompkins; Conv: Farrell (3); Pen: Farrell
Ospreys (34) Tries: Evans (2) Watkin, Cross; Conv: Biggar (4); Pen: Biggar (2)
Attendance: 9,045
Referee; Marius Mitrea (Italy)