GO GIRL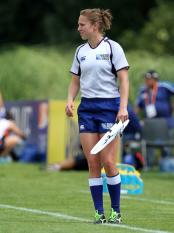 By Darraghgirl
November 1 2017
So the first break in the regular season and time for "the cup that nobody cares about" (or wants to sponsor aka the Anglo-Welsh Cup). Yet again this pretty pointless competition with almost unfathomable rules for qualifying for the semi-final drifts into our season. The powers that be decided to replace the Tetley Bitter Cup (which was a proper knock-out tournament with all the romance of "the Cup", luck of the draw, giant-killing, visits to weird and wonderful non league grounds) with the rather less appealing and somewhat manufactured Anglo-Welsh Cup. It has actually been around since 2005 (when it was the Powergen Cup). It then became the EDF Energy Cup for 3 years before it morphed into the LV Cup. LV stuck with it for 6 years (God help them). It is now sponsorless.
This Sunday our opponents are Quins (who aren't actually in our group because our group -3- plays the teams in group 2); which means that in theory a team could qualify for the semi's without actually winning a game! Crazy. Just for interest-sake, Group 3 consists of ourselves, Northampton Saints (of course but at least we don't have to play them!), Worcester Warriors and Scarlets. Apart from Quins, we have to play Sale (next week), Dragons and Exeter Chiefs. So get your head round that one.
This competition would make so much more sense if there was something in the rules about encouraging younger/fringe players. Maybe something along the lines of under 23's or less than 10 first-team appearances (or to encourage the older guys/injury returners maybe less than 3 first-team appearances this season). I'm sure the powers that be could sort something out if they had a mind to. As it is, teams like Sarries treat it as a development competition and play their youngsters. Certain other clubs (ie those who have no other hope of silverware) will put out more-or-less their first team, especially if they get a whiff of success!
By the looks of their Instagram Feeds, most of the first team who aren't playing for England (or Wales) have gone off to the sunshine for a few days. Last Sunday's A-team game is likely to provide a guide to this match – a game which on paper Sarries had a strong team but on the pitch, Quins won quite easily. I think I read somewhere that the Storm team will form the majority of the A/W Squad so they will need to step up their game a bit! I think we can discount almost everyone who played last Saturday, with the probable exception of Will Skelton (who needs game time) and Christopher Tolofua (who needs throwing practice – if he's not with France) and the possible exception of Nathan Earle and Richard Barrington.
So with a few probable tweaks, I think we'll see something like: 15 Matt Gallagher; 14 Mike Ellery, 13 Rotimi Segun, 12. Dominic Morris, 11 Ali Crossdale; 10 Max Malins, 9 Tom Whiteley; 1 Hayden Thompson-Stringer, 2 Christopher Tolofua, 3 Kieran Longbottom; 4 Will Skelton, 5 Jack Nay; 6 Anthony Maka, 7 Joel Conlon, 8 Ben Earl.
As for Quins – they are all but out of Europe after 2 defeats but sitting 5th in the Premiership. However they have a worrying injury list (look at the number of "guest" players they fielded last weekend – not that it did them any harm!) so will probably not be tempted to risk any first team players. Not having much knowledge of the Quins' A team, I popped across to the Quins message board for a bit of help. Apart from the suggestion that Yarde should play on his own (!) –sadly no longer an option - the suggested team goes something like this: 15.R Chisholm 14.Alofa Alofa 13.Sloan 12.Lang 11.Waters 10.Swiel 9.Lewis 1.Boyce 2.Elia 3.Swainston/McNulty 4.Glynn/Merrick 5.Okafor/Matthews 6.Lamb 7.White 8.J Chisholm
The RFU often use the Anglo-Welsh Cup as a training ground for referees too and it looks like the officials could also prove very interesting. The man in the middle is Hamish Smales (from what I can see a former England 7's player who has been officiating in the Championship) assisted by Craig Maxwell-Keys (we know him) and Sara Cox, the first woman referee to be centrally contracted to the RFU and England's only referee at the Rio Olympics . Go Girl!