Quins produce the Bonfire Night Fireworks at Allianz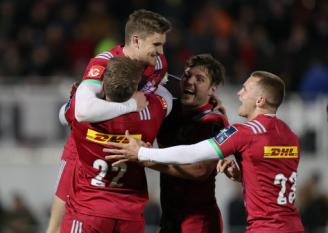 By Innings
November 6 2017
As always, as I left home for the game, my wife uttered the immortal words of Prince Haffnick, "Goodbye, you good Leslie, you. I hope you win, I hope you win" - if you haven't ever seen The Great Race, you've missed one of the all-time great comic films. Usually I'm hopeful, although never confident, but yesterday I replied that it seemed unlikely that Sarries would do so.
A good crowd for an AW game, over 9,000, a re-test of the steak and ale pies, after trying the chicken, ham and leek offering last time, and a solemn moment as we marked Remembrance. On that subject I was a little proud that the bugler is serving with 5th Battalion The Rifles, the regiment into which my own has morphed over the years. His sounding (buglers don't play, they sound) of Last Post was a top-quality moment.
I was surprised, and pleased, that the commentator at the ground made nothing of the fact that we had a woman assistant official. Was that the first time ever for a men's professional game? Taking such a milestone for granted is, in my view, the right thing to do.
As the teams were announced, with several changes for Quins, apparently caused by late injury issues, I felt that things would be evenly matched. Barrington and Skelton scarcely merit description as development players, but nor do Merrick or Mathews. Likewise Nick Tompkins and Alofa Alofa, so all in all we could expect a fair contest between teams well-matched on the day. One cannot call the presence of Tim Visser and Christopher Tolofua a match-up but two experienced internationals, both needing game time, was bound to help their respective causes. It seems that Visser was actually on holiday this week, called in at the last moment to join the injury-hit Quins 23.
As an aside, talking of a fair contest, Nigel Owens at Twickenham on Saturday delivered one of the all-time great comedy lines of refereeing. Lecturing the front rows before another re-set scrum, when one prop had said something back, he replied: "Listen boys, if you're going to cheat, cheat fair.
Sarries seem to have won the toss, and with an uncharacteristic south wind elected to play from the northern end of the ground. They took the first kick-off well, and that seems to have been the last time this match that they did so. Re-start reception is to prove a weakness all afternoon. In the first two minutes, we see a newly-sculpted Will Skelton, a few kilos lighter and in remarkably good form, showing a rampaging style that he will demonstrate for his whole time on the field. The pressure leads to Quins over-pressing at the breakdown, giving Max Malins his first, easy, points of the afternoon.
Minutes later, Visser demonstrates, for the first and certainly not the last time today, a true calling at full-back. Clearing up poor ball he launches a huge clearance kick right up to the Sarries' corner. A poor lineout, indecision over a ball lying loose, Quins pick and distribute wide for Sloan, returning after a very long injury absence, to break through a weak defence to score.
Visser's next monster clearance forces a juggled attempt at a catch by Crossdale that gives the line-out to Quins, but they are under intense pressure from the line-out, eventually forced back 25 metres to a scrum under the east stand. The momentum is with Sarries for now, and further pressure under their posts forces Quins to knock on.. From the scrum, Sarries force a penalty, and another easy shot for Malins.
Sarries mishandle the restart, but recover and are soon pressing. However, a dropped ball on the line denies a try, Quins clear from the scrum, but not well, and from just inside their own half Sarries are able to press forward against a disorganised defence. Lively work by Jack Nay from the Quins ten metre line cause chaos in the defensive ranks, and he breaks two or three tackles to fall gratefully into a position to roll over the try line. A scoreline of 16-5 with 38 minutes played looks good, but that advantage is almost squandered immediately, when Quins take advantage of a good restart and are most unfortunate to miss a try opportunity in the corner.
Half-time, 16-5 and the benefit of the wind behind them for the second 40, what could go wrong?
In the second forty, lots will go wrong. Quins hooker Elia Elia will become increasingly influential as a primary ball-player and Charlie Matthews will take increasing advantage of the defensive frailties that Sarries seem to be developing. The penalty count, 8 or 9 against Quins in the first half, will fall. Some of the Sarries youngsters will begin to flag, and the Sarries coaches will bring on their substitutes, mostly young and inexperienced, needing development time at this level. However, the most important change seems to be that Quins have found, and retain a new level of intensity.
Despite all this, the second half does begin brightly for Sarries. A couple of sets of phases last almost three minutes ends with one of those moves in which every player seems to be involved. Will Skelton at second receiver delivers the sweetest of soft passes to Christopher Tolofua at third receiver, who passes on equally well, giving Nathan Earle a weak defence to break through and score in the corner.
Quins nearly score themselves, almost off the restart, but Charlie Matthews is adjudged, a trifle harshly it seemed, to have restarted his move after being tackled, so the try is never awarded. Tim Swiel is off, his arm giving him some trouble.
Minutes later we see one of those fluke tries that must delight us in the stands, amaze the scorer and bemuse the defence. A Sarries move is running out of hands, so a chip ahead is needed. Blocked, the kick lands in the arms of Ben Earl as he runs forward in support. He takes a few paces that enable Tom Whitely to receive the pass, and Whiteley is able to bustle through the traffic and score. With the extras missed, the score is now 26-5. Quins need three converted tries to draw, but have less than half an hour in which to score them.
I am still not at all confident of the result. Quins are growing into the game and from now on, Sarries are visibly tiring, off the pace, beginning to make errors and slipping off first tackles.
Within two minutes, a Quins penalty has given them a line-out on the Sarries 20 metres, where smooth work ends with Elia Elia popping a perfectly weighted pass to Alofa Alofa. Suddenly it is clear that Sarries are no longer protecting a comfortable lead but are hanging on for their lives, albeit at 26-12. Soon a line-out well inside Sarries red zone hits the referee, Sarries have the scrum but mess it up, Quins benefit, and Elia Elia is able to burst through to take the try and the score to 26-17. Quins still need nine points, but they are definitely looking to win now.
More pressure is relieved, but with the clock well into the last quarter, Tim Visser has a certain try denied by a brilliant cover tackle that forces him to release the ball in a knock-on over the line. Sarries win the scrum, gain. A penalty from it and clear the danger, but as quins re-group a Sarries tackle hangs on too long, giving a penalty at 45 metres and directly in front of the posts. 26-20, and Sarries are almost out for the count. Immediately Quins hold on, and the margin is restored to 29-20. But two minutes later, seven minutes to play, and Sarries generously commit the same offence and Quins are back to within 6 points, 29-23.
Quins end the game throwing several kitchen sinks at the Sarries try line, a frenzied attack, a frantic defence that lacked nothing in drama but a little in execution. Well after the clock has gone red, one last heave brings the whistle. "Any reason not to award the try?" No reason not to. 28-28. The last kick of the game, and Quins win 29-30, with a bonus point.
Nobody can deny that Quins deserve this result. They have come back from a 21 points deficit to win, something that may not have happened at Allianz Park before. Both sides had given us a good afternoon of sport, by no means error free, but full of drama, played in good spirit and with every spectator determined to stay to the end. I elft then: I felt that I had seen all the fireworks I needed.
And so back to that classic film, The Great Race. At the end, the Goody, The Great Leslie, lets the Baddy, Professor Fate, win the race. I doubt that the Quins bus ride home will have anyone echoing the professor's final words of anguish: "You let me win, I refuse to win like this, I want to win my way."
Finally, the officials. Anonymous, effective and uncontentious. Referrals to the van were appropriate, handled adequately swiftly and we all understood what was happening throughout 80 fast, eventful and dramatic minutes. Isn't that what we all want? A good day for all of them.
Sarries: 15 Nathan Earle, 14 Aliatair Crossdale, 13, Matt Gallagher, 12 Nick Tompkins, 11 Mike Ellery 10 Max Malins, 9 Tom whitely, 1 Richard Barrington, 2 Christopher Tolofua, 3 Kieran Longbottom, 4 Will Skelton, 5 Danny Cudmore, 6 Jack Nay, 7 Joel Conlon, 8 Ben Earl, 16 Taidgh McElroy, 17 Hayden Thompson-Stringer, 18 Billy Walker, 19 Scott Spurling, 20 Sean Reffell, 21 Alex Gluksten, 22 Rueben Bird-Tulloch, 23 Rotimi Segun.
Quins: 15 Tim Visser, 14 Gabriel Ibitoye, 13 Harry Sloan, 12 James Lang, 11Alofa Alofa, 10 Tim Swiel, 9 Chris Mulchrone, 1 Lewis Boyce, 2 Elia Elia, 3 Josh McNulty, 4George Merrick, 5 Charlie Matthews, 6 Ben Glynn, 7 Archie White, 8 Dino Lamb. Replacements 12 Charlie Piper, 17 Mark Lambert, 18 Josj Ibuanopke 19 John Okafur, 20 Matt Luamanu, 21 Dave Lewis, 22 Harry Cheeseman, 23 Calum Waters.
SCORERS
SARACENS (29): Tries: - Nay, Earle, Whitely; Conv: Malins; Pen: Malins (4)
HARLEQUINS (30): Tries: - Sloan, Alofa Alofa, Elia Elia, Ibuanopke; Conv: Lang (2); Pen: Lang (2)
Attendance: 9,032
Officials: Hamish Smales, Sara Cox, Craig Maxwell-Keyes, Graham Hughes in the van.
View a Printer Friendly version of this Story.
Quins produce the Bonfire Night Fireworks at Allianz
TheSaracens.com (IP Logged)
06/11/2017 18:21
Thanks Philip
That's an excellent summary and pretty much how I felt about the game



Edited 2 time(s). Last edit at 2017:11:19:08:34:32 by Darraghgirl.
Sorry, only registered users may post in this forum.