SALE-ING INTO THE NIGHT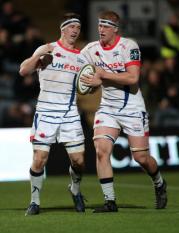 By Darraghgirl
November 8 2017
After Sunday's rather disappointing result, it is a quick turnaround for the next round of the "nobody-cares" cup up to Salford for a Friday night game under lights. The A J Bell can be a pretty bleak place at the best of times and with the weather expected to get colder, the team will require some good old northern steel (and maybe gloves)!
The vagaries of this tournament mean that all 3 teams in our group who have played a game (Scarlets not having yet started) are on 1 point! Meanwhile our opponents are only in 3rd place in their pool but with 4 points having won away against Worcester Warriors!
I suppose the first question is will Marlon Yarde play? The second is will Solomona play? Yarde in particular could probably do with some game time and Sale may wish to also give Solomona a run out. In the first round, Sale played a mix of experience and younger players. Will Addison, Sam James, AJ MacGinty, Josh Charnley, Willgriff John and Ben Curry all played against Worcester are all regular first team players. There was a familiar name on the bench – good old David Seymour. (Incidentally there seem to be rumours that Charnley is going back to League).
Sadly the Sharks message board is offering me no help with speculation as to who will play on Friday!
As to Sarries, I am sure they will stick with their policy of playing a largely development team with a few additions as was the case on Sunday. The short turn-round may encourage Adam Powell to make a few tweaks to his team. I doubt we will see Isiekwe though.
I would expect the backs to line up pretty much as they did last week assuming they are all fit although I would like to see Segun get a start (maybe for Crossdale). I thought he showed promise against Quins and he was definitely up for it. Nathan Earle may be needed next week so he might get the week off. (Can Crossdale play fullback?) In the forwards, our replacement front row was definitely a step down from the first choice but given Tolofua will probably be on the bench against Glos, I think we may see Spurling start. Similarly it would be silly to risk injury to Barrington (given Mako's unavailability) so Thompson-Stringer will probably start alongside Longbottom. Will Skelton started out well last week but his lack of fitness showed towards the end so I'd expect him to start alongside Cutmore (who looked quite useful). I would expect the back 3 once again to be Nay, Conlon and Ben Earl. (Incidentally does anyone else have a daft friend like mine who said to me last week "Ben Earl is Nathan's brother").
In the Lucky Dip lottery of referees we have Rhys Thomas of the Welsh Rugby Union. Given our general opinion of welsh referees (apart from Nige of course) I guess its fingers crossed then! (Incidentally the referee for the Scarlets/Exeter game goes by the name of Karl Dickson. Haven't we heard of him somewhere? His talents will be on TV on Sunday afternoon for all to see.)
I'm sure Sarries will give it their all but traditionally we haven't prospered in the frozen North West and it wouldn't surprise me to see a win for Sale. I doubt if Mark McCall will be too bothered.
A longshot I know but if there are any Sarries fans making the trip, we need a reporter!