GRIM BY NAME.....GRIM BY NATURE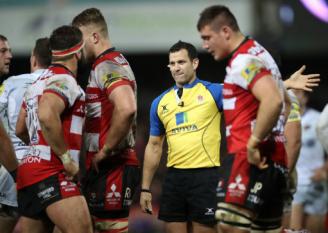 By Innings
November 19 2017
The closer I got to Gloucester, the more convinced I became that Sarries would go home with nothing from his game. The recent losses in the AW gave me no reason to expect that the Sarries squad, shorn of the England contingent, had the mental strength or skill-set to overcome a Gloucester side whose home form belies their place in the table. They may not travel, but Kingsholm is returning to its Castle Grim reputation.
Vile traffic from the outskirts of the city did not help the feeling of pessimism, and it was only a helpful car park attendant helpfully finding a last space, and two interesting Gloucester supporters with whom I walked to the ground, who gave me any warm thoughts before the game. Whoever recommended the pasties was wrong to have done so, they are poor fare after the pies at AzP. Gloucester offer their most awful seats to their visitors, and being unable to see much of the area on the side away from the Shed did not help this writer, because the big screens were either too far away or at too oblique an angle.
Sarries lost Jackson Wray before the game, no idea why. Moving George Kruis to No 6 and Schalk Burger to No 8 was the necessary adjustment.
The game started briskly, and whistle debutant Karl Dickson seemed to be that ideal referee, the one who wants the game to flow. He did not blow for the first three minutes. Gloucester had the territory, but made little enough of it.
For the first sixty minutes this was one of the dullest games ever offered in the professional era. Neither side seemed interested in winning, and Sarries in particular were in a truly Christmas mood, refusing either to score tries or to convert penalty shots. In fact, Sarries got to be ahead by half time, with a modest lead of 3-9, pushed out to 3-14 after an early second half try from Brits, in one of his rare moments of being able to escape the close attention that the Gloucester defence paid to him every time he was in possession. Even then, I was certain that Sarries would blow this game: they simply lacked the three vital elements, skills applied, cohesion as a team and will to win.
For me the change of tempo in sixty or so minutes was profound. John Afoa seemed suddenly to wake up and remember that he was an All Black prop with 30 caps, and ignited the Gloucester forwards to raise their team game, start running far more direct lines at the Sarries midfield and thus begin to draw in the overall Sarries defence. It could be no surprise that Gloucester then scored two tries, from Thorley at 14 and Hudson at 15.
Sarries, now losing 23-14, that's 20 unopposed Gloucester points in the second half, after the Brits try, did wake up for a last-ditch attempt, leading to a penalty, converted by Ben Spencer, in the near-total absence of Alex Lozowski's kicking boots, to give an 80th minute LBP. However, this was overall a dire performance. Not one observer would have thought they were watching the best club squad in Europe, because this group of 23 players cannot be considered better than a mid-table outfit. Three losses in a row, unheard of for Sarries in recent times, and with Exeter visiting AzP next weekend I fully expect this run to continue. These are unaccustomed times for the team and supporters, and a reversal of this dip in form is needed. Two of our returned England players will look back on that game with wonder at how they could be in England colours and contention one week and utterly off form a week later.
Finally, there must have been some bright moments, and there were. Alex Goode was commanding at the back, and handled the Gloucester aerial war magnificently. Chris Wyles proved again why he is such an important player in the Sarries style. Richard Barrington produced some of his trade-mark carries, and Will Skelton was busy and occasionally very effective, but that is about the sum of what was of the standard we have come to expect.
Karl Dixon continued as he began, consistent, understanding and firm when required. On this first time out at this level I'd say he was the outstanding individual on the field, albeit with little competition from either side.
Gloucester Rugby
Hudson, Thorley, Twelvetrees, Symons, Trinder, Burns (Atkinson), Trinder (Vellacott), Hohneck (Ruskin), Hibbard (Hanson), Afoa (Denman), Savage, Slater (Thrush), Clarke (Polledri), Ludlow, Ackermann
Saracens
Goode, Maitland, Tompkins (Bosch), Barritt, Wyles (Earle), Lozowski, Wigglesworth (Spencer), Barrington (Thompson-Stringer), Brits (Tolofua), Figallo (Koch), Skelton (Conlon), Isiekwe (Flanagan), Kruis, Clark, Burger
SCORERS:
Gloucester Rugby: Tries: Thorley, Hudson; Conv: Twelvetrees (2), Pens: Twelvetrees (3)
Saracens: Try: Brits; Pen: Lozowski (3), Spencer
Attendance: 12,871
Referee: Karl Dickson (RFU)