PANTOMIME SEASON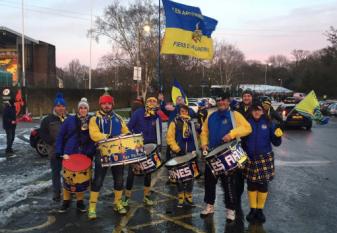 By Darraghgirl
December 11 2017
What a pantomime EPCR have put on casting Saracens as the Wicked Stepmother. Well at least it's the right time of year! Will we? Won't we? Will we? Won't we? Closed doors? Open Doors? Closed Doors? Stable Doors? You get the idea. It has given Saracens-haters across Europe the chance to blame the Club for the Snow Dump (which wasn't forecast that far south), ungritted roads (how dare Barnet council prioritise the A1 over Champions Way?), delayed flights at Luton Airport, the fall in the pound, the Ashes problems in Australia, world poverty etc etc. Rumours abound! "Sarries couldn't contact EPRC yesterday." "Sarries wanted to postpone the game until Billy was fit again." "Sarries were scared of the Jaune et bleu effect". "EPCR changed the rules for Sarries". "Nobody consulted ASM". Probably not a ha'pence of truth in any of them!
Anyway I was one of the fortunate ones (?) who was able to get to Allianz for a 5.30 Monday night kick off. It was all going so well! We parked for free almost outside the gate; we were handed a free programme and we could sit in the Platinum area - again for free - well we could have done were it not occupied by Clermont supporters. A lot of Clermont supporters. A lot of noisy, flag-waving, face-painted Clermont supporters. Any suggestion that they had all gone home proved very wrong – in fact there were nearly as many fans in the jaune et bleu as in the black and red. And they were a lot noisier!
One of the big screens had already given up the ghost (which didn't matter in the end because I don't think Nigel referred anything to the TMO all evening). Nigel was resplendent in matching pink shirt and boots, his assistants were muffled up in tracksuits.
Oh and there was a match wasn't there? Well less of a match, more of a demonstration of clinical rugby, not from the reigning European champions, who hadn't lost in their last 20 European games, but from last year's beaten finalists, lying 9th in the Top 14 and with only 1 away win all season – against Ospreys. Clermont wanted it more. They brought all their resentment from the events of the last 24 hours, all their desire for revenge from the Final in Edinburgh in May, all their power, skill and fitness to prove that the old adages: "French teams don't turn up away from home; French teams aren't as fit as English teams; French teams are badly coached" are horribly, desperately, totally wrong.
It was all going so well. An early break by Maitland almost put Skelton through but not for the first time tonight the ball was lost forward. What a different game it might have been if that one had stuck! So much of this game is down to confidence. During this passage of play both Barritt and Vahaamina departed, never to return. (I am always apprehensive when Brad isn't there to shore up the defence) so Lozowski joined the fray somewhat earlier than planned. Still Sarries pinned Clermont deep in their 22 again but once more could not get over the line. That was about as good as it got sadly!
Aliveretti Raka made a dangerous-looking break into the Sarries 22, but Mako forced a knock-on. Sarries won a free kick from the scrum and should have cleared but the ball made its way back towards their 22 and out to Raka who ran round several Sarries defenders as if they were ninepins and scored to the left of the posts. The metronomic Parra was never going to miss the conversion and Clermont took the lead. So maybe this was the wake-up call Sarries needed? Or maybe not.
A clever kick deep into the Clermont 22 forced Strettle to carry the ball over and set up a 5m scrum. A great opportunity to get back on level terms surely? Somehow the ball got knocked forward and then Clermont were awarded a penalty. Frustrating yes but we can not afford to waste these opportunities! The Saracens of last year would have been far more clinical. Worse was to follow when Clermont conceded a penalty and Wiggy missed touch, trying to go for too much. Clermont ran the ball straight back and Raka once again powered down the wing leaving the Sarries' defence trailing in his wake. A trickier conversion this time but again there was never a doubt Parra would land the kick. 20 minutes gone and Clermont already had a commanding 0-14 lead. 5 minutes later things got even more desperate when Saracens totally failed to defend a lineout allowing Parra to find Raka once again for his hat-trick under the posts and a simple conversion.
In the words of Freddie Truman, "what on earth was going off?" Not even half time and the game was looking done and dusted. Saracens appeared unable to hang on to the ball or break the gain line. Several visits to the Clermont 22 produced nowt whereas Clermont had scored with every half chance. Still some small hope when Farrell tucked a penalty into the corner and pretty much the entire Saracens team trundled the ball over the line. Well not quite, the maul was stopped illegally. Nigel awarded a penalty try and sent Fritz Lee to the sin bin. Who needs a TMO? So at least Sarries were just about up and running. If they could kick on from here who knows?
We knew. During the 10 minutes Clermont were down to 14 they scored 3 points and Sarries scored nothing. In addition Wiggy limped off ominously. Buoyed by the penalty try, Sarries turned down 2 kickable penalties and went to the corner but despite being a man down, each time the Clermont pack managed to turn the ball over. When Lee returned on the stroke of half time, no one was surprised when yet another 3 points were waived away, Clermont defended the lineout and went into half time with their 7-24 lead in tact.
Not an impossible situation to recover from but it was going to take a helluva performance from the coaching staff at half time to breathe some life into this Saracens team. Sadly, the off-field squad were no more successful than the on-field lot. Sarries made it into the Clermont 22 again but lost the ball –it was becoming a bit like an old record! Even worse, they allowed Raka to run round most of the team from his own 22 to the other end of the pitch and set up the bonus point try for for Flip Van Der Merwe. The Clermont supporters were delirious, bouncing up and down in the South stand as if they were back at Marcel Michelin. Parra again converted for 7-31 and still 30 minutes more punishment to take! (Not even the most optimistic of us thought Saracens were coming back from here. Their body language suggested defeat. Losing gets to be a habit and with it goes confidence and self belief.)
Spedding went for goal from inside his own half and I think everyone was surprised when it fell short- this was a day when everything Clermont touched turned to gold – or at least yellow. Figallo replaced Koch and Isiekwe came on for Burger. Briefly things looked up when Sarries stole a lineout but then gave Clermont the ball back and almost allowed the stand-in fly half (who looked anything but a stand in) Toeava to score. Sarries defended a 5m scrum and even won a penalty. Could the tide be turning? For some inexplicable reason, Farrell took a quick tap which no one else read and the ball ended up behind where he started. A second penalty was also tapped, this time Bosch got on the end of it but he knocked on and allowed Spedding to get the ball in the Sarries 22. A break from Strettle and then Fofana ran straight through the "defence" to score a 5th try for the French side.7-38
McCall had clearly decided the game was up and what remained needed to be conserved for next week so George and Mako were replaced. The restart didn't go 10m. A basic error from an increasingly frustrated Farrell. To add insult to injury, from the resulting scrum, Parra kicked a penalty from the half way line. Strettle's departure generated a rare round of applause. Earle came on for Maitland and immediately put in a couple of excellent tackles on Raka. Finally Clermont made an error allowing Earle to break into the 22 with Skelton outside him but sadly the big guy couldn't cling on to the ball with the try line begging.
The whole thing disintegrated into the pantomime it was always going to be with Clermont now playing 7's rugby and Saracens just plain desperate. Passes were going from one team to the other like custard pies. Eventually Kruis picked up the ball, at last someone breaking the gain line, and scored under the posts. 14-41. The guy behind us said ironically "we're back in it now then!"
From the restart, Bosch made a complete hash of everything and was forced to carry over. The Clermont pack enabled Toeava to score in the corner. At least Spedding missed the kick but it was 14-46 and the only debate was could Clermont reach 50 with a couple of minutes to go. They didn't but in the end it hardly mattered. Their supporters were understandably jubilant. In fairness, despite the inevitability of the defeat, most of the Saracens supporters stuck it out to the bitter end.
So Saracens hold on The Champions Cup is now hanging by a thread. The team look like the Saracens of old – the flaky team that played at Vicarage Road, that lost more games than they won, that had forgotten how to win. Clermont inflicted the heaviest ever European defeat on the Men in Black. This drama is becoming a crisis. McCall and his men have 6 days to produce a miracle in Clermont next Sunday. At Christmastime, nothing is impossible – but I'm not holding my breath. Perhaps if we all believe in Father Christmas………..
Saracens
Goode, Maitland (Earle), Bosch, Barritt (Lozowski), Wyles, Farrell, Wigglesworth (Spencer), M Vunipola (Barrington), George (Tolofua), Koch (Figallo), Skelton (Earl), Kruis, Clark, Burger (Isiekwe), Wray
Clermont
Spedding, Strettle, Penaud, Fofana, Raka, Toeava, Parra, Falgoux, Kayser, Slimani, Timani, Vahaamahina, Cancoriet, Lapandry, Lee
Subs: Ulugia, Kakabadzie, Jarvis, Van der Merwe, Yato, Trussardi, Betham, Abendanon
SCORERS
Saracens: Tries – Penalty, Kruis; Conv: Farrell
Clermont: Tries – Raka (3), Van der Merwe, Fofana, Toeava, Conv: Parra (5); Pen Parra (2)
Attendance 2,811
Referee: Nigel Owens (WRU)