CLERMONT V SARRIES PART DEUX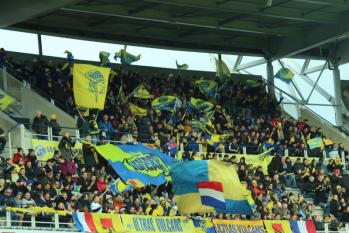 By Seany_boy
December 14 2017
So after traveling from the Isle of Wight to the Isle of 'White' on Sunday 10th December, the game was called off to adverse weather conditions and health and safety and it really was 'snow' laughing matter, which lead to a few 'slippery' decisions being made (ok walking on Thin Ice with these puns now) Allianz Park was literally covered in a blanket of untouched snow and it was a beautiful sight, after the game was called off their was no clear indication when the game would be replayed or whether it was being played behind closed doors or not, eventually the EPRC and Saracens came to a conclusion that the game was to be replayed on Monday 11th December to the frustrations of Clermont and there management, who claimed they were not included in any discussions and there was rumours they were even going to refuse to play, although according to Vincent Galliard (one of the heads of EPRC) they were informed. The game was open to the public and was to be played at 5.30pm (GMT time) at Allianz Park.
When the game took place it felt like Deja vu, as once again Allianz park was covered by a white blanket, this time in the form of Clermont (in an all white strip) and one man in particular tore Saracens apart, Alivareti Raka, he was on fire and after scoring a quick fire 20 minute hat trick and that wasnt enough for the Fijian Flyer, he then ran 90 metres taking on 3 or 4 Saracens players and off loading to his supporting lock who crossed over for one of the tries of the century, let alone this season. It brought back memories of when Clermont came to Vicarage Road a few years ago and were unstoppable and showed Saracens how to play rugby. Inflicting Saracens biggest defeat in Europe 14 - 46. Although Saracens did.miss more than 20 tackles which is unlike them and they really need to go back to basics if they want to stop the rot, 6 losses in a row the last time that happened England lifted the Rugby world cup, 14 years ago. However take nothing away from Clermont who were ruthless and thoroughly deserved their victory.
Onto Sunday then and almost unbelievably snow has been forecast although we will have to watch this space to see if it happens of course. Clermont are now favourites to top the group and will be looking to continue their brilliant form by taking another scalp on Saracens and after the Fiasco by EPRC, the atmosphere could be even more hostile than it usually is in the Stade Marcel Michelin, even though Clermont are missing a substantial amount of players their strength in depth is incredibly powerful, each player is almost a like for like replacement and with Raka scoring for fun it could well be a repeat scoreline for the 2017 runners up. It's likely to be similar like up Clermont and with their danger men in fine form it's looking likely that Clermont will get the victory and advance to the next stage and put them in a position to be able to win their first long over due European Champions Cup. Saracens seem to be lacking in structure defensively and need to improve and pretty damn fast as for some reason the champions have had a massive dip in form, maybe they have been playing too much rugby, maybe they have been trying to force it too much or maybe the Double European champions have simply been found out. What ever the reason they have been struggling and it's looking like a very tough task for the Men in Black to qualify for the Quarter Final stages. Another reason for the difficulty that awaits Saracens is the recent results in Pool 2, Ospreys have been quietly going about their business and with a likely 5 points against an out of form Northampton Saints, who have also parted company with their Director of Rugby Jim Mallinder this week, could leave Saracens with a mountain to climb. If Ospreys do get the potential 5 points they will go into second place with 13 points and still have to face Saracens at The Liberty Stadium, where naturally they would fancy their chances to beat out of form champions.
Saracens themselves will never give up, but at the very least they require a losing bonus point to keep their chances alive, with their injuries and lack of form for Saracens on paper Clermont are likely to take the full 5 points,mainly due to the form they are in and the fact the yellow army will be full of confidence after a massive win last week. With recent knocks to Brad Barritt and Richard Wigglesworth, two of their key men, it could be a complete restructuring defence wise with Tompkins and Spencer likely to start if Brad and Wiggy are not quite fit enough. Isiekwe may also feature from the start as well with Skelton dropping to the bench after a bad day at the office from the giant second row.
So backs against the wall and everyone favouring Clermont, it would be typical of Saracens to find that bouncebackability, and upset the apple cart and with lucky number Seven get out of this losing streak!
Only time will tell.
Safe travels to those who are going and as this is likely to be my last preview until 2018 may I wish everyone a Merry Christmas and a happy new year!
View a Printer Friendly version of this Story.
CLERMONT V SARRIES PART DEUX
TheSaracens.com (IP Logged)
14/12/2017 17:32
thanks Sean and Merry Christmas to you too
Preview spots for Leicester and Wuss still available!!!!



Edited 2 time(s). Last edit at 2017:12:31:09:04:11 by Darraghgirl.
Re: CLERMONT V SARRIES PART DEUX
14/12/2017 19:29
Wiggy supposedly out for 8 weeks with a hip injury. Nice place for Tom Whiteley to make his senior debut!
Sorry, only registered users may post in this forum.