Back on the horse, and Tigers suffer.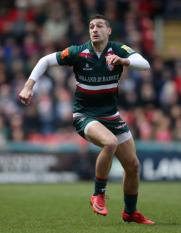 Use the hands-free option
By Innings
December 28 2017
I could not travel to Welford Road, one of my annual favourite away games. Mother Christmas had other plans for my day. At least I did get to watch the game on TV, which sometimes gives a close-up perspective on the events surrounding the game itself.
Not unnaturally, and I'd be surprised if I was the only one, I felt that the game would go, not to the side who wanted it most, because both teams must have been desperate for a win, any win, at any price. Instead, I thought that discipline would be the divider, with the more composed side to take the spoils. I did not think that Sarries lacked anything in intensity at the Stade last weekend, and that if they were to play a controlled game they would prevail.
The opening moments seemed to set the tone of the first half. Sarries set-up a good kick-off, which of itself threatened little, but their first return was less accurate, and within minutes Ben Youngs, under pressure to follow-up on a mediocre clearance played through onto Ben Spencer. Not a good idea to give Owen an easy pipe-opener.
On eight minutes, Tom Youngs was last man around to hold a strong Sarries maul, unsuccessfully. Farrell to the corner and line-out. Sarries worked the Tigers forwards, backs had to join in, and slick ball left to right saw a despairing lunge by May, a clear deliberate knock-on that prevented a walk-in for Maitland. Yellow card, penalty try, 0-10 in less than 10 minutes.
Almost 15 minutes of pressure by both sides yields nothing, and Tigers are relieved that the May bin-time was not more costly than the try. However, much of the play is in the Tigers' 22, and Sarries are working the ball back and forth, seeking an opening. It comes on 25 minutes, when some slick interplay leaves Jamie George with one of his trademark bursts to subside gracefully and unopposed between the uprights. Debate about obstruction, but it is possible that a Tigers man actually took out Jamie's support rather than the support taking out the potential tackler. 0-17 and things are looking up.
The Welford Road 16th man is muted now, and Sarries are playing better in every aspect bar one: the scrum is not good, and Dan Cole seems to have a hex on Mako Vunipola, who in all will give away seven scrum penalties. Few would have argued if Matt Carley had binned Make before losing patience in the 72nd minute.
The half gave Tigers some respectability in the final ten minutes. Ford punished Chris Wyles for a harmless but unnecessary seat-belt tackle with a pin-point to the corner, and two minutes later a truly scintillating play gave Thompson the narrowest of margins in the corner. It was too narrow, but as he disappeared into touch a brilliant blind back of the hand offload gave Matthew Tait a dot-down. Ford converted the side-line kick.
As the half ran down, Will Skelton was adjudged to have strayed beyond the ball, and Ford obliged again. The half-time score was therefore 10-17. Nonetheless, whatever might be about to be said in the dressing rooms, I felt that Sarries were playing the better rugby, with less sign of losers' nerves.
Immediately after the oranges, Tigers offer Marcel Bosch a head-on kick, entering the maul from the side. It was a plum-pudding kick, soft and leaden. Play is end-to-end stuff now, but a Tiger holding on too long in the tackle sees Farrell put Sarries back on the 15 metre line. Desperate clearance work is undone by a high tackle by Fitzgerald, offering Farrell an easy three points. 10-20 to Sarries.
At this moment, a man in the van points out an interesting statistic. Ford has passed the ball 22 times in the 44 minutes so far. Only eight passes have given benefit to Tigers, and the speed of Sarries' press defence had clearly put both Ford and Manu Tuilagi off their game. The latter has had four good passes with which to work, but three have gone out of his hands, forward.
The kick-off from Tigers gave Sarries the chance to demonstrate the text-book art of handling a kick-off. Without fuss or risk, Spencer, who had one of his most influential games, has drilled Sarries upfield. Tigers are defending for their lives, and their efforts seem to be bearing fruit. However, out of nothing, except the recesses of memory, trying to recall the last one we saw, Owen Farrell drops a goal. To me, it seemed as though the heart went out of Tigers at that moment. 10-23.
The next seven or eight minutes are horrible. Tigers are camped on Sarries' line, scrummaging every infringement and gaining all the benefits of their dominance in this area. A second penalty try is the outcome, and Tigers might well feel that a yellow for Mako was also deserved. 17-23.
Time is ticking, and Tigers are having to risk all. They fumble the restart, Sarries are pressing again, this time Marcelo tries a drop goal, but unsuccessfully. Then a smartly worked move on the right side sees Michael Rhodes, on as a sub, and playing as though he has a personal mission to make up for lost time. A perfectly timed run, a despairing attempt by May to prevent a pass back in-field, another yellow, converted to red. No penalty try, the officials think that there was adequate defence supporting May. Nonetheless, Farrell obliges, as he has done with every kick all afternoon. Ten minutes to play and Tigers need two scores. 17-29
As the game approaches the end, Mako finally catches Carley's eye once too often, and he trudges off, leaving Tigers with eight minutes to try to get anything at all out of this one. The task is beyond them.
Sarries are back on the horse, Tigers are not happy. This is by no means a crisis for them, but they are trying to recover from being shown up in three of four games in Europe and they do not like home defeats.
There could only be one man of the match. Commentary called Jackson Wray a human wrecking ball, and today he was at his best. I think he carried 22 times for 50 metres, completed all his eight tackles successfully and achieved turnovers as well. It can be no surprise when Alex Sanderson said that he is the sort of player who wins championships for clubs.
There were intriguing head to head matches. The most obvious was the Ford / Farrell match. Farrell was simply in a different class. He was totally on top of his game, and dominated the mid-field. More worrying for Ford, Alex Lozowski was also incomparably better in all aspects of his game than Ford was allowed to be. The Bosch / Tuilagi match-up offered promising comparison but delivered little. Bosch was busier, far better in defence, and managed to do more in attack than deliver knocks-on. Tuilagi will need some better performances unless, like Dylan Hartley on Saturday against Exeter, Eddie will continue to pick him regardless of achievement. The Cole / Vunipola match-up was almost embarrassingly one-sided: Mako can rarely have delivered such a poor set-piece display.
Tonight, Sarries sit in second in the Permiership. Exeter are way ahead, and Wasps and Gloucester are snapping at Sarries' heels. Only eight points separate second from eighth. With half the season gone, Exeter are charging for a first-place finish, Gloucester have rediscovered their game, Saints are a club in some sort of dark place right now.
The officials did pretty well. Tigers were not pleased with Carley at times, and Graham Kitchener only realised that he was on thin ice with his whingeing when Carley told him that his next complaint would see him leave the field. If referees don't like it, how about a few penalties to silence the complainants? Threats of cards would then not arise.
Saracens
15 Alex Goode; 14 Sean Maitland; 13 Marcelo Bosch; 12 Alex Lozowski (Barrington, 72); 11 Chris Wyles; 10 Owen Farrell; 9 Ben Spencer; 1 Mako Vunipola; 2 Jamie George (Tolofua 68'); 3 Juan Figallo (Koch 59'); 4 Will Skelton (Burger (59'); 5 George Kruis; 6 Nick Isiekwe; 7 Calum Clark (Burger 11-19) (Rhodes 61'); 8 Jackson Wray.
Replacements 16 Christopher Tolofua; 17 Richard Barrington; 18 Vincent Koch; 19 Michael Rhodes; 20 Schalk Burger; 21 Tom Whiteley; 22 Nick Tompkins; 23 Nathan Earle.
Scores Tries George(26'); Penalty try;
Conversions Farrell 1/1
Penalties Farrell 4/4 + 1 D/G
Yellow card M.Vunipola (73')
Leicester
15 Mathew Tait (Malouf 63'); 14 Adam Thompstone; 13 Manu Tuilagi; 12 Matt Toomua; 11 Jonny May; 10 George Ford; 9 Ben Youngs; 1 Logovi'i Mulipola; 2 Tom Youngs (c) (Polota- Nau 61'); 3 Dan Cole; 4 Mike Fitzgerald;5 Graham Kitchener (Wells 63'); 6 Valentino Mapapalangi; 7 Mike Williams( Hamilton 63'); 8 Sione Kalamafoni.
Replacements 16 Tatafu Polota-Nau; 17 Kyle Traynor; 18 Chris Baumann; 19 Harry Wells; 20 Luke Hamilton; 21 Sam Harrison; 22 Joe Ford; 23 Nick Malouf.
Scores Tries Tait (29');
Conversions Ford 1/1
Penalties Ford x 1/1
Yellow card May (11')
Red card May (69')
Man of the Match Jackson Wray
View a Printer Friendly version of this Story.
Back on the horse, and Tigers suffer.
TheSaracens.com (IP Logged)
28/12/2017 11:29
Thanks Innings.Once again, apologies about the tardiness in publishing. Don't worry, DG is due back tomorrow - snow permitting!
If you do not already have an account
Click here to Register
.
Edited 2 time(s). Last edit at 2018:01:10:12:50:49 by Darraghgirl.
Re: Back on the horse, and Tigers suffer.
28/12/2017 14:34
Excellent match report Innings and I'd echo some of those thoughts re the head-to-heads.

Friends who support other clubs often dismiss Farrell performances because he only ever has to pay off the front foot. Bath and now Leicester (again) supporters often talk about how Ford is/would be the best around behind a strong pack. Here we had a game where our scrum struggled badly almost all game and yet Farrell continues to play flat when it was needed and take the hit if that's what it took to get a pass away. Both he and Spencer also gave a masterclass in getting us to play in the right areas of the field.

I honestly don't know enough about scrums to venture an explanation beyond what seems obvious but I have never seen anyone dominate Mako to that extent OR Cole dominate any LH to that extent. Makes me think there is much more to it than just Mako being outclassed, whether that was dark arts, a weakness in our scrum, refs interpretation, whatever. As always he had a very strong game in the loose but I hope we have some solutions to whatever the problems were. Any thoughts as to why Barrington wasn't brought on sooner?
Sorry, only registered users may post in this forum.