SARRIES MAKE IT A HAPPY NEW YEAR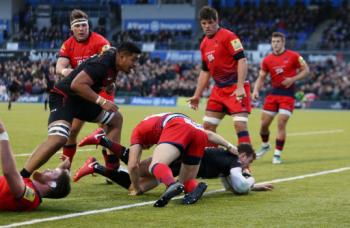 By Darraghgirl
December 31 2017
The final fixture of 2017 at Allianz Park saw Saracens welcome Worcester Warriors – with some trepidation I suspect as despite their lowly position, Warriors have been responsible for some of Sarries' most ignominious defeats. Although Sarries won the reverse fixture at Sixways at the end of September, the 24-18 defeat in February is still a vivid memory!
Allianz Park was gusty but apparently mild (although having just returned from Christmas in the sun it felt decidedly chilly to me) with the wind direction having changed from a cold northerly to something more south-westerly. Driving to the top of Milespit Hill we were amused to see a new housing development entitled "Eleventrees" (33 surely?) Rather bizarrely there was a Steel Band in full swing at the ground and a few decent bargains in the shop (particularly loved the "Space for Giants Polo).
Saracens welcomed back to the starting 15 Captain Barritt following a head injury and the much missed Mike Rhodes from shoulder surgery. George Kruis was "rested" (in Oz at his brother's wedding apparently) and Nathan Earle got a start on the wing ahead of Wyles. It was good to see Super-Dunc (after a long lay-off) and Wiggy (surprisingly much shorter lay off) on the bench along with first choice props Mako and Koch. The man in the middle today was Christophe Ridley in only his 2nd Premiership appearance. Gosh this makes me feel ancient – he even makes Craig Maxwell-Keys look middle aged! Wuss turned up in a very festive-looking red strip.
And so to the match – Sarries started the first half playing (mostly) into an unpredictable wind. Wuss had plenty of ball but were going nowhere until a kick-chase down the left wing saw a piece of pantomime between a rusty Barritt and Goode which allowed Josh Adams to score the opening try and Chris Pennell to land a very good touchline conversion. Panto time continued as Wray and Figallo knocked each other sideways. Wuss were putting up plenty of high balls into the testing breeze but Goodey was 100% solid underneath them and seemed to provide the main attacking impetus as well. Finally Sarries had a line-out in the Wuss 22 – only to lose it! At last, after 15 minutes, sustained Sarries pressure saw Spencer pick up off the back of the ruck and his twinkly toes danced over the line. Farrell kicked an equally good conversion into the wind to level the scores.
There was a lovely piece of cool-headedness from Goodey when he chased a ball deep into his own 22 only to be confronted by 2 Wuss attackers. Cue Wuss penalty for holding on? Not a bit of it? Goodey stood his ground then dummied, passed out to Maitland who had arrived to assist, then took the return pass and carried the ball deep into the Wuss half. How can Eddie not find room for a guy of this vision and class?
Sarries began to concede a lot of penalties. It wasn't always clear what for but they seemed to have got on the wrong side of Mr Ridley. Pennell made a hash of a kickable penalty but Sarries found themselves pinned in their 22 with Burger and Rhodes particularly effective in defence and eventually a turnover allowed Earle to run the ball back to the Wuss 22. A series of pick and goes before Farrell found Bosch outside him and a nice little pass out to Maitland on the wing. Rather than put the ball down in the corner, Maitland had the presence of mind to run the ball infield before grounding for which Farrell was doubtless grateful as the kick was much easier and Sarries took a 14-7 lead. This was soon 17-7 with another Farrell penalty before what looked like a harsh call against Rhodes allowed Pennell to put Wuss back within 7. It was clear they were up for this, especially David Denton who looked back to his best and impressed all afternoon.
Farrell seemed to take a hit to the jaw but it appeared the granite from which he is crafted didn't even chip. Pennell took another shot at goal but this one didn't even cross the tryline such was the capriciousness of the wind. With half-time looming, Sarries seemed to be already in the locker room and Sam Lewis found a hole big enough for Santa's sleigh in their defence to score a second Wuss try. Pennell found his kicking boots again and the teams went in level.
Sarries started the second half with the wind behind them. An immediate attacking opportunity found Wray on the wing but he couldn't hold on to the pass. There were lots of errors from both sides (too much mulled wine at half-time maybe?) before McCall brought on some of his cavalry. Mako and Koch replaced Barrington and Figallo and there was a big hand for Duncan Taylor (replacing Bosch) and Wiggy for Spencer (who had looked pretty useful I have to say).
Farrell missed a longshot at goal before a lovely break by Isiekwe orchestrated by Wiggy. Wuss captain Donncha O'Callaghan was not happy and there was something of a face-off between him and Mr Ridley. A more confident referee might have waved a card for dissent but Donncha survived and Farrell kicked the points for a 20-17 lead. Calum Clark replaced Burger (whose temper was getting the better of him) and this time Farrell put the penalty in the corner. Sarries initially failed to capitalise but the clearance from Wuss was a poor one. A Sarries penalty from the lineout went back in the corner and this time the line-out drive worked and Wray scored. Farrell again converted for a slightly more comfortable 27-17 lead. Wholesale changes from Wuss (including the departure of O'Callaghan, probably wisely). Their new fly-half Jamie Shillcock made a rather inauspicious start putting the restart straight out.
Sarries won a series of penalties and pressured the Wuss 22. Mako was almost over with a very delicate pirouette before grounding the ball just short. The ball was recycled and Wiggy thought he was in but Wray plucked the ball from his grasp to score his second and Sarries' bonus-point try. Another pin-point conversion from Farrell made it 34-17. Enough surely? Tolofua replaced Jamie George. Wuss secured a scrum on the Sarries 22. The Sarries forwards seemed to have pushed Wuss off the ball but failed to notice that Mr Ridley hadn't blown and Wuss still had the ball which allowed Denton to score a deserved 3rd try for the visitors. A nice conversion and Wuss were back in it at 34-24.
Into the final 10 minutes and Taylor departed for a HIA (hopefully just precautionary – that guy has no luck at all). Earle made a lovely break down the left wing. His rather high inside pass found Skelton, the only Saracen who could have reached it. A lovely lob back out to the wing saw Earle score the 5th try – once again running the ball infield to make the kick easier from which Farrell obliged. 41-24. His work done, Skelton was replaced by Flanagan. More carelessness from Wuss saw a promising move break down when the ball went straight out. Sarries took advantage with a lovely crossfield move involving Wiggy and Goode before Earle's pace took him over in the corner. This time Farrell couldn't land the conversion but at 46-24 it didn't matter. With just a minute left, Sarries were in festive mood with the gift of a precious try bonus point to Wuss when they failed to defend a tap penalty and allowed James Shillcock to score. Pennell again landed a tough conversion and the game ended 46-31. Probably closer than it should have been but a good enough performance.
Mike Rhodes deservedly won Man of the Match but honourable mention also to Alex Goode & Jackson Wray. Christophe Ridley did pretty well in the circumstances although I didn't think his Assistant Referees did him any favours!
And so as 2017 passes into history, Sarries sit second in the table, some way behind Exeter Chiefs on top and keeping their noses ahead of Wasps and Glos just behind. With Wasps to come next week and then the prospect of the next 4 league games during the 6 Nations, we will do well to maintain a top 4 position come the spring. But to look on the bright side, Billy, Maro and Liam Williams will be back soon (although may go straight to England/Wales) and Mike Rhodes is flying. Schalla can't be too far away and hopefully Duncan's bump on the head was nothing serious.
So a very happy 2018 to one and all. Thank you to everyone who has contributed previews and match reports throughout 2017 – we always need more scribes so if there is anyone out there who would like to join our diminishing team please don't be shy.
SARACENS
Goode, Maitland, Bosch (Taylor- Lozowski), Barritt, Earle, Farrell, Spencer (Wigglesworth), Barrington (M Vunipola), George (Tolofua), Figallo (Koch), Isiekwe, Skelton (Flanagan), Rhodes, Burger (Clarke) Wray
WORCESTER WARRIORS
Pennell, Heem (Humphreys), Willison, Mills, Adams, Olver (Shillcock), Hougaard (Dowsett), Waller (Bower), Singleton (Haupt), Milasinovich (Kerrod), O'Callaghan (Phillips), Barry, Denton, Lewis Fa'osiliva.
SCORERS:
Saracens (46): Tries: Spencer, Maitland, Wray (2), Earle (2); Conv: Farrell (5); Pens: Farrell (2)
Worcester Warriors (31): Tries: Adams, Lewis, Denton, Shillcock; Conv: Pennell (4); Pen: Pennell
Attendance: 10,000
Referee: Christophe Ridley RFU