Sarries pull Dragonsí teeth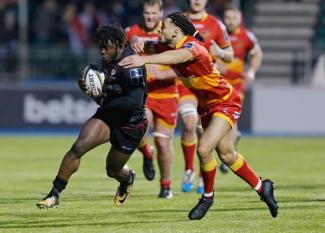 By Innings
January 29 2018
It is not easy to report on a game played in such conditions of wind and wet that making notes at the time was impossible, and which has no TV coverage to record and watch afterwards. Instead, therefore, I must pad out this report by writing about impressions and people.
First of all, it was good to be part of the crowd, not far short of 6,500, which has to be a satisfactory number for what was likely to be a dead-rubber game for Sarries. However, I have to report the absence of a fair few faces, normally included in the 'die-hard support' category, but sadly to be included in the 'fair-weather' group today. I know they could have been there; one of the family admitted that they didn't fancy the weather for such a game. It was their loss, because we watched a lively, entertaining game, with both sides intent on playing open and often adventurous rugby.
The opening exchanges were very much a moment for No. 8 Sione Vailanu. His first touch saw a carry from the Dragons' kick-off, which took him 25 metres up-field, shedding attached Dragons' bodies as he went. His second, moments later created such havoc that the only response was an offence at the breakdown, on the 22, dead in front, giving fly-half Max Malins a first easy opener.
Dragons spent much of the first quarter in the Sarries red zone, carrying hard and supporting each phase manfully. However, the support was too lateral, and the Sarries defence was able to hold out until halfway through the first half, when Dragons' captain, No. 7 Harrison Keddie, was able to bustle over, and give fly-half Zane Kirchner his first, successful, conversion attempt.
It would be wrong not to mention the first notable intervention by the referee. After four line-outs and two scrums he blew for a third scrum. As if on cue in a slick theatrical performance, a Dragons player went down to re-tie his laces. The referee called the captain over: "We've had four line-outs and two scrums, and before every one a player has gone down to re-tie his laces. It's time they learned how to tie them properly so they don't keep coming undone." The unspoken threat that sanctions would follow was sufficient, and funnily enough not one Dragons player had to re-tie his laces for the remainder of the game. I think they should have had a fall-back contact lens move prepared.
The wind and heavy drizzle persisted. It wasn't really proper rain, but enough to permit an observation of how the wind works at Allianz Park. When the wind comes in from the southwest corner it hits the east stand, swirls at the southern end of the pitches before driving to the northeastern corner, faster on the eastern side of the pitch than nearer the west stand. All this was shown by the drizzle shown up by the floodlights.
A neat piece of support work by several players gave Sarries their first try as we began to think that the first half was running down to a Dragons' half-time lead. Max began it with a half-break, dummy and pass to the impressive Rotimi Segun, a player who shows considerable promise on the wing. He made ground, drew the defence and got the ball away to full-back Matt Gallagher to score, restoring a lead that was not to be threatened for the remainder of the game.
Within a couple of minutes of the re-start we saw a moment of individual brilliance. Nick Tompkins received a pass in congested space within the Sarries' half, mazed through the traffic and scored close to the posts. We all thought that he had time for three thoughts: I'm through: It's a long old run ahead from here: I'm might even make it. The interesting thing for me was to see that Segun, stating way behind Tompkins, and out on his wing, was there, perfectly placed to receive the pass if necessary, by the time Tompkins, himself no slouch, had reached the red zone. The youngster- they're all youngsters to this scribe – who has yet to feature in the senior match-day squad certainly has pace, game awareness and desire for both defence and attack as his repertoire. Perhaps we should not be surprised by his speed or his work ethic. As a schoolboy he was ranked 12 in the UK as an under-15 sprinter at 100 metres, still in the top 20 at 17. At age 15 his personal best over 100 metres was 11.03 seconds.
As if to prove my impression, it took fewer than four minutes for Segun to prove my point, when he flew down the wing, not quite wholly unmarked, to take the score to 20-7. It would have been a remarkable conversion by any kicker, from the touchline and into the swirling wind, and it proved a little too much for Max Malins, although the ball gave the upright a terrific rattle before falling just to the wrong side.
Half-time followed shortly, a chance to find hot chocolate and momentary warmth.
The last thing that the Dragons needed was a poor re-start. However, an early pass to Vailanu, who is turning into a one-man wrecking crew, flat-foots the Dragons defenders. The trademark off-load of Sarries 8s picks out Matt Gallagher, who has a second, a few more than ten minutes after his first. With the bonus point secure, Sarries can look to ensure the win. The pool situation in the competition would be out of the team's hands, and depends on other results. We are hearing that Saints are winning at Sale, a result that will keep them in top spot of our pool, and Worcester Warriors are doing the business over the Exeter Chiefs, a result that will force Sarries to hope for a Saints loss in the last game , as well as advantage in number of tries scored if the final game of the pool stages is to have any meaning for Sarries.
Tries are needed here, and both sides need them. A maul drives Dragons over for the next, their second. The game may no longer be within their grasp, and topping the pool is long gone for them, but Dragons are giving the game their all.
We now enjoy another intervention. The referee blows for going off the feet in the maul, a Dragons prop has infringed. I cannot say that the offender looks like the modern professional athlete; he reminds us more of the old-fashioned player in the Thirds who is winding down his playing days. Nonethless, a cry from the stands is a little cruel: "Ref., he's resting on his belly!"
The final ten minutes offer three tries. The first was the result of a stupid moment. An over-eager rush through onto the Dragons scrum-half saw a penalty awarded, giving Dragons every chance to clear their line. Prolonged confusion saw the penalty reversed. Some of us thought it was for retaliation, others for something that Dragons captain Keddie said to the referee. Whatever the reason for the reversal, Sean Reffell has been on for about ten minutes, in the back row, and has the fifth try as the beneficiary of a driven try. I think we shall hear more of this player. It is difficult to say much after a 20 minute appearance, but I liked what I saw. Tom Whiteley showed style to shimmy about a bit, flummoxing the larger close-in Dragons defence, to deliver a sixth try. And then, on the stroke of 80 minutes, Dragons scored their third, a forwards try scored by replacement prop Fairbrother.
So, in the end Sarries won fairly comfortably, Dragons contributed to a good free-flowing game, and both sides played with far fewer errors than the tricky conditions might have excused. I liked the contributions from several of the young academy players coming through, and I believe that we shall see more of at least four of them before long. Segun, deserved MotM, Vailanu, Malins and Whiteley come to mind, and Gallagher offers promise as a full-back. We must not forget a few other faces in this search for youth. Dominic Day played a stabilising game throughout and we shall be glad to see him back ready for senior selection. Tit Lamositele played a most satisfactory camoe as a replacement prop, and I was pleased to see Kieran Longbottom as a powerful ball carrier as well as a reliable scrummager again.
All in all, a most satisfactory afternoon. What a relief to avoid the constant and prolonged hold-ups for the TMO. With apparently only one camera, on half-way, he could make up his made quickly and decisively. The game was better for it. Without even knowing who any of them were, I tip my hat to the officiating team.
Saracens
15 Matt Gallagher,14 Oli Morris (Stirzaker 52'), 13 Nick Tompkins,12 Reuben Bird-Tulloch (D.Morris 56'), 11 Rotimi Segun,10 Max Malins (Gliksten 75'), 9 Tom Whiteley, 1 Hayden Thompson-Stringer (Lamositle 52'), 2 Scott Spurling (McElroy 69'),3 Kieran Longbottom (Figallo 65'), 4 Dominic Day (Cutmore 61'), 5 Mark Flanagan, 6 Jack Nay (Reffell 57'), 7 Ben Earl ©, 8 Sione Vailanu;

Replacements
16 Tadgh McElroy, 17 Titi Lamositele, 18 Juan Figallo, 19 Danny Cutmore, 20 Sean Reffell, 21 Nic Stirzaker, 22 Dominic Morris, 23 Alex Gliksten:
Scores Tries Flanagan 32', Tomkins 35', Segun 40',Gallagher 41',Reffell 70',Whiteley 73'.
Conversions Malins 2/6
Penalties Malins 2/3
Dragons
15 Carl Meyer, 14 Pat Howard( Wellington 44'), 13 Sam Beard( Sage 56'), 12 Connor Edwards, 11 Rio Dyer, 10 Zane Kirchner, 9 Dan Babos (C.Morris 69'); 1 Sam Hobbs (Ellis 65'), 2 Liam Belcher (Shipp 65'), 3 Nicky Thomas (Fairbrother 50'), 4 Max Williams (H.Williams 60), 5 Rynard Landman, 6 James Sheeky (Wainwright 14'), 7 Harrison Keddie ©, 8 Robson Blake.

Replacements;16 Ellis Shipp,17 Gerard Ellis,18 Lloyd Fairbrother,19 Henri Williams,20 Aaron Wainwright, 21 Callum Morris, 22 Jarryd Sage,23 Calvin Wellington.
Scores Tries Keddie 22',Belcher 59', Fairbrother 80'.
Conversions Kirchner 2/3
Attendance 6432
Man of the Match: Rotimi Segun
View a Printer Friendly version of this Story.
Sarries pull Dragonsí teeth
TheSaracens.com (IP Logged)
29/01/2018 12:36
What do you think? You can have your say by posting below.
If you do not already have an account
Click here to Register
.
Thank you Innings for the Dragons match report, thankfully I was tucked away in the cheap seats at the back of the North Stand!
Edited 2 time(s). Last edit at 2018:02:05:12:55:49 by sutton_sarrie.
Re: Sarries pull Dragonsí teeth
29/01/2018 21:23
Splendid prose, Innings. Thanks.
£721.05 (*) donated to the Saracens Foundation due to visits to the Sarries frontpage [
www.rugbynetwork.net
]
Please read and submit articles for publication. (*) As at October 31, 2018.
Sorry, only registered users may post in this forum.