HEAVY TRAFFIC JAM IN SALE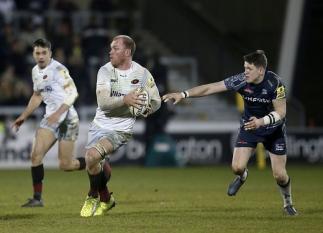 By Innings
February 17 2018
In today's Daily Telegraph, Richard Bath writes up the two games of the AP played last night. Falcons against Bath gets a third of a page. Sale against Sarries gets one sentence: 'Saracens won 13-3 at Sale to reclaim top spot, with Welshman Liam Williams scoring the game's only try after 13 minutes.' That relative weight of reporting might be unfair, and I cannot judge fairness because I wasn't at Kingston Park. However, after watching the Sale game, many independent watchers might have wondered whether any reporter could have written more than the 21 words that the Telegraph's reporter managed to grind out. After all, when team coaches describe any game as an arm-wrestle we all know that they mean it was a dreary slog, with little skill and much mutual prevention of the exercise of skill or imagination.
Fortunately, I am not a reporter, and certainly not an independent watcher, so let me try to say a little more than 21 words about the game.
A handful of Sarries supporters made the trip to the southwest outskirts of Manchester, to the AJ Bell Stadium. As Austin Healey mentioned, it is where Sale Sharks are striving to build a local fortress and home. Bit by bit, they seem to be achieving that dual goal. It is a tough place to go, with Sharks' favoured Friday slot becoming a journey to defeat for most visitors, and with rising attendance gradually bringing the long-awaited Full House signs closer to the front of the store-room, where they languish for now.
To many watching on TV whilst awaiting the Graham Norton Show - another Friday night graveyard of visiting stars' hopes - the game was a matter of penalties, the little spice of a dual yellow carding, and just one try. But, if the will to live has not already gone from you, join me and dig a little deeper into what was going on.
The first thing is to note the Sale wingers, Solomona and Yarde. By any standards, this pair should be a rare handful, regardless of the opposition. But wingers need one of two things, either the ball delivered to them, or them going to find the ball. It may be that Steve Diamond does not want his wings doing an Ashy and wandering around as they choose, or it may be that neither of them fancies the work-load involved in that sort of play, but, for some reason, both of them seem inclined to wait for an Amazon delivery and not go to the shops to pick up the goods themselves. If the alternative is to rely on the centres to get ball to them, then the centres need to be playing against a far less savvy opposition than Brad and Marcelo. In truth, that contest was largely the whole game writ large, with Sharks' centres Will Addison and Mark Jennings willing and hard-working but essentially always short of time and space. As if Brad was not problem enough, the third man in dealing with the Sharks centres was Schalk Burger, who played a huge part in this tussle. The old man has that wonderful HRHRH knack of just seeming to be where the ball and man are going to arrive in a moment or two. He was expected to have his hands full in dealing with the Shark back row trio of Jono Ross, Ben Curry and Josh Strauss. In the end it was the Sharks who had problems with Schalk, Jacko and Calum. This was not Schalk's most difficult game; he completely out-classed the men who were supposed to be going to show up his limits.
The early stages seemed to set Sale for a stunning start, a try for Solomona before Sarries had touched the ball in play. However, for Sarries a certain try is never certain until it is scored, and Solomona's famed ability to finish off a chance was set against Liam's speed and commitment. By the time Solomona reached the try line, he was close enough to the Sale supporters to be able to whisper in their ears. Williams took him, the ball, the touch flag and supporters' jubilation all into the side-boards.
That first moment of real note was over and done within just over a minute. The next few minutes were classic Sarries rugby. Endless phases of patient probing the Sale red zone, no errors, no attempts to force a gap that wasn't there, and great vision at the right moment. Fast ball down the line, Liam in a phone-box with Yarde guarding the door, but Yarde in two minds about whether to tackle forward or drift back. Liam needs no second invitation, and is through the smallest of gaps, evading the remaining cover and high into the air, through two despairing attempts to clutch at his coat-tails, and down for the try. Whatever the remainder of the game might bring, we have just witnessed the difference between a genuine top-drawer international player and one on the fringes of making up the numbers of an international squad.
The remainder of the first half is the arm-wrestle that we all dread, plenty of grunt but little Wow. Faf du Klerk has been solid throughout, and gets Sale going with a simple penalty on the half-hour. That matter was also responsible for the third little liveliness of the half. Rob Webber is penalised for pinning Schalk to the ground, and Liam also, for running in from north Manchester to have a little pushing contest with someone. Two yellow cards, for Webber and Liam. The fun part is that the original perpetrator seems to be the innocent-looking Schalk, the man held down by Webber to start the fracas. If Schalk isn't actually pulling Webber down onto his prone body, he certainly isn't pushing him off.
Just as we reach half-time, a soft penalty with Sharks under pressure gives Ben Spencer his chance to re-open the gap, and we go in at 3-10.
The second half was actually fairly dire. There never looked like being a try from either side. Both Yarde and Solomona did get the ball a bit more, but getting the ball is the beginning not the end, and it's no good if the end is a thorough scragging leading to anything from a clean turnover to a penalty. One more penalty, and the final score was 3-13. Sarries only use two substitutes, both in the front row, for a combined total of 12 minutes. The team are playing a controlled game against difficult opposition, so why rock the boat?
Sarries are meant to be suffering their annual struggle with the 6 Nations window, but they seem to have dealt with that earlier in the season, and they are belying past years with two good wins against AV sides, both of which must have fancied their chances on the day.
I have not mentioned three other Sarries players who contributed to the evening's result. We rarely see Richard Barrington mentioned as a big old unit, but last night he was exemplary. His work-rate, carrying, and nuisance value were of the soundest quality. What was Juan Figallo doing to be one of Sarries' top tacklers? The man was everywhere tonight, deservedly MotM. And third of this trio, Ben Spencer, everyone's favourite third choice 9. Tonight he was outstanding. His kicking game has become another lethal part of the Sarries machine, he tackles, distributes, sees and executes with speed and decisiveness that give his outside players time and space. We shall be fortunate to have him as we face the future, with NdK retired and Wiggy as the elder statesman.
So today, for the whole day, Sarries are back on top of the pile. Exeter Chiefs face a tricky assignment at the Ricoh on Sunday, and face the possibility that a loss there will bring them back towards the pack chasing any weakness in the top-four struggle
However, the highest stakes game has to be Tigers against Quins. The loser in that one faces the minimum of an eight point deficit behind Bath and Falcons, a worrying though for two such proud clubs as the game sees the closing stages of the premiership looming.
And finally the officials. What a good sign it is when I can scarcely recall them, beyond the consultations that led to the dual yellow incident.
Saracens
15. Alex Goode; 14. Liam Williams; 13. Marcelo Bosch; 12. Brad Barritt; 11. Chris Wyles; 10. Alex Lozowski; 9. Ben Spencer; 1. Richard Barrington (Thompson-Stringer 75'); 2. Christopher Tolofua (Spurling 73'); 3. Juan Figallo; 4. Nick Isiekwe; 5. George Kruis; 6. Calum Clark; 7. Schalk Burger; 8. Jackson Wray;
Replacements: 16. Scott Spurling; 17. Hayden Thompson-Stringer; 18. Kieran Longbottom; 19. Mark Flanagan; 20. Ben Earl; 21. Tom Whiteley; 22. Max Malins; 23. Nathan Earle:
Scores Tries Williams(13'),
Conversion Spencer
Penalties Spencer 2/3
Yellow card Williams(32')
Sale sharks
15.Mike Haley; 14.Denny Solomona, 13.Will Addison (capt), 12. Mark Jennings, 11. Marland Yarde; 10.Sam James, 9.Faf De Klerk; 1.Ross Harrison, 2.Rob Webber, 3.WillGriff John, 4.Josh Beaumont, 5.Andrei Ostrikov, 6.Jono Ross, 7.Ben Curry, 8.Josh Strauss.
Replacements: 16.Marc Jones, 17.James Flynn, 18.Halani Aulika, 19. George Nott, 20.Cameron Neild, 21.Will Cliff, 22.Luke James, 23.Josh Charnley
Scores
Penalty De Klerk
Yellow card Webber (32')
Man of the Match Juan Figallo
Referee: Luke Pearce (71st Premiership game)
Assistant Referees: Adam Leal & Wayne Falla
TMO: Stuart Terheege
Citing Officer: Pete Larter