END OF SEASON POLL 2017-18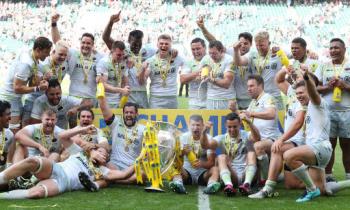 By Darraghgirl
May 31 2018
It's that time of year again when we look back over the season and remember our high points and our low points: the END OF SEASON POLL 2017/18!
Everyone is invited to contribute – send your nominations for some or all of the categories below (don't worry if you don't have a view on all of them) to:- "unofish at hotmail dot co dot uk"
The more votes we get the more representative our poll is of your views so PLEASE VOTE! Even if you've never voted before there's always a first time!
So here are this year's categories:-
1. Saracens Player of the Year(2016/17 Michael Rhodes) Who has been our best player this season? There are plenty to choose from: Captain Brad Barritt? Golden Boot winner Owen Farrell? Mighty Mako? Saracen's players' choice Jackson Wray? The amazing Nick Isikwe? Leading try scorer Ben Spencer? The ever dependable Alex Goode? Any member of the squad is a worthy winner but who will you choose?
2. Saracens Young Player of the Year(2016/17 Titi Lamositele) Which of our youngsters has made an impression on you? Maybe Nick Isiekwe – hard to believe he's only just 20. Fellow England-squad member Ben Earl perhaps? Try-poacher Max Malins maybe? Who is to be our young player of the year this season?
3. Saracens Old Player of the Year(2016/17 Jim Hamilton) With 2 of our stallworts retiring I suspect the choice will be between Schalk Brits and Chris Wyles. (Any other year, Wylesy would walk it!) How about Schalk Burger, Wiggy or Cello Bosch? OK I guess there's only gonna be one winner but I had to ask!
4. Saracens Unsung Hero (2016/17 Juan Figallo) Which player gives his all every week, is overlooked by his country yet keeps trying? OK that's Jackson Wray! But it's also Alex Goode! And there are a few other unsung heroes too – Baz Barrington maybe, Calum Clark, Will Skelton, Ben Spencer – there are lots to choose from but who will you select?
5. Saracens Find of the season (2016/17 Sean Maitland) Which player has made that step up? Is it one of our new boys – Liam Williams, Calum Clark or Dom Day? How about big Will? One of the youngsters such as Ben Earl or Max Malins? Big Vailanu maybe? Can we include Nick Isiekwe in this group? Who will you choose?
6. Favourite Saracens Player?(2016/17 Chris Ashton) With the departure of 2 time winner Ashy, this category will have a new face this year. We all have our favourites but which player appeals to everyone? Smiling Schazza maybe? Captain courageous? Dependable Owen? Big Billy (even though we didn't see much of him) or Mako who just keeps giving? "Oh Maro Itoje?" Make your choice!
7. Aviva Premiership Player of the Year (non Saracens) (2016/17 Jimmy Gopperth) The official nominations were for Vereniki Goneva (winner), Don Armand, Danny Cipriani, Faf de Klerk and Jamie Gibson (what no Saracens??) Would you choose one of those or did someone else catch your eye?
8. International Player of the Year (must play outside Aviva Premiership)(2016/17 Beauden Barritt). Beauden Barritt won the official title again in 2017 from Israel Folau (hmmm) Rieko Ioane and our guys Owen & Maro. Leinster's Sexton and Ryan? Or how about some of those fantastic players in France – Racing's Nakarawa & Machenaud, Toulon's Fekitoa, Tuisova & Radrada, or even France's top try scorer, the one and only Chris Ashton?
9. Best Individual Performance by a Saracens Player (2016/17 Mike Rhodes v Exeter) There have been some crackers this year. Mako in the Final, Owen in the semi-final are just 2. What about Maitland's hat-trick at the Double-header? Who put in the best individual performance this year?
10. Best performance by an opposition player against Saracens(2016/17 Fritz Lee) Dan Leavy for Leinster in the European quarter final? Alivereti Raka for Clermont in the snow? Rokoduguni at the Rec? 36 at Castle Grim? Or do you have another choice?
12. The Albanese Award for the worst performance by an Opposition Player against Saracens(2016/17 George Ford) Always tough this one but who had a 'mare against Sarries? There must be a few contenders up at Northampton after those 4 50+ points defeats! Maybe young Simmonds at Twickenham last week? Who didn't turn up to play Sarries?
13. The Martin Johnson Memorial Least Favourite Opposition Player Award. (2016/17 Alex Waller) I guess Israel Folau isn't allowed as we haven't played against him! Who is they man you love to hate? The guy who whines at the ref all the time? Or pushes things just that bit too far? Or tries to get someone else carded? Who would you rather not see on the opposition side?
14. Player you would most like to join Saracens next Season? (2016/17 Chris Ashton) We have a pretty strong squad but which player could make it even better? Choose from anywhere in the world – who would you love to see pull on that black shirt? Radrada? Leavy? Fekitoa? Ashy again maybe?
15. Best Performance by a Saracens Team (2016/17 Victory at Stade Mayol) The obvious choice would be the Final victory over Exeter but there have been some pretty sensational performances this season. Pretty much every game against Northampton? When do you think Sarries were at their best?
16. Worst Performance by a Saracens Team (2016/17 away to Wuss) I think we should forget the performance by the marketing team around season ticket recategorising and concentrate on on-field games. The capitulation at home to Clermont would rank pretty high. Any of those losses late last autumn were bad news. And another defeat at Quins – it's becoming a habit. But which was the worst?
17. Favourite away venue (2016/17 Stade Mayol) What is it you like about an away visit? The stadium, the food, the drinks, the atmosphere: everything about the place! The European Cup draw didn't provide us with any very exciting venues this year although a trip to Dublin is always good fun, as is the Stade Marcel Michelin! What about one of the Premiership venues: Sandy Park maybe ? Where do younlook forward to going?
18. Least favourite away venue (2016/17 Sixways) and following on from 17, above, there are some pretty unwelcoming places to go out there. Last season Sixways replaced Castle Grim as your least favourite. Franklins Gardens is often there or there about. What about the Olympic Stadium – a new venue which divided opinion. Or HQ? Which is your least favourite place to visit
19. Funniest Moment of the Season (2016/17 Billy's prayer) Billy has come up with a few choice comments again this year – telling the Queen he needed to lose weight for instance. Or maybe the diving display in Bermuda last summer? Or Alex Goode's impression of a nurse following the Final victory? Or did something else make you laugh?
20. Best Referee (2016/17 Matt Carley) Which referee lightens your heart when he runs onto the pitch? One of the old favourites like Barnes or Nigel? JP seemed to get a more favourable reception this year. How about one of the French guys? Garces, Gauziere, Raynal, Poite? One of the new guys maybe – like Karl Dickson? Who is your favourite ref?
21. Worst Referee (2016/17 Tom Foley) and which ref makes your heart sink? One of the English guys – Tom Foley won last year but a few others came in for a bit of stick like Ian Tempest, Greg Macdonald even more established guys like Luke Pearce. Which whistle-blower's pea would you like him to swallow?
22. Best Media Performance by a Rugby Celebrity or Broadcaster (2016/17 Will Greenwood) In addition to the usual TV suspects, there are a lot of Rugby Pods out there now. Will it be Will again or will you choose a podder? Jim and Andy? Ugo and Danny? Tim Cocker and friends on the Eggchasers? Flats and Shanks? Or my vote for the most intelligent analysis Alex Corbisiero?
23. Worst Media Performance by a Rugby Celebrity or Broadcaster (2016/17 Stuart Barnes) Barnes has reigned supreme in this category for as long as I can remember, and to be honest I can't see why it should change this year – but maybe you know different?
24. Michael Gentleman Award for the Best Contribution to the Message Board (2016/17 Behind the Bench) And finally, which of your fellow contributors to the message board do you most like to read? Seany_boy has written some excellent previews. Do you enjoy reading our match reports – thanks to Sean, Matt, Philip, Jeremy, OM, Graeme, Chris. What about some of the whitty offerings on the board itself? Or Barnet Sarrie and his inside information? Or is there someone else?
Voting is open until midnight on Sunday 17th June. Results will be published on the message board at the end of June.
PLEASE DO NOT POST YOUR SELECTIONS HERE!!!! Send your votes by email to:
unofish at hotmail dot co dot uk