TIME TO SAY GOODBYE 2018 #1 CHRIS WYLES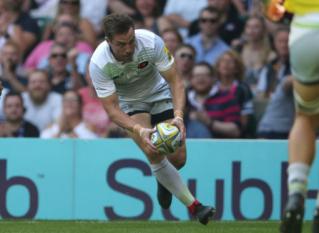 By Darraghgirl
June 10 2018
"Captain America" "Mr Versatile" "Mr Dependable" – just some of the terms that have been applied to Chris Wyles throughout his career. Christopher Thomas Wyles was born on13th September 1983 in Stamford Connecticut and lived in the USA until he was 11 when his parents moved to the UK.
Like Jamie George, he went to Haileybury School near Hertford and then attended the University of Nottingham where he studied politics. During his time in Nottingham he played for Championship Team Nottingham RFC. He moved to Northampton Saints for the 2006-7 season. He represented Saints 3 times in the Premiership. Northampton were relegated that season and Chris seriously thought about giving up on a rugby career that had hardly begun. Interesting that as he left the Saints, his future wingman Chris Ashton was arriving through the other door! He was persuaded to join the USA 7's squad where his versatility in the backline was invaluable and he was soon promoted to the USA Eagles (Eagle #375). Between 2007 and 2009 he scored 44 tries for the USA 7's. He scored his first full international try against South Africa during the 2007 World Cup. His performance in the tournament led to him being named as American Rugby News "Player of the Year" but his form was not good enough for the relegated Saints to retain him (their loss). Chris spent the following season with the USA 7's team before he joined Sarries in the summer of 2008, making his debut against Sale. Chris had been spotted by then coach Eddie Jones representing USA Eagles at the 2007 World Cup in France when Eddie was part of the Springboks' coaching team and Eddie was instrumental in bringing Chris to Vicarage Road.
Chris survived Brendan Venter's "Night of the Long Knives" and quickly became an integral part of the new-look Saracens. He seemed to prefer playing on the wing in his early career, later adding full-back and centre to his portfolio – and even fly-half for USA! He was in the starting 15 who agonisingly lost to Leicester Tigers in the 2009-10 Premiership Final but was back in 2011 to help Sarries turn the tables and lift the Trophy for the first time. Incredibly he was able to retain his form and fitness for 10 seasons at the club. Often an unsung hero, he never let the club down.
On the international scene he went from strength to strength. He again represented USA Eagles in the 2011 World Cup, finishing as the Americans' leading points scorer and winning the 2012 award for American Rugby Player of the year. The 2014/15 season saw him score 12 Premiership tries (the 2nd highest in the Premiership) and help Saracens to a second Premiership Title, this time beating Bath 28-16.
2015 also saw the Rugby World Cup in England and Chris captained the USA Eagles Team. Sadly The Eagles lost all 4 of their games although Chris scored tries against Samoa and Japan. Shortly afterwards he announced his international retirement having won 54 caps for the Eagles and scored 16 tries (222 points).
He was once again an integral part of Saracens the following season when Sarries did that historic double in 2015/16. He started on the wing in both the defeat of Racing 92 for a first European Title and then the win over Exeter to retain the Premiership trophy.
Chris turned his attention back to 7's in 2016 and got himself selected in the USA sevens team which went to the Rio Olympics. USA qualified by winning the 2015 NACRA 7's tournament. The USA were in a group with the eventual winners Fiji and Argentina (who both) qualified. USA did beat Brazil though for their single victory. One of his final acts for USA Eagles last year was to sit on the panel to choose the new head coach – Gary Gold was the selection.
In 2016/17, Chris made his 50th appearance in Europe for Saracens and helped the Club to retain their European Title starting on the wing as Sarries beat Clermont 28-17 in Edinburgh.
In January, Chris announced that this would be his final season but he went out in style, breaking the record for the most tries scored in Premiership semi-finals (5) in the demolition of Wasps and scoring twice in the final against Exeter (and in so doing becoming the first player to play in and score in 3 Premiership Finals) to sign off his career in style. His tally of 43 Premiership tries and 23 European scores places him 2nd in the Sarries' all-time list with only Chris Ashton ahead of him.
When Chris joined the club in 2008, Saracens were just starting out on a very special journey. He was almost 25 but he joined a plethora of quality young men who were coming through the ranks:- Owen Farrell, Jamie George, Alex Goode, Jackson Wray, George Kruis and Will Fraser were members of the Saracens' Academy, about to break into the first team. Chris was the epitome of a one-club man. He was good enough and versatile enough to retain his place in the team by right. It is interesting to note that despite competing with top internationals for his place (Goodey, Ashy, Strettle, Williams, Maitland) he made 254 appearances for the team and even in his final appearance, was first choice, by right, on the wing (on this occasion ahead of England's Nathan Earle). He was also decent at centre, covering both 12 and 13 in his time – including the heroic 2010 Final win over Tigers. Where ever he played for Saracens, he never let them down. He wasn't flashy but he rarely made an error. He was solid and dependable - he was Mr Consistency
He never took for granted the support Saracens gave him. Sadly his mum died from Pancreatic cancer in 2012. The club supported him throughout and raised £100,000 for the Hospice of St Francis who cared for her which included the whole squad doing a fire walk and coach Paul Gustard (remember him!) running 4 back to back Marathons (the last 2 with a stress fracture). Chris said at the time "The whole situation with my mum was where it was, not just about the words but about the actions. The way the Club treated me…was incredible. That period there made me realise how special this club is to me".
Chris will now turn his attention to Wolfpack Lager, a venture he set up with former skipper Alistair Hargreaves. "As professional rugby players we were always haunted by the looming threat of life after our playing days expired. We didn't have to look far to find something we loved just as much, beer..." I don't think we've seen the last of Chris Wyles at Allianz Park, even if he has hung up his rugby boots. No doubt he will be found atop the Wolfpack bus on match days.
Still on an emotional-high, Chris was interviewed after that amazing Final victory. "You hear as people leave the game, players talk about how much it meant to them to be in the rugby community and sometimes you can take it for granted. But I feel acutely aware of the support I have had and the lessons I've learned. At Saracens in particular, how you concentrate on people. What we've been able to do as a culture will keep me in good stead. It's very easy as a competitive sportsman to get selfish and the thing to remember is that you're part of a wider group. A couple of us are leaving this season but that's the hallmark of a good club, it shouldn't matter who leaves there's a group ethos that pushes us forward. Having spent a decade here, and getting to meet these incredible people, I feel privileged to have been a part of this club and I'll always have these amazing memories."
We wish him luck with the brew – no doubt there will be plenty of supporters happy to boost Wolfpack's profits!