TIME TO SAY GOODBYE 2018 #2 NATHAN EARLE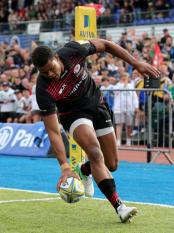 By Darraghgirl
June 19 2018
Nathan Earle was born in Hong Kong in 1994. His father was working there at the time. Rugby was in Nate's blood from a young age and he would attend training at Stanley Fort with his older brother. Nate's mum was a heptahlete and his father was a prop. Interestingly Nate started out playing prop before moving to fly half and finally wing. While in Hong Kong, his father took him to the Hong Kong 7's where he saw Jonah Lomu & Tana Umaga.
The family returned to the UK in 1999 and Nate attended Collier Street C of E Primary School & Sutton Valence School in Maidstone. He began playing rugby for Cranbrook (where his dad was a mini's coach) in 2000. Nate was a talented sportsman and also represented Cranbrook at U16's Hockey. At the age of 14 he was invited to join the Saracen's Academy, initially training with them once a week before moving to Oaklands College for 6th form (where he studied History, PE and Psychology at A Level). He cites Richard Hill as being a huge influence on his development. At the age of 17, he was back in Hong Kong where he played for Saracens against BGC Asian Pacific Barbarians and scored a try, skinning Mils Muliaina in the process.
Nate made his debut from the bench against Worcester in 2012 in the Anglo-Welsh Cup. He also represented England Under 18 that year and U19 the following year before in 2014 being selected for the England U20 6 Nations Team. He started at Full-back before moving to wing against Italy where he scored his first try. This was followed by selection for the IRB World Cup which England won (defeating South Africa 21-20 and captained by Maro Itoje) scoring 6 tries in total including a hat-trick against Italy. He was nominated for IRB Junior Player of the Year alongside Gary Ringrose (Ireland), Handre Pollard (SA) and Tevita Li (NZ). I was interested in the make-up of that young England Team – and how many of them are or were Saracens players:-
Aaron Morris, Howard Packman, Nick Tompkins, Harry Sloan, Nathan Earle, Billy Burns, Henry Taylor, Danny Hobbs-Awoyemi, Tom Woolstencroft, Paul Hill, Mari Itoje, Charlie Ewels, Ross Moriarty, Gus Jones, James Chisholm, rep:- Jack Walker, Alex Lundberg, Biyi Alo, Hayden Thompson-Stringer, Joel Conlon, Callum Braley, Sam Olver, Henry Purdy.
Success at U20 level did not however translate into First team selection with just 3 appearances (1 try) in 13/14. The following Season, Nate was 1 of 8 players to be dual-registered with Championship Team Bedford Blues. Nate played against Sarries in the traditional Bedford-Saracens pre-season game in 2014. Sadly things did not go to plan because he then ruptured his Achilles tendon in the first game of the season which meant a long spell on the sidelines.
The following season there was no Anglo-welsh competition (because of the World Cup) which meant even less opportunity for game time for young players and Nate joined London Scottish for whom he played 5 times (4 times in the British & Irish Cup and once in the Championship). He finally made his Premiership debut that season (from the bench)
In 2016, Nate got the opportunity to go and play in New Zealand. Initially he played for Sumner Rugby Club (mainly amateur) but was then selected for Canterbury for whom he played 10 times, scoring 4 tries. He was also awarded his only yellow card! Nate was part of the Canterbury side who won the Ranfurly shield (beating Waikito) and then scored a try in the final of the Mitre Cup as Canterbury beat North Harbour.
Saracens had signed Sean Maitland for the 2016/17 season (replacing David Strettle) and with Chris Ashton also scoring tries for fun, Earle's opportunities looked to be limited. However Ashy was then banned in the famous "biting" incident and Earle got his chance. He made 7 Premiership appearances (including 2 tries) and 3 European appearances (with a first European start in the draw away to Scarlets). He also made 3 Anglo-welsh starts. His performances caught the eye of Eddie Jones and he played for England in the non-cap international against the Barbarians in 2017 and scored a try. He was selected for the 2 match tour of Argentina and although he didn't play in either of the games, he was clearly on Eddie's radar.
Saracens signed Liam Williams as a replacement for Ashy for the 2017/18 season but with both Maitland and Williams likely to be absent on international duty, Earle had his chance to establish his place in the team. Sadly it wasn't enough and when Quins came calling, he decided to move across London at the end of the season. 2017-18 was Nate's best season for Sarries. He played 15 times for the first team scoring 7 tries along with 3 European starts and 2 in the Anglo-welsh. All in all he played 38 times for Saracens during his 9 years at the club. He was selected in the squad for the 2018 6 Nations and again in the England team to tour South Africa but as yet hasn't made the match day squad.
The decision to leave Saracens was clearly a difficult one for Nate. He said:-
"I would like to thank Saracens, specifically the players and coaching staff, for helping create so many great memories throughout my nine years at the club. Further, I would like to thank the fans for their continued support. They have made the decision to move extremely difficult."
We wish Nathan all the best with his new club, but hopefully he won't score too often against his old mates!