TIME TO SAY GOODBYE #3: Mr Schalk Brits, Rugby Player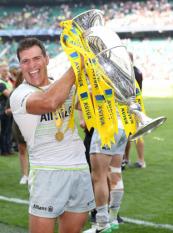 By Darraghgirl
July 27 2018
I've been putting off writing this tribute to "Mr Rugby", partly because of all the will-he won't-he that's been going around but also because I really don't know how I can do justice to the legend that is Schalk Brits in a few paragraphs. A man universally respected wherever he plays and whose Twitter tag is "Loving Life".
I have to confess I first came across Schalla when he made his debut for Sarries in the double header against Irish. (I'm sure he won't mind me saying this but such was our general lack of familiarity with the guy at that time that Jeremy, in his match report, referred to him as "Brits Schalk"). I wasn't overly impressed back in 2009. Schalla got himself sinbinned at Twickenham and then repeated the feat at Wembley the following week against Saints (that was our "homeless" season). First impressions – this guy is a liability! How wrong can you be!
Schalla was born in Empangeni in Kwa-zulu on 16th May 1981. (Shares his birthday with Mr DG- never realised that either!) He played his early rugby barefoot on Mossel Bay before moving to Paul Roos Gymnasium in Stellenbosch (the "Bok" factory"). He started out as a number 8 before moving to the front row. He spent his early career in his native South Africa, representing Western Province and Golden Lions and Cats and Stormers in Super Rugby. He made his international debut in 2008 (his only test start, against Australia) playing 3 times for the Boks but with Bismarck du Plessis and John Smit in pole position he struggled to keep his place in the squad. But it may have been his Man-of-the-Match performance for the Baabaas against England in May 2009 which led to him receiving the call from Brendan Venter to join his new look Saracens. Schalla moved to the Northern Hemisphere for the 2009-10 season. "I came here to experience rugby of a different kind, in a different place, and it's been amazing."
Despite his dodgy disciplinary start, he soon won over the fans and his fellow players with his pace and ball-carrying skills, not to mention his all-round "niceness" and his infectious smile. He was a big part of Sarries' 10-game unbeaten run in 2009-10 and he played every minute of the 2010 Premiership final (which Sarries sadly lost 33-27 to Leicester Tigers). He scored 7 tries that season and was voted Players' Player of the year.
The following season Sarries won the Premiership in that heart-stopping Final, again against Leicester Tigers. Schalla was Man of the Match, setting up James Shorts' winning try. I like this quote from the Grauniad's report:
"Sarries were rocking rather than rucking, but Brits hauled them back. Another defence-splitting break by the hooker, who had made more breaks than any back, invariably the receiver of long kicks, gave his side the position from which Farrell kicked his fifth penalty after another Ayerza indiscretion."
As the players did their lap of honour, I remember Schalla trying to shake hands with every single Saracens supporter in the crowd. There was no way he could do it – but it didn't stop him trying! Schalla has told the tale many times of when he was a boy running up to his favourite player after the game to get his autograph and being ignored. "He was my hero. I ran up to him after the game for his signature and he brushed me away. I told my dad if I was ever in a position like that I would never brush anyone away" and to his credit he never has. I remember a presentation at Vicarage Road when there were 70-odd people on the pitch – (sadly I can't remember what the presentation was for) but I do remember Schalla insisting on shaking the hand of each and every one of them and incurring the wrath of the organisers who wanted to get on with the game! That season also saw Schalla win "try of the season" for his effort against Gloucester at Vicarage Road. It was the first season where Jamie George became a member of the Senior Squad and no doubt Brits' mentoring of him began there.
In the summer of 2011, Schalla made a short-term visit back to South Africa to help out his former club Stormers who were struggling with injuries, in their semi-final against Crusaders. He came on as a back-row replacement for Duane Vermulen! In 2011 John Smit, one time competitor for the Boks' No 2 shirt, joined Sarries for a 2 season stint. There are many clubs where the presence of 2 South Africa Giants plus a future England star all competing for the same jersey would not have worked but credit to Sarries, they managed Schalla and Smit well and kept Jamie George happy too, learning his trade at the feet (literally) of 2 such diverse masters of their trade. In 2012, Schalla's form was recognised by Heyneke Meyer and he won the 4th of his International Caps, as a sub against Scotland followed by a 5th Cap, again as a sub but this time in the Boks' 16-15 win over England.
Memories of 2013 include a snowball fight after the final game at Vicarage Road with Mako (following Sarries Heineken Cup victory over Edinburgh on a snowy January day) and that infamous punch to Faz while Schalla was playing for the BaaBaas against the Lions in Hong Kong (which led to a 3 week ban at the start of the 2013-14 season). Who said it was a friendly game?
2014 saw several different sides to the smiling assassin. In February he made the headlines when he clashed, literally, with referee Wayne Barnes. An overthrown lineout resulted in loose ball and Barnes and Brits both running in different directions, but in the same path. The Barnes body-check prevailed, with Brits tumbling to the floor. "I am not going to hear the end of this, I guess. thanks #refcam," Brits said on Twitter, before following up with: "I had the worst 40 min of my life. Got owned by a winger twice and then by Barnes! #disgrace". But it gave everyone who saw it a big chuckle. A month later little DG and I visited Adams Park on a typically miserable High Wycombe afternoon. Schalla was on the bench that day and while his team-mates kept warm during the first half with a few half-hearted drills, Schalla wandered around the perimeter of the pitch, hands deep in the pockets of his all-in-one duvet cover-up, grinning and chatting to anyone and everyone. 2014 saw that infamous final against Northampton Saints. 4 Premiership tries from Brits had helped Sarries on their way and Brits started the final as first choice hooker. Sadly he didn't add to his collection of Winner's medals and there was further heartbreak with the defeat to Jonny Wilkinson's Toulon at The Millennium Stadium in Cardiff.
October 2014 saw Schalla sustain a knee ligament injury which kept him out of the side until the New Year. The injury and the growing abilities of Jamie George saw something of a changing of the guard in the front row and it was Jamie who started the 2015 Premiership Final with Schalla on the bench. This time there was a winners' medal with victory over Bath. But Schalla's form was good enough to catch the eye of Heyneke Meyer once again and he was selected for the World Cup Squad. He scored his only International try from the bench against Samoa and also featured, again from the bench, in South Africa's 64-0 demolition of the USA (where he faced team-mate Chris Wyles).
2015-16 and the great double winning season. Sarries now had 2 genuine world-class hookers and as with De Kock and Wiggy in the past, Mark McCall was able to manage their talents well and keep them both happy. Jamie George was of course on International duty for much of the season but it was Schalla who started the both the Premiership Final against Exeter Chiefs and the European Champions' Cup final against Racing 92.
Schalla intended the following season would be his last. He had been accepted at Cambridge University to do a Masters Degree in Business and already had a career lined up in The City to follow. He had thought a year in Varsity Rugby might be a fun way to wind down. But perhaps as much to his surprise as anyone else's, he was still playing fantastic rugby. This time it was Jamie George's turn to start the European Final in Edinburgh but it was Schalla who finished the game and help the club to back-to-back wins. He was one of the few still standing the following week when an exhausted Sarries went to Sandy Park, losing to Exeter courtesy of one magic Henry Slade kick. Saracens were keen for him to stay on for a further year. Schalla suggested going part-time and starting his degree but Mark McCall wanted all or nothing and so Schalla put his academic ambitions on hold for another year.
2017-18 was his final season for the club (or at least at the time of writing). It was also one of his finest. He missed a few games in the autumn through injury but returned to his smiling bouncing best in 2018. He seemed content to play second fiddle to his protégée and to make cameo appearances from the bench. And what cameos! He showed us his entire skill set! Who can forget that incredible basketball pass? Fittingly his final appearance was in the Premiership final at Twickenham, coming on as a sub – and departing soon after with a yellow card courtesy of Wayne Barnes. It is quite apt that his first and last appearances for the club both ended with 10 minutes in the bin. And what a great gesture from Barnsey to sign it "Dear Schalk, sorry, Wayne".
At the end of the 2018 season Schalla had played 222 times for Sarries, scoring 31 tries (most backs would be proud of that).
But of course that wasn't the end – there was to be 1 last hurrah! While on holiday in Ibiza, he received a call from Razzie Erasmus asking if he would be interested in playing for his country again. He won his 11th Cap, again from the bench, against England at Newlands in June. Rumour has it that Razzie would like to include him in his 2019 World Cup preparations so maybe this story has not yet reached its final chapter.
But for now, how to end this tribute to one of Rugby's greatest players and greatest ambassadors? Words fail me but I can only quote far greater reporters then I in their tributes to the great man. Chris Hewett in the Independent wrote:-
"We are talking of imagination: a gift, bestowed only on the select few, to think and act differently on the field, and by so doing to make rugby new." Saracens hooker Schalk Brits – a front-row forward who, with his startling pace, intricate footwork, slide-rule running angles and exquisite timing (not to mention the precision of his passing off either hand), makes and creates more line-breaks over the long stretch of a season than entire back divisions inhabiting the lower reaches of the league table"
Or how about this from Stephen Jones:-
"How many players have you seen who can cut the angles so silkily, who puts players through gaps with a pass or surges through himself on to passes, stands back to take high kicks and hardly ever fails to run them back with interest? Or who often stands in the openside flank position to lead the defensive line at rare pace, has a vast range of skills, understands the head-up game better than most fly-halves — and then goes down and hooks in the scrum? This is maestro stuff. It's one man making history".
This is a man nicknamed "smiler" although he himself says his nickname was Fabio (because of his long hair) and is now "Diamond" ("because I can bugger up any drill")
He loved Saracens. When asked if he regretted coming to England and almost certainly sacrificing the chance of representing South Africa, he said : "What other club would organise a trip to the Munich Beer Festival for the players and also set up a crèche for your kids? What other club provides the same service for the people in the youth team as they provide for the guys in the Premiership side? I've never seen anything like it in rugby and I'm proud to be a part of it."
Probably his least convincing role was as hooker! He has the hands of an angel, the dazzling feet of Michael Flatley, the skillset of an international centre. John Scully once said "the future belongs to those who see possibilities before they become obvious." That is Schalla.
'He's like Peter Pan,' said Saracens coach Mark McCall recently. 'This is his ninth season at the club and he's been a star from day one.' So from all of us Schalla, we can only say thank you. Thank you for letting us be a tiny part of your career. Thank you for letting us share in the legend that is Schalk Brits. Thank you for showing us that rugby can rise above mere sport if played with a smile on your face. Thank you Mr Schalk Brits, Rugby Player.