FACEBBOK LIVE & HAC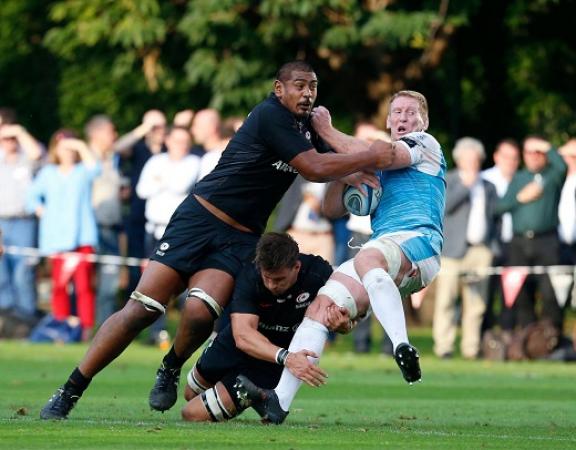 By Darraghgirl
August 25 2018
Turned computer on at appointed time and scrolled to Facebook Page. So far just a picture of the HAC and not much else going on. No, wait someone is talking – looks like this livestream is going to happen. So both teams run out – looks like Spencer is leading Sarries out although not sure why. Both teams are pretty strong and as is often the case with friendlies, there are more people on the bench than numbers!
It's a scrappy start. Both sides are struggling to keep hold of the ball. Strong 1st scrum to Sarries ends in kickable penalty but this being a friendly, Spencer goes for the corner instead however Sarries mess up the lineout (so that's one thing that hasn't changed!). Luckily the ball bounces back into touch so another chance. Better throw and maul set up. Several pick & goes then Isiekwe draws a defender & offloads to Lozowski who goes for the space and scores. Nice conversion from Spencer and it's 7-0.
Oh-Oh - Injury to isiekwe - lots of tape to the left knee but he stays on. Is this wise? Ospreys turn to put on a bit of pressure. Penalty for high tackle and now Ospreys kick to the corner. Lineout overthrown and fielded by Malins. Saracens clear but concede another penalty so it's back as you were. Better line out, Ospreys attack and win another penalty in front of posts. 3 points turned down and the Welsh opt for a scrum. Didn't go too well for them but Sarries are living dangerously in their own 22 and the clearance misses touch allowing Ospreys to build again. Eventually error from Sam Davies with ball out on the full and pressure relieved. Sarries have another lineout in Welsh 22. Another maul set up but this time Ospreys get turnover (something else that needs working on) and win defensive scrum on own 5m line allowing clearance. Sarries attack again from lineout. Another penalty in Ospreys 22. Another kick to corner. Another maul; pressure mounts but this time pick and go from Barrington for the 2nd try. Again Spencer converts and it's 14-0 after 1st quarter. Have to say Spencer is controlling things superbly so far.
Ospreys throwing ball around. Lovely interception by Strettle – Oh yes, we've missed those - but Sarries can't control offload. Luckily Ospreys again kick ball out on full so Sarries' lineout. Things getting a bit scrappy again - careless knock on so scrum Ospreys. And penalty. And another one. And another (good job it's a friendly – otherwise we might be seeing a card here). Ospreys trying to get into Sarries 22 but good defence and eventually Rhodes forces Sarries' turnover. Plenty of possession for Ospreys but not doing much with it. Finally high ball gathered by North who breaks and offloads to Sam Cross who evades the cover tackle and scores in corner. Nice touch line conversion makes it 14-7.
Poor restart for Ospreys who concede a penalty in their own 22. Ball goes back in the corner. Another maul and once again Ospreys turn it over. Hummmm, we don't seem to have worked this out over the summer then. From the scrum, ball appears out the back. Everyone thinks Carley is going to give a penalty as ball seemed to be knocked out of scrum so they all stop –except for Skelton who picks the ball up and scores. Easy conversion. 21-7. Ospreys not happy but after some discussion, the commentators seem to agree it was the right decision. Scrum Ospreys in their own half. Huge shove from Sarries and Maitland almost scores. Back for penalty - in the corner of course. Overthrown !!! so Ospreys clear and anyway it's half time.
Quick cuppa sorted and settle back for part 2. Sarries make a few changes - Tolofua for George Vailanu for Wray at least but wholesale changes for Ospreys – the entire team I think, and they start better & score early in second half (Scott Otten). Luke Price (possibly?) lands conversion for 21-14
Finally some ball for Sarries but they're pushing a bit too hard and Goode knocks on. Sarries' penalty and this time Spencer kicks it and subsequently departs with Tom Whitely coming on for the first time in around 10 months. 24-14. Isiekwe, Stretts, Barritt and Goode join him to be replaced by Lewington, Taylor, Itoje & Tompkins.
Tailanu & Tolofua combine well – 2 big guys who look pretty useful. Another penalty to Sarries. They're almost under the post but again Sarries fail to score and concede the penalty. 90 minutes airtime and the livestream crashes! Someone didn't' put enough pennies in the meter clearly. Very frustrating as initially I thought it was just me (our broadband is creaky at best) but no, it seems everyone has lost the thread. And then the pictures are back. No change to the score but the ball is now in Sarries' 22. Ospreys' penalty goes to the corner but the lineout is overthrown and Sarries clear but miss touch. Itoje is noticeably putting himself about since he came on. All Ospreys this half though - maybe they should consider starting with their second team!
Taylor wins a penalty which goes back in corner from Loz. Another Maul but same result - goes to ground. Mr Carley says that it wasn't legal so another chance. Maul again and this time it's over. Tolofua scores with help from Itoje & Taylor. Loz converts. 31-14. And from the scoring point of view that's that, however the game trundles on. The ball is back with Ospreys and another penalty at the breakdown. The ball goes to the corner. Discipline! Too many penalties! This really is a bit déjà vu! Good defence pushes Ospreys back to 10m line with Vailanu looking huge. I see Adams-Hale & Thompson-Stringer are on. Have we ever had a front row with quite so many double-barrelled names?
Another penalty conceded though and all the good work undone. We're back in our own 22. How frustrating! And another penalty – I've lost count but Mr Carley hasn't and friendly or not, Taylor's in the bin. A rather strange tap from Ospreys and a cross field kick which patently doesn't work. Lucky for Ospreys, Sarries knock on and it's a Welsh scrum. The ball is loose out to Hook on the right wing but good defence stops him. Then a good interception from Lewington sets Maitland up. He kicks ahead into the Ospreys 22 but the bounce is unkind and they recover. This is now getting very messy. Lots of knock-ons from both sides. Ospreys attacking again. Tolofua looks good. And it's starting to get rather dark. Wonder what Loz, Maitland and Earl did in training last week? Those 3 are still on the pitch while everyone else has gone off for a bit of corporate hospitality. Should be 5 minutes left. However Mr Carley has had enough – train to catch and all that – so he blows up a bit early. Poor old Taylor never got back on – although he probably didn't mind too much.
So that's that. Nice little work out. Some decent moves when they got it together but far too many penalties. They need to remember The Saracens Way: "Honesty, Humility, Work Rate and DISCIPLINE!"
Saracens:- Goode, Strettle, Lozowski, Barritt, Strettle, Malins, Spencer, Barrington, George, Koch, Isiekwe, Skelton, Rhodes, Earl, Wray. Subs: Adams-Hala, Tolofua, Thompson-Stringer, Itoje, Day Reffell, Vailanu, Whitely, Morris, Taylor, Tompkins, Lewington
Ospreys:- Evans, North, Williams, Watkin, S Davies, A Davies, Smith, Baldwin, Botha, Beard, B Davies, Cross, Tipuric, King Subs:- Otten, Jones, Jeffries, Nemsadze, Phillips, Habberfield, Price, Morgan, Ashley, Ratti, Volpi, Aubrey, Dirkson, Allen, Thomas, Hook
Scorers:- Saracens (31): Tries: Lozowski, Barrington, Skelton, Tolofua. Conv: Spencer (3), Lozowski. Pen: Spencer
Ospreys(14):- Tries: Cross, Otten Conv S Davies, Price
Referee: Matt Carley RFU
View a Printer Friendly version of this Story.
FACEBOOK LIVE & HAC
Discussion started by TheSaracens.com , 25/08/2018 19:38
TheSaracens.com
25/08/2018 19:38
What do you think? You can have your say by posting below.
If you do not already have an account
Click here to Register
.
Edited 2 time(s). Last edit at 2018:09:06:20:26:32 by Darraghgirl.
The Bard
26/08/2018 15:00
Thanks for that, it sounds like the scrum did rather better on Thursday than on the previous Saturday at Bedford.
Sorry, only registered users may post in this forum.