SINNING AGAINST THE SAINTS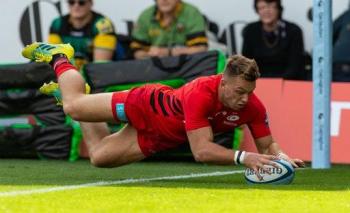 By Darraghgirl
September 17 2018
OK so I gave in! I watched the game on Premiership TV and decided to write a match report. It sounded a real humdinger of a game and I notice dthat Stephen Jones gave Man of the Match to Alex Goode our stand-in fly half. So my inquisitiveness got the better of me and this is the result.
Jim Rohn (no I have no idea who he was either but he was responsible for this rather appropriate quote) once said "Discipline is the foundation upon which all success is built. Lack of discipline inevitably leads to failure". How very true – lack of discipline very nearly cost Sarries this match. But I leap ahead of myself.
One thing about watching the game on TV is all the stats that come out. I learn that this is Mako's 100th league appearance and that Saints last won this league fixture back in 2015, 4 seasons ago. It is a Saint's debut for the mighty New Zealander (2 stones less mighty than he was) Taqele Naiyaravoro. It is also a 1st start for Dylan Hartley this season. Other points to note:- in front of Eddie Jones this is a match-up between England's 2 premier hookers, Dylan Hartley & Jamie George. It is also a chance to see Maro up against Courtney Lawes. And can Alex Goode catch Jones' eye in his new role as fly half? We learn that there are over 200 caps in Saints' pack. And so the scene is set. JP Doyle has the whistle.
There is early pressure from Saints relieved by a good rip by Itoje which at least gets Sarries into Saints' half of pitch but Sarries can't control the attack and Saints win a penalty which is plonked onto Sarries' 5m line. Impressive counter rucking from Itoje forces a turnover but again it doesn't end well with a knock on and a Saints' scrum deep in the red zone.
At this point I notice Sarries' front row are sporting colour-coordinated boots in fetching green and black. The boots go well and Sarries produce a good scrum and win a free kick. They opt to scrum again only for Saints to get the free kick this time. The pack again does well but Saints still manage to launch an attack. A brilliant interception from Goodey is in vain as Saints had been awarded a penalty advantage. Biggar plonks the ball back in the corner. We do it all again 3 more times. I sense JP is running out of patience. Saints seem to have scored but Burrell is ahead of the kicker so back we go again for yet another penalty lineout (I've lost count – is that 4 or 5?) and a final warning from JP. Another maul: this time George pulls it down and JP's patience is exhausted. Jamie goes off to the bin, Saints take yet another line out and still they try to get the ball over the line. Stirling defence from Sarries but a knock on forces yet more pressure from a scrum in front of posts. Rhodes is sacrificed for Tolofua. The ball comes straight out the back to Francis who finally scores the try. Biggar converts and Saints are up and running.
A nice restart from Goodey finally gets Sarries into Saints 22 and they win a penalty which goes into touch. Oh dear – the old yips are back for Tolofua who does a double throw which JP does not like, allowing Saints to clear. Goodey breaks again and finds his old mate Strettle who takes the ball up to the 22. Another excellent scoring opportunity once again goes to waste as Saints force a knock on and pressure is relieved. We cannot afford this generosity, especially when we are a man down!
Now Tompkins looks to be away with another interception but once again JP has already put his arm out for yet another Saints' penalty and another penalty in front (I've lost count now) this time against Billy which Biggar kicks. So the sinbin has cost 10 points!
Lovely interplay from the restart but this time Spencer can't hold on to pass from Koch and almost at once there is danger at the other end as the ball is kicked through and Goodey just beats Reinach to the ball back in his own half. Brilliant vision from Spencer. He sees a huge hole in the Saints defence once occupied by Naiyaravoro but he's gone awol. Spenno hoiks the ball along the left wing, chased down by Lewington to score. Sarries survive scrutiny from the TMO who agrees Lewington was a couple of millimetres behind Spenno when the ball was kicked and the try stands. Unfortunately Spenno makes a hash of the conversion but at least Sarries are on the board, 10-5.
There seems to be a bit more endeavour now from Sarries. An attacking scrum and Goode again finds Lewington. We come back for the penalty. Spencer turns down a straightforward 3 and kicks towards the corner. Good carry from forwards and the ball comes out via Goode to Williams who lobs to Lewington outside him and the new boy scores his 5th try of the season, catching, twisting and grounding all in 1 movement like a gymnast. Spencer again muffs the conversion from pretty much same place but 10-10 looks much healthier.
The half finishes with end to end stuff. One break from Naiyaravoro brushes Lewington aside and gets the better of Billy before Skelton gets away with a suspiciously high tackle and JP incurs the wrath of the home fans when he adds insult to injury and penalises Hartley for high tackle instead. The penalty goes back to the corner again. The drive is nicely set but as has happened rather a lot recently the ball is turned over, this time by Haskell. Need to sort that one. Half time and all square. Probably a fair reflection of the play so far but that lack of discipline is costing Sarries dear.
Part 2 begins. Good work from the forwards carries the ball into Saints' 22. Skelton takes it on then wave after wave of red assaults Saints' line. Itoje, Tompkins and finally Spencer dummies and goes over and this time kicks the extras too. Sarries finally take the lead: 10-17. It seems to be all Sarries until a dangerous break from Collins almost comes off. The substitutions begin – Haskell, Burrell and Painter leave us for Gibson, Franks and Symons.
A break from Lewington finds Tompkins inside him. Spencer picks the ball from the back of the ruck and it looks like Biggar has deliberately knocked on. Has to be a yellow surely? JP decides it isn't deliberate and anyway it was Reinach, who was offside, so it is just a penalty and a warning. Spencer settles for the 3 and it's 10-20.
Sarries' turn to ring the changes. Wiggy for Spencer, Kruis for Skelton. Wiggy is making his 265th Premiership appearance which apparently equals Borthwick's record (what's the odds he'll start against Glos then?), Meanwhile Saints boy wonder Mallinder replaces Francis. Another high tackle and Saints have a penalty – a nice kick from Biggar puts the ball right into corner. Here we go again. A good drive from Saints is illegally stopped. They try again – there are bodies everywhere, illegally apparently. Both captains are warned for allowing players to shout at JP and Sarries are warned for yet another cynical foul. At the 3rd attempt Billy infringes. He's in trouble for changing his bind and takes one for the team. So another 10 minutes to survive one man down.
4th attempt. Another penalty, this time against Isiekwe, and another warning. 5th attempt and this time no one dares transgress and Hartley bullies his pack over. The conversion makes it 17-20.
Francis didn't get much of a break – he's back on for Naiyaravoro having passed his HIA.
The best form of defence is attack, so Sarries get themselves into Saints' territory with good ball retention. A kick ahead by Barritt just beats Tompkins and is run into touch by Saints. Sarries finally win a penalty deep in the 22 and cool as you like, Goodey kicks it to extend the lead back to 17-23.
Lewington is replaced by Maitland. Hartley has run his course and he and Waller are also replaced. Saints have the ball again and there are still a couple of minutes on the sinbin. They look dangerous. Desperate defence by Sarries but finally a try for Franks is converted by Biggar and Saints are back in the lead, 24-23. Billy returns. The 2 sinbins have cost all 24 of Saints' points. How did that saying go ? "Lack of discipline inevitably leads to failure". So true.
16 mins left. Harrison and Reinach depart. A promising maul from Sarries deep in Saints' 22 is once again knocked on. Sarries try again. Penalty Sarries in front. Once again Alex obliges and Sarries regain the lead. 24-26.Earl and Titi replace Koch and Billy (barely worth him coming back on). Wiggy is rightly in trouble for retaliating to a lateish hit by Gibson. He is lucky it is only a penalty as JP said he "didn't connect". Just as well as I fear another 10 with only 14 men would have been terminal.
Biggar puts Saints back ahead 27-26 as we enter the last 10 minutes.
Sarries claim the restart back in Saints 22 but Saints have again turned it at the breakdown (bit ominous after last week) however a poor clearance and Sarries are back on attack. JP has his arm out for a high tackle and but Strettle doesn't need any help and scores his 50th premiership try as Goode finds Williams who offloads to Stretts and those magic feet take him through the traffic and over the try line. A lovely conversion from Goodey again and it's 27-33 (try bonus point in the bag)
Skelton is back for Isiekwe with an HIA and Loz replaces a very lively Tompkins. Saints are still not giving up but Williams has other ideas. A lovely high take and he breaks into Saints' 22. He finds Ben Earl who finds George and on to Strettle in the corner for his 2nd try in as many minutes. Goodey can't quite maintain his perfect record from out wide but with 4 mins left there is finally clear water. Barritt also departs for a HIA so Tompkins is back and Tolofua replaces George. One last attack for Saints, trying to salvage a bonus point at least, or even 2. Penalty in the corner and Gibson is almost through but Sarries defend well and concede a 5m scrum. One huge push against the head allows Sarries to clear. Itoje wins a penalty with 30seconds left. A lineout for Tolofua this time goes fine and Wiggy puts the ball out.
Probably a fair result in the end – and saints struggled to score when we had a full compliment on the pitch. Goodey showed he is a very useful 10 (were you looking Eddie) and Stretts seemed to pick up where he left off 3 years ago. Itoje had an excellent game but it was pretty even between Hartley and Jamie George.
So 3 games, 15 tries, maximum points, top try scorer in the league (Alex Lewington, 5) and we still haven't got into top gear! Against 3rd placed Gloucester next Sunday we will probably need to. And if we can get to grips with the discipline thing, that could be some performance!
Northampton Saints:- Tuala, Naiyaravoro (Francis), Burrell (Symons), Francis (Mallinder), Collins, Biggar, Reinach (Mitchell), Waller (Van Wyk), Hartley (Haywood), Painter (Franks), Ribbans, Lawes, Haskell (Gibson), Brussow, Harrison (Ratuniyarawa)
Saracens:- Williams, Strettle, Tompkins )Lozowski), Barritt (Tompkins), Lewington (Maitland), Goode, Spencer (Wigglesworth), M Vunipola (Barrington), George (Tolofua), Koch (Lamositele), Itoje, Skelton (Kruis), Isiekwe (Skelton), Rhodes, B Vunipola (Earl)
NORTHAMPTON (27) Tries: Francis, Hartley, Franks; Conv: Biggar (3); Pens: Biggar (2)
SARACENS (38) Tries: Lewington (2) Spencer, Strettle (2) Conv: Spencer, Goode; Pens: Spencer, Goode (2)
Yellow cards: George, B Vunipola
Attendance: 12,317
Referee: J P Doyle (RFU)
View a Printer Friendly version of this Story.
SINNING AGAINST THE SAINTS
TheSaracens.com (IP Logged)
17/09/2018 21:48
What do you think? You can have your say by posting below.
If you do not already have an account
Click here to Register
.
Edited 1 time(s). Last edit at 2018:09:27:16:59:40 by Darraghgirl.
Re: SINNING AGAINST THE SAINTS
18/09/2018 13:19
Excellent report DG. I must look into this Premiership TV malarkey.
And thanks for clearing up the Biggar decision - for once JP was thinking straight!
£721.05 (*) donated to the Saracens Foundation due to visits to the Sarries frontpage [
www.rugbynetwork.net
]
Please read and submit articles for publication. (*) As at October 31, 2018.
Sorry, only registered users may post in this forum.