CHERRIES OFFER GOOD PICKINGS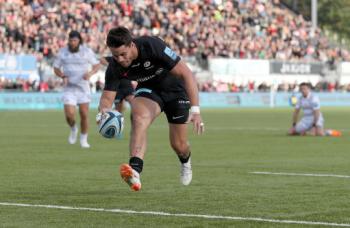 By Innings
September 24 2018
Preparing for today's game involved digging out the waterproofs, thinking about keeping dry, not being blown away and staying warm. My wife disagreed; she looked out of the window at midday and told me the rain would stop at one o'clock and I'd actually need sunglasses rather than the winter outfit. I set off in pouring rain, car boot full of everything for a wet autumn equinoctial day, and with no sunglasses, but rather smug that I had not heeded her words. Within ten minutes of the predicted time, the rain stopped, and I arrived at AzP in bright conditions, not cold at all but very windy. A brilliant welcome from a drumming group as I came in through Gate C, the schadenfreude of seeing that my old seat remained unoccupied, and time to see the end of the warm-up drills.
They say a sign of getting old is how young the policemen are these days, but for me it was brought home differently, learning that Christophe Ridley, our referee for today, is only 25. He is certainly getting some high-profile games under his belt, and on today's performance we shall see him at the next level before long.
It took some time for Sarries to follow Gloucester onto the field. Jamie George was first out, marking his 200th Premiership game for Sarries. He was followed by Richard Wigglesworth, marking the extraordinary achievement of taking over the mantle as the most capped Premiership player. With a unique record of five Premiership titles to his name, it seems possible that whereas some player might take one or other of those milestones from him, no single player is likely ever again to hold both.
Gloucester won the toss and elected to play into the wind, which most unusually for AzP was coming in over the south stand. I watched the game on BT Sport again this evening, and one striking feature was that the aerial command from both Wiggy and Owen Farrell gave no hint of how strong the wind actually was.
The game began at great pace. Owen kicked off, Gloucester's exit plan was inadequate, and within two minutes a penalty gave Sarries the easiest possible opening score. That was bad enough, but scarcely had Gloucester re-started before speed off the base gave Mako a free run at the Gloucester centres. The Cherry and White forwards were slow to react, the Gloucester centres were forced to deputise. Slick ball out right, where a scrambling defence was caught in a classic dog-leg formation. Sean Maitland needs no second invitation, although what the left winger was doing on the right of the field playing 13 is a mystery to me. Sliding through the crook of the dog-leg he drew both remaining defenders and put David Strettle into the corner, untouched. No need to record it after every try; Owen missed nothing all afternoon. 10-0 after six minutes.
For about 15 minutes, Sarries simply bullied Gloucester, every which way. Our commentators had noted before the game that Danny Cipriani's game management can fall apart if he is denied his pass by a runner by-passing the tackle and closing his passing line. We saw that glaringly a few times in this period, and indeed the tactic of using Billy Twelvetrees as a second fly-half, which seemed designed to keep Sarries guessing, scarcely worked at all. He was slower in the pass, and more inclined to truck the ball, but it made little odds, the back three were seeing nothing of the ball. One success came at about the 20 minute mark, with handling that did deliver the ball in space to Charlie Sharples, by a margin for me the most dangerous Gloucester back. Four times out of five you'd back him to score from where he found himself, but somebody had forgotten to tell that to Liam Williams, who had tracked across the back line, following the ball, and being able to make the last-ditch tackle that took Sharples and ball into touch.
Within moments, Sarries were back at the other end, pressing the Gloucester defence. Nothing seemed to be coming from the pressure, but then Owen kicked a monstrously high ball that was intended to fall into the pocket behind the goal posts. We see 10s launching such attacks to the corners, but I don't recall seeing many that go into the middle. Gloucester were simply asleep, and three Sarries players had a free run at the opportunity. Then, extraordinarily, the ball hit the padding on the inside of the post, landed and bounced up to hit the underside of the cross-bar, falling back infield into the grateful arms of Mato Itoje, who simply had the simplest of catches and a flop over the line. I'm sure that Alex Sanderson would claim that the squad practice exactly that move e very week, but for me it was a simply amazing reaction to the well-known vagaries of the rugby ball in motion.
Seven minutes later, Sarries had a line-out, a drive, collapsed, a re-work and on the second attempt Maro was to pick up from the base and stretch forward for the third try of the afternoon.
There was a Gloucester penalty in there somewhere, but they cannot have expected to turn round to gain the wind advantage to compensate for a 24-3 deficit.
There are several telling numbers , apart from that scoreline. The important one is 8-2, the number of turnovers achieved by each side in 40 minutes. Very few sides win at Allianz, about one a year on average, and Gloucester would never be one of them with that inability to protect possession. In addition, with Liam, Wiggy and Owen on the money with pretty much every kick, there was little point in constantly kicking to clear and just giving Liam a free return run or kick.
Not surprisingly, the commentators were purring at half time. We all know that LBND has never seen anyone play better than Wasps, even when they're being beaten, but today he was positively gushing his praise, and indeed he had reason to.
So into the second half. Sun still shining, and low in the sky, self missing the thought-to-be unneeded sunglasses.
The second half was less clear-cut. Injuries, including a double setback that cost Gloucester both Ruan Ackerman and Lewis Ludlow, their 7 and 8 in the build-up to Maro's second try on 38 minutes, meant that the game was becoming less structured than we had seen earlier. The usual raft of changes on the hour mark caused some re-thinking. Alex Goode came on to replace Liam at full-back, and was immediately an equal handful for the Gloucester defence. A quite brilliant run set up space for Alex Lozowski to score a fifth try. 38-3 was looking distinctly like a thrashing.
The Sarries coaches made a most uncharacteristic error. Brad Barritt came off for an HIA, and Nick Tomkins came back on as a permitted HIA replacement. However, after two minutes, the doctor said it was not an HIA but a neck strain. Nick had to go off again, but Brad did not reappear, leaving Sarries to play out the remaining nine minutes with 14 men on the field. This seemed to confuse them, and although we know they are one of the hardest sides against who to score when a man down, Gloucester took two tries in that final period.
Final score 38-15. Mako was Man of the Match by a margin, highest number of carries, 21, highest number of tackles, 16. He was simply in a different class from any of the usually formidable Gloucester front five.
Johan Ackermann summed it up, the gist being that Gloucester were simply not good enough. He had said earlier that this was an important test, but fluffed the question: If this was a test, did you fail it? The score tells you the answer.
We should not close without noting another result today. Leicester Tigers suffered a massive blow to their pride today. Scoring 37 points should have been enough to carry them home at Welford Road, but rugby is also about stopping the other side from scoring. Tigers scored five tries, but carelessly allowed Worcester to score six. 37-44 may have pleased the neutral observer, but the result and the loss of Manu Tuilagi and Ben Youngs to injury means that the Tigers' unofish is in mourning tonight.
Did I mention Matt Banahan? Nor did the commentators, his name first passing their lips at 78 minutes and 38 seconds into the game.
After four games, Sarries have played three with much to consider needing improvement, but today they delivered that improvement. They set a high standard for anyone who wants their title.
And finally: the contest between Owen and Danny Cipriani. What contest? Danny was ineffectual, rattled and unable to manage the game. Todays' commentators might have a case when they collectively called Owen as one of the two or three best players in the world. Eddie will have seen nothing to make him re-think his call last week.
Saracens
15 Liam Williams; 14 David Strettle; 13 Nick Tompkins; 12 Brad Barritt (c); 11 Sean Maitland;
10 Owen Farrell; 9 Richard Wigglesworth; 1 Mako Vunipola (Barrington 57');2 Jamie George( Tolofua (57'); 3 Vincent Koch(Lamositle 57');4 George Kruis; 5 Will Skelton( Isiekwe 48'); 6 Maro Itoje; 7 Mike Rhodes; 8 Ben Earl( Burger 59')
Replacements; 16 Christopher Tolofua; 17 Richard Barrington; 18 Titi Lamositele; 19 Nick Isiekwe; 20 Schalk Burger; 21 Ben Spencer; 22 Alex Lozowski;23 Alex Goode:
Scores: Tries Strettle(6');Itoje (27'&39');Maitland(53');Lozowski(69'):
Conversations Farrell x 5: Penalties Farrell X1

Gloucester rugby
15. Jason Woodward(Hudson 67'); 14. Charlie Sharples, 13. Henry Trinder( Atkinson 63'), 12. Billy Twelvetrees, 11. Matt Banahan; 10. Danny Cipriani, 9. Callum Braley( Vellacott 58');
1. Josh Hohneck(Seville 63'), 2. Franco Marais(Hanson 63'), 3. Fraser Balmain( Knight 57'); 4. Ed Slater (capt), 5. Gerbrandt Grobler; 6. Jake Polledri, 7. Lewis Ludlow(Clarke 38'), 8. Ruan Ackermann(Morgan 38').
Replacements 16. James Hanson, 17 Alex Seville, 18. Ciaran Knight, 19. Freddie Clarke, 20. Ben Morgan, 21. Ben Vellacott, 22. Mark Atkinson, 23. Tom Hudson
Scores: Tries Atkinson(72'); Sharples(80'):
Conversions Twelvetrees 1/2 Penalty Twelvetree
Attendance: 8,591
Referee: Chrisophe Ridley