BATH TAKE A DRUMMING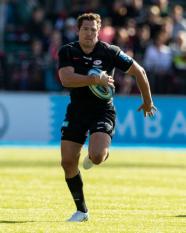 By Innings
September 30 2018
Drumming groups seem to be like buses: you wait for ages then three turn up at once. Last week I noted the marching drummers, and this week we saw them again, and Welcome back to them, together with four likely lads and their drums at Gate C and finally our regulars to accompany the game. What with these and the ridiculous non-seasonal warmth and sunshine, this was the setting for a Caribbean carnival rather than a rugby match. Fortunately, both sides seemed determined to offer carnival, with thrills for us to applaud and horror side-shows for those who prefer to groan.
Team selection was the first topic. Todd Blackadder had more or less changed the whole side, with only two survivors from last week, and he made no bones about the limit of the team's ambition. They were there to chase a losing bonus point. Mark McCall made a number of changes, but with the more ambitious aim of keeping his squad ready for this season and for the dual challenges of the Premiership and Europe.
The game itself was played at a pace to bely the warmth of the day, both sides wanting to match the forwards on the rampage with the backs on the search for width. Both seemed determined to ensure that the other side would have little chance to catch breath, and it felt to me that we had more rugby actually played for our 80 minutes of game time than is the norm in the modern professional game. Perhaps the fact that we had a good officiating team, working well together, helped that along.
The truth of the game is that the final score of 50-27 was extraordinary for three or even four reasons:
Two of Sarries' most exciting talents, Alex Goode and Liam Williams dropped the ball for little known reason, both with the line at their feet and neither with a white shirt of Bath in sight. When did white line fever on the scale last happen to Sarries?
Two of Bath's three tries came from poor Sarries passes, one by Richard Wigglesworth and one by Owen Farrell, intercepted by Bath players, Cook and Homer respectively. Alex Sanderson may put on his brave face for the cameras, but I expect that the match review will mention that against top sides, two loose moments like those could cost the game.
Apparently, this was Sarries' ninth consecutive five points win in a row, a record for the Premiership. This win confirmed Sarries', and indeed any other English Premiership side's, best ever start to a season. Exeter will be cross that their win in Newcastle last week failed to deliver the four try bonus that would have them on the same record.
Was there ever a game when 77 points included only six from penalty goals?
Bath came to play a game that was in respect of every ambition, admirable. No attempt to play the Sarries' way, but instead a pragmatic intention of using forwards and backs, sometimes as separate units, sometimes inter-mingling, to mix up their threats, and perhaps to try to take the sting out of the long-proven threat of one of the most talented groups of ball-carrying forwards that have played the game in this country. However, an essential of that is that when those opposition ball carriers do have the ball, you have to tackle successfully. Well before halftime, Bath had
attempted over 80 tackles. Francois Louw and Anthony Perenise had tried for twenty between them, and missed almost none, but the remainder of the Bath team's sixty attempts had resulted in one third of them failing to stick, a fatally poor return against any good side.
The sight of Brad Barritt taking another hefty crack to the cheekbone, where he had two significant damages last season, was not nice to see in real time, and even worse to see on replay. Copious blood is one thing, but a player so obviously suffering clear pain and probable shock is something to remind us of the way in which all players place themselves in harm's way for their team mates.
For Bath, I thought that three players stood out. Chris Cook is another of those scrum halves who must always feature in the long list of possible England names, but who seems fated not to make any short lists. He is talented, combative and never afraid to tell anyone what he expects of them. Max Wright started his first game for Bath, and was never over-awed by facing Brad. I thought he did much good work both in linking in some of the most fluid Bath moments, as well as in defence. I never see Tom Homer really nail down a place on the wing, for me he is a fifteen. However, he was Bath's most potent individual threat, always making ground, and always looking to make trouble in defence. He made his fellow Bath wing look ordinary.
For Sarries, it is impossible to pick out three stand-out players; this was another team performance. However, one player did stand out. Alex Goode is never poor, rarely indifferent and sometimes sublime. This game was in that last class, one of the performances that would have any international coach in the world checking his eligibility. In truth I think that when Eddie Jones crashes, as he seems capable of doing, his failure to see what he discarded will be one among a number of reasons.
In the post-match interviews, as Maro presented Alex with his MotM gong, which is not an award that players seem anxious to wear, Maro commented on how he is a good place, loving his rugby. That compares with his comments on returning from England duty last year, when he noted how good it was to be back where he is loved. And this week a proven international prop, just 28 and coming up to his propping prime, has walked away from England with just a year to go before a world cup. Ho Hum, I say to myself.
All in all, a thoroughly good afternoon. Sarries did their bit, certainly, but it does credit to Bath that a side sent without even any attempt to win – shame on Blackadder – should have contributed so much to what made the game worthwhile for everyone watching it. Eleven tries, no cards, no real disputes about refereeing decisions, what was not to like?
Saracens 15 Alex Goode; 14 Liam Williams; 13 Alex Lozowski; 12 Brad Barritt ©( Tomkins 23'); 11 Sean Maitland(Lewington 69');10 Owen Farrell; 9 Richard Wigglesworth(Spencer 54') ); 1 Mako Vunipola(Barrington 58'));2 Jamie George(Tolofua 58')); 3 Titi Lamositele( Judge 66');4 Maro Itoje(Skelton54'); 5 George Kruis; 6 Nick Isiekwe; 7 Jackson Wray; 8 Billy Vunipola( Burger 58')
Replacements 16 Christopher Tolofua; 17 Richard Barrington; 18 Christian Judge; 19 Will Skelton; 20 Schalk Burger; 21 Ben Spencer; 22 Nick Tompkins; 23 Alex Lewington
Scores: Tries Williams(12',42', 53'); Goode(15'); George (30');Tomkins (38'); Maitland(67');Tolofua 78'):
Conversions Farrell 5/8.
Bath Rugby 15. Darren Atkins; 14. Semesa Rokoduguni; 13. Max Clark; 12. Max Wright;11. Tom Homer;10. Rhys Priestland( Burns 59'); 9. Chris Cook( Green 59'):1. Jacques van Rooyen(Noguera 58'); 2. Jack Walker( Van Vuuren 58'); 3. Anthony Perenise( Delmas 63')4. Charlie Ewels (c);5. Elliott Stooke(Douglas 58'); 6. Josh Bayliss; 7. Francois Louw; 8. Paul Grant( Reid 63'):
Replacements 16. Michael van Vuuren; 17. Lucas Noguera; 18. Victor Delmas; 19. Levi Douglas; 20. Miles Reid; 21. Max Green; 22. Freddie Burns; 23. Jackson Willison:
Scores: Tries Cook(34'); Homer(40', 62')
Conversions Priestland 2/2; Burns 1/1
Penalties Priestland 2/2
Man of the match. Alex Goode
Referee: Tom Foley (55th Premiership game)
Assistant Referees: Roy Maybank & Anthony Woodthorpe.
TMO: Geoff Warren Citing Officer: John Byett