GLASGOW BLUES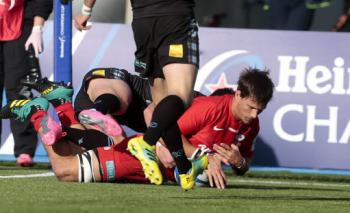 By Innings
October 14 2018
I got this one wrong. Check weather – rain and storms forecast. Check travel – hopefully no delays or obstructions. Check personal items including wet-weather gear, money for pies, beer and half-time chocolate. The I realised I was to watch this one at home. So, although it was raining outside, the only travel risk was that I might trip over one of many tennis balls that Arthur the dog likes to leave around the house, and the only requisite vital personal item would be the TV remote. Food and drink in the fridge, so all ready to settle down to watch a rain and wind-affected game.
So, what actually happened? The first thing is that the TV cameras pan the ground, and there in the shirt-sleeve sunshine are Helen and Simon, in conditions more appropriate to Toulon in May than Glasgow on October. The Sarries travelling support are there, admittedly in small numbers, and they will have their work cut out to make themselves heard against the partisan roar of the Sunday afternoon crowd at Scotstoun.
The two teams are free-scoring, running sides this season and everyone, including LBND, well-known for his insights into all things that go on behind the 8's backside, is expecting a game of up-front grunt creating opportunities for the backs to break out and score several tries on each side. Indeed, we can confidently expect that the game may well be decided by the odd try of many.
What we got was totally different. Glasgow decided to play up-the-jumper rugby for many phases, all too frequently continuing that tactic when greater dividends might have been taken out wide. However, distribution needs a 10 with time, and Sarries had correctly divined that Hastings may be a great future talent, but he is vulnerable to the sort of pressure that many other 10s know all too well when the wall is working. The great threat of the Glasgow game is their use of the widest channel, but getting it out there was too often impossible, so the forwards found that they were constantly carrying, recovering and re-setting, making little ground and less opportunity to spread wide. Sarries, I would argue, had the measure of this game, and they were only really pressed when the Glasgow side occasionally worked long ball into space or got a generally ordinary line-out to deliver to the backs from close range. Sarries' own game seemed to mirror the Glasgow plan, and it can be no surprise that the game-plan was never going to deliver the sort of excitement that could have come if either team had displayed more ambition.
Injuries are going to play their part. Mako and Billy seemed to be down and done for simultaneously, although Billy will carry on for a good while, until his right arm reacts in sympathy with an already sore knee, hyper-extended in a fall. Maro and Jamie bleed more blood and stuff from their noses and mouths than many of us expect to see in a boxing-match, and Owen seems to carry a not-quite-right leg for a fair while.
The forwards purist can call this a game of passion and excitement, with the final close score of 3-13 a testament to two sides with parity in terms of commitment and skills. The casual watcher might call it a throwback to the monochrome days when Five Nations were thought exciting when Wales routinely seemed to win 3-0. For me, this was a game when both sides over-respected their opponents. I used to be a judge in amateur boxing, and in that privileged ring-side position I watched many bouts when both boxers were more concerned not to lose than to try to win, and they were the dullest, lowest-scoring bouts of all. It seemed to me that today was a throwback to those evenings almost fifty years ago. I cannot really think of any great passage of play in the entire 84 minutes. Perhaps the only real adrenaline rush was for that added 4 minutes, at the end of the first half, when Glasgow had three penalty throw-ins on the Sarries line and failed to score on all three. Perhaps Glasgow feel aggrieved at not getting a penalty try, but in reality, the first two penalties were for different offences and the third went against them anyway.
By about 60 minutes many Sarries players were down on the energy reserves, but it was good to see how the team were covering for comrades who needed a breather, whether to get over yet another energy-bursting stint or getting their breath back after yet another ferocious tackle, of which the game heard many, over the TV cameras and saw more.
The only try of the game was extremely contentious, with a clear body in touch, but the pass put away for Michael Rhodes to score a few phases later. So paradoxically, LBND may well have been right; the game came down to the tightest of margins.
The Scotstoun crowd will certainly have awarded the medal for Sarries' MotM to referee Mathieu Raynal. To say that they are partisan in their support is very true, but today they seemed to suffer most greatly, because several Glasgow breaks that seemed certain to lead to tries were whistled back for soft offences. Sarries would say that the offences came about because of pressure, Scotsmen would be less generous.
Sarries say that the side "..were not doing anything special, just the basics very well." I would say that if this performance is what Sarries are going to offer this time around, and they remain second favourites after Leinster, get your money on Leinster while you can. You can still get 13/8 tonight, surely safer odds than Sarries 1/8 to win Pool Three outright.
Therefore, all in all, not a long report, this one, but not a lot to report. For me, a game of blood and commitment, but really very little to make me regret that I swapped the trip to Glasgow for lunch out with friends followed by the game at home.
The real action this weekend was elsewhere. Wasps were being schooled to remember that past winners of their competition are not guaranteed any favours in this one. Freddie Burns was being taught that you should never open your presents before Christmas Day, and Exeter were being reminded that in this competition, big packs can come up short against other bigger ones. Away wins are always cast as being gold dust, but there were five in this first weekend, and a draw as well.
Glasgow: Jackson, L.Jones, H.Jones, Dunbar (P.Horne 34), DTH van der Merwe (Hughes 65), Hastings, Price (G.Horne 64); Kebble (Allan 64), Brown (Turner 45), Rae (du Plessis 54), Harley (Paterson 75), Gray, Wilson (Fusaro 60), Gibbins (c), Fagerson. Replacements: Turner, Allan, du Plessis, Peterson, Fusaro, G.Horne, P.Horne, Hughes.
Pen: Hastings
Saracens: Goode, Strettle (Lewington 75), Lozowski, Barritt (c), Maitland, Farrell, Wigglesworth (Spencer 60); M.Vunipola (Barrington 22), George, Koch (Lamositele 69), Skelton (Isiekwe 57 (Tolofua 75), Kruis, Itoje, Rhodes, B.Vunipola (Wray 51). Replacements: Tolofua, Barrington, Lamositele, Isiekwe, Wray, Spencer, Tompkins, Lewington.
Try: Rhodes
Con: Farrell
Pens: Farrell (3)
Referee: Mathieu Raynal (France)