SCORE DRAW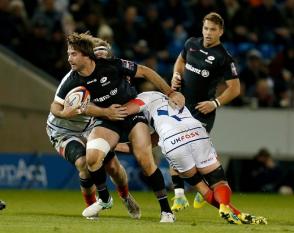 By Sara'sman
November 4 2018
My thoughts (since I appreciate others' after A league/non televised games):
Another excellent game from Kpoku (even better than v Tigers), carried and tackled to great effect. Judge excellent for 30 minutes (then tired?), dominating his opponent (their first penalty a poor decision), Day stole a couple of lineouts and though slow on the turn worked tirelessly. Taylor's speed of passing excellent, kicking so-so, sniping nearly came off. Our lineout was outstanding for 30 minutes then fell apart - throws too long (3?) one too low, one stolen. Bosch looking to offload but no runners on his shoulder (went off for 8 min with a bloody nose, came back to organise the youngsters). Morris made a couple of good breaks and generally good with ball in hand, not so good in defence. Scrum was generally dominant but a little inconsistent. Crossdale chased well but looks frail! Lewington rather too anonymous for me. Gallagher mixed - early kick half charged down, a couple of theirs knocked on, but reads game well/positioning good. Back row made 3 or 4 Jackals, tackled well but too little with ball in hand.

But Malins, oh dear! Sliced kick straight out, restart straight out, another didn't travel 5 yards, easy early penalty missed. Much worse than v Tigers.

Our kick chase was excellent, we should have won at a canter (Sale fans near me after 30 min "It's going to be a long day") but we started gifting possession/penalties and they looked increasingly dangerous as they bludgeoned then threw wide - Wilkinson played very deep helping them to outflank us. They finished as the more dangerous team. Think I saw our new prop, Kpoku2 (and Adams-Hale) warming up amongst the reserves.

Our second try was a fantastic team effort, Sale's first pretty good too. Clark targeted a little again, didn't over-react nor back down! Very clear in the warm-up that the organisation is (understandably) a rung or two down on the First team, and it showed in the backs where the second line of receivers was rarely used to any effect; a couple of openings blown, another nearly gifting an interception try.

My thanks to the great Sale fans surrounding me - generous with half time cakes/biscuits and good company, though forcing me to join the eating of Jelly Babies every time they scored was uncalled for!
SALE: James Odogwu Doherty Leota Reed Wilkinson Cliff; Bristow (J Pope), Langdon, Jones (Taurus), Postlethwaite, Ostrikov (Booth), Nott, Dugdale, Strauss (Birch). Subs unused: Dolly, Warr, Roebuck, N Pope
SARACENS: Gallagher, Crossdale, Bosch (Bird-Tulloch), Morris, Lewington, Malins, Taylor (Whiteley); Thompson-Stringer (Barrington), Woolstencroft (Gray), Judge (Koch), Day, Kpoku, Clark, Reffell (Christie), Earl. Subs unused: Nay, Obatoyinbo
SALE: Tries Cliff, Odogwu; Conv: Cliff; Pen Cliff
SARACENS: Tries: Kpoku, Gallagher; Conv: Malins; Pen: Malins