SALE SELL THEMSELVES SHORT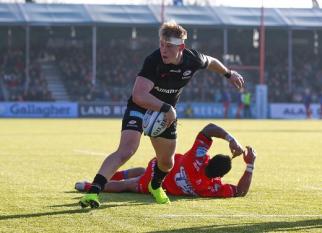 By Innings
November 18 2018
To be honest, this was a game that Sale hoped to win, targeted, could and should have won. They didn't, and more of that later.
First of all, what's going on with this weather? Yet another fine, sunny, warm enough and almost windless day for rugby. Sunglasses needed for the west standers, shirtsleeves in evidence everywhere, and overall a totally unseasonal feel to the day. Are not these autumn premiership games in the AI window meant to take place in dreary, wet conditions when we'd all prefer to be tucked up in front of the home fires?
I moved my seat this week. The pre-season move downhill and sideways towards the try-line had removed me too far from the prawn sandwiches, and although I have yet to see such a morsel, I live in hope, so moved mid-season. I'm sure I was told by Carolyn in the ticket office that I was moving into the luxury of a padded cell, but it appears that I mis-heard; she said 'padded seat'. On balance, I shall miss the company of some diehard supporters, but find myself close to others, including old friends who, long ago, had seats nearby in the bowels of Vicarage Road. The carousel revolves, but at least I still have the ride.
There is no easy way to approach a game like today's. Pragmatically, there is the Sale team, hoping to break a fairly long sequence of losses at Sarries, little damaged by losses to international call-ups, facing a team of youngsters breaking into the big-time, back-bone squad players, and an old-age pensioner. In more than half the shirt numbers we can see the loss of players to injury and call-ups. Maro, Jamie, Vincent and Juan, George, Maro, Wiggy, Owen and Alex, Dunc, Sean, Liam. The loss of so many front-line players like that is a stretch for any team. And there's some chap called Billy who might get into the starting XV on most weekends. However, that's why we have squads.
The team selection bore some very faint resemblance to that printed in the match-day programme that I am too mean to buy, but which could be read over the shoulder of the person in front of me. However, I was pleased that when the team came on-field the key players, Alex, Brad, Schalk and Michael, Will, were all present. It was very probable that we would need all their combined experience to see us through this one.
This was truly a game of three halves.
Half One. Sarries are doing what they do: intense line pressure, the impressive Sale half-backs never really getting going, and – heresy to say it- Faf actually looking pretty ordinary at times, his dangerous kicking game seeming to be deprived of the vital second of planning time, leading to errors, not just of judgement, but of execution as well. Most unusual. Fortunately, Rob du Preez is playing very well, and apart from opening the scoring, he is also delivering some high-quality kicking from hand. If he had not been turning the Sarries backs, creating territorial and player advantages, things might have looked grim for Sale. A bustling try by Mike Rhodes saw Sarries edge into the lead, but for most of 20 minutes this was a probing, exploring game, with the early exchanges about even.
However, it was a Sarries player who should have been the one to give Sale their best chances. Will Skelton was playing very forcefully and generally proved too much for the Sale defence, but on 24 minutes he also proved too much for the referee, of whom more later. Off to the bin for a really unnecessary late hit on Sale 15 James, long after his attacking kick from about his own 10 metre line. It was so late that I briefly wondered whether Will had remembered to put his watch back for the end of BST. Without one of their most effective carriers, always attended by three Sale players every time he went into action, it was reasonable to think that Sarries would need to put in a defensive ten minutes. Somebody forgot to tell the Sarries team, who promptly ran in two good tries in Will's absence. The second of this pair brought the stands to heights of excitement as it looked as though our OAP, the evergreen Chris Wyles, is about to score, but instead he grubs through for Tompkins to dot down. Nick impresses me more and more, and I think he is another of those players, Jamie George and Ben Spencer come to mind, who is blossoming at the right pace for his long-term future under the careful management of the coaching group.
The score at 21-6 is looking ominous for Sale, but a lapse in concentration gives Sale the chance to go wide, a favoured ploy all afternoon, and put McGuigan over to bring a more respectable look, 21-13.
The second half sees a very different game. The game goes up a notch in intensity, largely created by a much livelier Sale side. Sarries are making errors in the wrong parts of the pitch, all too often, three times in this early second half, to give du Preez regular upward ticks to the Sale scoreline. The third of these puts Sale back in front, 21-22, then a fourth 21-25. A kick is no longer enough for Sarries to get the win. A penalty, good kick to the corner, and Kpoku is last man up from a driven-over maul. Du Preez has one last shot at goal, but nothing comes of it, and the game ends 31-25, a bonus point win for Sarries. It will remind Chiefs, playing tomorrow, that the champions of England are still alive and hunting. An important LBP for Sale keeps them level on points with Bristol, three points clear of Falcons.
I thought several players were worthy of mention:
Sale half-back pairing of de Klerk and du Preez, the latter on debut in this competition, will trouble many other premiership sides. They were somewhat shackled by the Sarries back row at times, but with Jackson, Schalk and Mike Rhodes, that is no shame to report.
Will is a powerful carrier, always a danger, always seems to burst the gain line and get the ball back, fit enough to put in his defensive share as well. Schalk is the ideal man to provide the experience and commitment that helps younger players to find their feet. He is apparently an on-field coach and mentor as well as the third man of a very solid all-round back row. Nick Tompkins gets better with every game, and we can already see a natural fit in the set-up as one or two older players reduce their work-loads. Alex Goode seemed always to be one step ahead of what could have been Sale's best weapon, the half-backs' kicking game, which never really functioned as they would have wished, and rarely produced the dividends that might have expected when it did go right.
However, I reserve author's privilege to highlight one other player's contribution. Straight out of the Frank Sinatra playbook, Chris Wyles, on the first of what may yet turn out to be his annual final, absolutely definitely final, gig of his most recent farewell tour, was fit, sharp, productive and reliable. I trust his lager is equally commendable.
I dislike to criticise referees, but suffice it to say, I did not agree with some of what Mr Jackson decided today. Officious at times, casual at others, I doubt that either side ever really understood what he wanted to see. He certainly didn't endear himself to me. However, some of his later, to me questionable, decisions did bring Sale back into the game, and that meant we had a nail-biting finish, always giving one's money's worth, so long as the end result is right.
Finally, a word or two on England's outing today. Clive Woodward pointed out that the difference in England's performance could precisely be shown to coincide with Owen Farrell's arrival as a finisher. He was clearly the dominant figure from that moment on. Maro was MotM, probably rightly, as he was in top form for the entire 80 minutes. Jamie was straight out of the Brits mould, solid in the set-piece, devastating in the loose, with try-saving tackles, try-delivering passes, and much between. Wiggy proved that for me he is the best kicking 9 in the English game. I though Alex was out of sorts, and it seemed to me that he is a better 13 than 12. I need not mention that England's best player was at Allianz Park, not Twickenham.
Saracens: Goode, Wyles (Whiteley), Tompkins, Barritt, Lewington, Malins, Spencer; Barrington (Thompson-Stringer), Woolstencroft (Gray), Judge (Sasagi), Day (Kpoku), Skelton (Clark), Rhodes, Burger, Wray (Earl). Not used: Bosch
Sale Sharks: S James, Solomona, O'Connor, Leota (L James), McGuigan, Du Preez, De Klerk; Harrison, Webber (Langdon), John (Jones), Evans, Philips (Ostrikov), Ross, Curry, Beaumont. Not used: Bristow, Nield, Cliff, Reid
SCORERS: Saracens (31): Tries – Rhodes, Lewington, Tompkins, Kpoku; Conv: Spencer (4); Pen: Spencer
Sale Sharks (25): Try: McGuigan; Conv: Du Preez; Pens: Du Preez (6)
Yellow card: Skelton
Referee: Andrew Jackson (RFU)