WASP'S THREAT EX-STING-GUISHED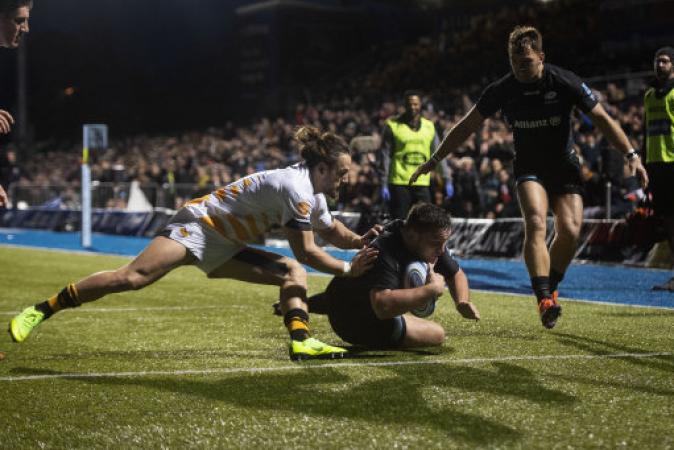 By Innings
December 3 2018
I had mixed thoughts about this game. Both sets of management seemed to have decided that this was a game for which the returning internationals could not be rested, and both wanted the win, not just for table points, but for cementing top four status and, dare it be suggested, for old-fashioned bragging rights.
Setting off from home, the drive up the M4 was ghastly, somebody had decided that they were carrying too much diesel and spilled a puddle of it, causing two of three lanes to be closes, just in the middle of a roadworks sector. Even more pertinently, it was raining in a manner that would have Noah nodding in satisfaction and saying "I warned you." However, I did make the start time, and was just finishing a quick pie as the teams came out. Rarely have I heard the visiting support less vocal in welcoming their team onto the pitch, and indeed that lack of support seemed to be feature; perhaps the Wasp supporter cannot bear the thought of a return to the metropolis. Astonishingly, the rain stopped before kick-off, leaving a very tricky wind, and a very damp surface.
The game itself falls into three phases; grinding down, grinding out a lead, and final desperate attempt to recover. It all reminded me, a serious student of warfare, of the perceived tactics of First World War generals.
The grinding-down phase, (the Wearing-out Battle as described by Haig) was thunderous. Collisions, tackles and much kicking, especially by Wasps, who had the wind advantage. Too much of the Wasps' kicking seemed to achieve little real benefit, and although Alex Goode was playing at 10, a position that really does suit his skills and mind-set, the back three, with Matt Gallagher at 15, and Sean Maitland and Alex Lewington as his wing-men, seemed perfectly at ease with the bombardment. The exchanges seemed usually to deliver the better results to the home team. Perhaps the new saying applied: It's not just the kick, it's the chase. Certainly we often saw Wasps catchers having to handle some really committed chasing, for the full 80 minutes.
For much of the first half, the prospect of tries, often attempted, was countered by some seriously committed tackling. Wasp Nathan Hughes, in particular, rarely got space in which to move freely, and he seemed at times to be bereft of ideas about how to avoid the shackles that bound him. By contrast, the neutral support sitting next to me, who began the game by asking why Sarries ever signed Will Skelton, once let alone twice, began to look again at Will's work. He told me at half-time that he now realised that Will is one of those carriers who always breaks the gain line, and who must attract three tacklers if they are to prevail. As a result, gaps open up all around him. He's an inter-stellar black-hole into which opposition back-row forwards are inexorably drawn, sometimes never to re-appear, at least not in the current phases of play.
Penalties were the order of the first half, not a good prospect for Wasps or Sarries. Alex Lozowski was preferred kicker on the day, taking his three chances into the first half wind, whilst Wasp Eliot Daly was on form, and his three pointer to reply started its travel somewhere closer to the North Circular than the south-end posts. All in all the main try opportunity came from a Hughes breakaway, but the Sarries defence was good, and the attempt petered out against the black wall. My own feeling was that Wasps had spent the half trying to work the ball out wide without having done the close-in work that would narrow Sarries defence and open gaps for the dangerous speed men on the Wasps' fringes.
The second half seemed to open well, with a messy forward advance, brilliantly ended when Hughes, again, seemed to hold up the ball, Jamie George and half the Sarries pack single-handedly. Hughes was definitely playing himself back into decent form, to put it mildly, after his enforced lay-off.
It seems that we have moved from the wearing-down battle to the main offensive. Certainly we are seeing the real prospect of tries being scored as gaps open and some heavily-worked bodies are tiring.
Sarries gave Daly another shot at goal, long again but not needing his heaviest club, so the score narrowed to 9-6. It lasted little time before Alex L restored the lead with his third strike.
And so we drifted on for the third quarter, if you can drift in waters as turbulent as those we were watching. What we were lacking in tries, we were making up in effort, where two excellent defences were more or less always a step; or at least half a step, ahead of the attack. Jamie, in particular was delivering his personal statement that Schalla had taught him well, with an all-court display of attack and defence. Not surprisingly, he was out at outside centre, taking a breather, when fast hands along the line delivered a perfect pass, delayed for long enough at the end to pull in the defence. Jamie had to sprint forward for all of three metres and fall over in a graceful splash. Extra added, 19-6, and suddenly Wasps had to chase the game.
Chasing the game can cause hideous crashes, and about ten minutes later, benches having been much used, we saw one such. A perfect on-the money clearance saw Eliot Daly turned, to collect a very odd bounce, more or less in the reddest of red zones. Turn to run out or kick, chaser in his face, side-step, another player in the way, so blind pass to his right, where Nick Isiekwe, third man up, is perfectly placed to take the pass, without changing pace or direction, to take the extra three or four steps and ground the ball. For a player so much in England coaches' eyes, this was a howler. Daly could have run into touch, but in reality, the crisis was also the making of his own team-mates. Replay showed that not one player was actually sprinting back to help, and in the end there were at least five Sarries players behind the defender nearest to Daly as he took the ball. A failure of confidence and belief just when it was needed.
And so, with ten minutes to go, the final stage of war, beating the counter-attack. 26-6. Another penalty 29-6 and Wasps at last begin to do what they should have done before. It isn't that they're doing anything greatly different, but they're playing with intensity that has been lacking for too long, supporting, running lines and threatening. All good for their supporters to see, but in truth they are too little, too late. Sarries can close out games, and they do so here.
Jamie Goerge was MotM, rightly so, but other players also caught the eye. Alex Lozowski has put any disappointment behind himself and was excellent in attack, defence and kicking. Wiggy is the best box-kicker in the league, and he has the chasers to ensure that his work pays dividends. Alex Goode played a top-drawer game, and his delayed pass for Jamie's try was worth the admission money on its own. Maro is rapidly turning in to every other team's suppporters' least favourite player, until he wears an England shirt, when everyone loves him. He is a serious nuisance at all times. However, the plaudits must include the players who came off the bench, added go-forward and closed out the most dangerous part of Wasps' hole afternoon.
This has been a workman-like performance. I did not see Wasps' game-book, but it seemed to offer little beyond trying to out-muscle for 70 minutes and out-play for 10. It may seem odd that the scoreline of 29-6 was disappointing, but at times I felt that Sarries were worth more than just two tries, even though the weekend finished with the team top of the Premiership , two ahead of Chiefs and a further twelve ahead of Gloucester, who go ahead of Wasps after their respective games.
Elsewhere, the table is looking very odd. Sarries and Exeter, at the moment, seem to be playing in a league of their own, whilst four sides, separated by only four points, fight it out for two remaining play-off spots. Behind them, no less than seven teams, more than half the league are in a four-point difference relegation battle. Who would have put former European champions Bath, Leicester Tigers and Northampton Saints all into such a group?
Saracens

Gallagher (Tompkins 68), Maitland, Lozowski, Barritt, Lewington, Goode, Wigglesworth (Spencer 70); Lamositele (Adams-Hale 55), George (Woolstencroft 70), Koch (Figallo 55), Itoje (Day 70), Skelton (Isiekwe 55), Rhodes, Clark (Earl 62), Wray. Replacements: Woolstencroft, Adams-Hale, Figallo, Isiekwe, Day, Earl, Spencer, Tompkins.
Tries: George, Isiekwe
Cons: Lozowski (2)
Pens: Lozowski (5)

Wasps
Le Roux, Neal, Daly, Le Bourgeois (de Jongh 73), Campagnaro, Sopoaga (Searle 60), Hampson (Porter 68); B.Harris (Zhvania 61), A.Harris (Oghre 61), Brookes (Daniels 61), Rowlands, Myall, Shield (Morris 63), Carr, Hughes (Matthews 68). Replacements: Oghre, Zhvania, Daniels, Matthews, Morris, Porter, Searle, de Jongh.
Pens: Daly (2)
Attendance: 9,827
Referee: JP Doyle RFU
View a Printer Friendly version of this Story.
WASP'S THREAT EX-STING-GUISHED
Discussion started by TheSaracens.com , 03/12/2018 13:39
TheSaracens.com
03/12/2018 13:39
Thanks Philip
Worth waiting for as always
I thought Rhodes was immense - he was definitely our back-stop on saturday - and was impressed with Earl again - another couple of valuable turnovers

Very diplomatic of you not to mention the trials and tribulations of JP Doyle who really seemed to struggle with the scrum!



Edited 2 time(s). Last edit at 2018:12:13:16:18:18 by Darraghgirl.
I thought about it, but then thought that as nobody else had a clue, he was merely one of many in the dark.

Innings

Points win matches: tries win hearts and minds.
SarrieSaint
03/12/2018 18:51
Brilliant evocative match report.
Still feels I watched a slightly different game with regards of the performances at 9 and 10 and how little Lozo was involved to his obvious frustration but that's one of the most interesting things, how differently people see the same game.
TonyTaff
04/12/2018 06:55
Thanks Phillip.
As Dai Young said to Eliot Daly: "Pass to the Man in Black"!
£721.05 (*) donated to the Saracens Foundation due to visits to the Sarries frontpage [
www.rugbynetwork.net
]
Please read and submit articles for publication. (*) As at October 31, 2018.
Sorry, only registered users may post in this forum.