SARRIES: OUT-THOUGHT, OUT-FOUGHT, OUT-OF-SORTS SO GET NOUGHT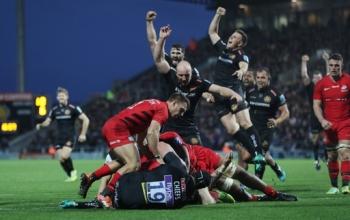 By Innings
December 22 2018
This was always going to be a battle of wills, discipline and skills. We could expect Exeter Chiefs to do what they do, and it was safe to assume that they'd bring their A-game back home after working it so well recently at Kingsholm. There is much debate on their tribal notice-board about whether they have a Plan-B, but mostly they don't need one when Plan-A functions. Sarries, on the other hand, were unlikely to bring their A-game to Sandy Park. It has been seen infrequently this season: they came into this game leading the Gallagher Premiership and topping their pool in Heineken Europe, but nobody could claim that they had played at anything like their best in either competition for more than about half of any game.
Sandy Park proved a perfect pitch and weather picture for such a clash, with no rain, sun or wind to distract from the play on offer. Both sides have a few key men out, perhaps notable Nowell and Slade in the Chiefs' back-line and Maro Itoje and Billy Vunipola on the Sarries' pack. Losing Wiggy and Sean Maitland just before the game was also a serious set-back.
Sarries did start well, as a ten -minute kick-fest gave spectators a chance to find their seats and promptly crick their necks. I lost count of how many times the sets of backs fielded the ball and immediately kicked back. The outcome was that twice in this ten-minute opener Owen Farrell took the opportunity to take penalty points and give Sarries the lead.
And that, to be honest, is where you should stop reading if you want to read good things about Sarries today. For the next 70 minutes, Chiefs delivered a show-piece display of a three part drama: Set the scene by stealing the momentum, steal the play by knowing the lines better, finish by killing the baddies as the final curtain descends.
Sarries pride themselves on doing the little things better than others, and not letting standards drop when pressure comes on. Exeter pride themselves on being Exeter, doing it the Exeter way. Among all else, that means out-squeezing the opposition, however hard that might be. Today it was all about the errors that pressure produces. Alex Goode was uncertain under the high ball, and never had space to try anything by way of his usually counter-attacking runs. Alex Lewington had a game to wipe from the memory bank, spilling ball, being overwhelmed in defence and closely marked in attack. Playing Alex Lozowski out of position looked inspired one time but the second go at the experiment was not good: he is needed as a defensive weapon, and is not convincing when he is defending wider out. In attack, he saw little of any note to work with.
As the game progressed, it was clear that whilst the Chiefs were gradually building their game, adding layers to the foundations, testing each course of bricks before laying the next, Sarries were regressing. The penalty count, strongly advantaging Sarries to begin with, drifted to parity and then into a decisive count in favour of Chiefs. The confidence, almost always call it belief, was visibly ebbing, and few would turn on the TV to expect such a match as was unfolding.
As the game drifted Chief's way, the most productive Exeter weapon, the drive-by try, became decisive. It's a simple tale:
Opposition give away a penalty under pressure. – Gareth Steenson kicks as close to the corner as he can go. – Chiefs take, set, drive, score. As the penalties racked up, so did the score. For ages it looked as though Chiefs' first half try might be the only one of the game, but the old formula worked as confidence built, right up until 79 minutes and 30 seconds, when another play of the same old tune produced the same old result. Fourth try, bonus point, back to top of the league, bragging rights restored for now. A solitary well-run short carry by Christian Judge had given Ben Spencer a try as he collected off Christian's shoulder, but it was too little, too late, as the final BP try proved emphatically.
I never expected Sarries to win this one. Recent weeks have been patchy, and patchy means shiny-clean in some parts but thread-bare and grubby in others. That was never going to wash in the Exeter laundry. Now Sarries have three games in which to re-group and pick up from where they last played a consistent 80 minutes, at Twickenham in last year's final. They have a potentially good run of games in which to get back into the form that they will need as the days lengthen again. They will end the first half of the regular season with a visit by the Warriors. A trip to Sale will be tougher. Meanwhile, Exeter will travel to Saints, who seem to be picking up again, but Chiefs will be too much for them, then will want five points from their closest neighbours, Bristol. Then another break for Europe, where Sarries remain interested, but which two games will give Rob Baxter opportunities where the pressure is effectively off and he can fine-tune the engine.
Is it possible that today's game might mark the last of this season's wobbles? Last season's wobble, as we all recall watching through hands spread in front of our eyes, cost us seven lost games in a row. Perhaps this year's wobble might prove to have been a series of unconvincing wins followed by a single loss.
Tonight, the premiership table is ridiculous. Two sides are separated by three points. Then lies a gap of 14 points to third, who in turn are only 13 points ahead of the drop-zone. Perhaps we should not be surprised that many are calling for an end to relegation: ten sides face that terror.
EXETER 31: J Simmonds, Cordero, Whitten, Hill (Devoto), O'Flaherty, Steenson (Dollman), Maunder (White); Hepburn (Moon), Cowan-Dickie (Taione), Francis (Williams), Dennis (Lees), Skinner, Lonsdale (Lawday), Armand, Kvesic
SARACENS13: Goode, Lozowski, Tompkins, Barritt (Gallagher), Lewington, Farrell, Spencer, M Vunipola (Barrington), George (Woolstencroft), Koch (Judge), Isiekwe, Kruis, Rhodes (Skelton), Clark (Burger) (Whiteley), Earl
EXETER: Tries: Cowan-Dickie, Williams, Penalty, Taione; Conv: Steenson (2) Simmonds; Pens: Steenson
SARACENS: Try: Spencer; Conv: Farrell; Pens: Farrell (2)
Referee: T Foley (RFU)