AFTERALL- IT'S A WIN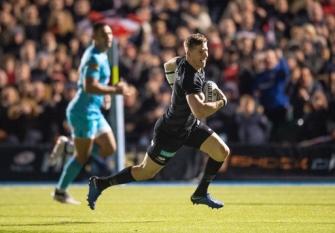 By Darraghgirl
December 29 2018
Allianz was full of post-Christmas cheer: a decent crowd, good-natured and pleased to escape from the in-laws, the drummers, a frisky camel and plenty of Christmas Jumpers. There were even a few flocks of parakeets flying around in the sunset. Buoyed by an unexpected Christmas Present from our neighbours up the M1 (who kindly defeated Chiefs last night - although did they have to let them get that 4th try at the end?), most of us were expecting a bounce-back: a return to the real Saracens rather than the pale imitation which headed to the West country last weekend.
I have to admit I am never as confident when Brad is missing, as he inevitably was after yet another bang on the head, and there was further alarm when a late change saw Vincent Koch step out and Christian Judge start at 3. (Where is Figallo?) The bench was a bit of an old-time music hall act but it was good to have the reassuring presence of Burger, Bosch and Strettle waiting in the wings. The officials were dressed in fetching pink – Little DG would have definitely approved had she not been in Dublin visiting the outlaws!
Very early on it became apparent that far from a bounce-back, Sarries seemed to have learned nothing from last week. An early penalty conceded was marched forward 10 metres by Karl Dickson because of back-chat. Will they never learn? This led to a long period of Worcester possession and finally a try after 4 minutes when Spencer seemed not to notice Sarries had won a turn-over, the ball squirted out of the back of the ruck and Hougaard flicked the ball up to Duncan Weir who scored. His conversion hit the post and went over giving Wuss a deserved lead of 0-7. Things went from bad to worse when Faz put the restart straight out. Wuss continued to look dangerous and Humphreys made a clear break into Sarries 22. Spencer got his tackle in but a lovely off-load to Ben Te'o saw Warriors score a second try, this time under the posts and with only 12 minutes gone, Sarries were 0-14 down and the crowd were stunned into silence. Unfortunately the team were not stunned into action!
A rare foray into Wuss 22 courtesy of a nice break by Loz and Lewington and Sarries were awarded a lineout – which they promptly lost. Worcester kindly indulged in a forward pass to return the ball to Sarries and finally as we entered the 2nd quarter, Sarries attacked the try line. Lozowski and Maitland both made good ground but no one seemed able to break a solid Worcester defence and eventually Farrell took the penalty kick to open Sarries' account.
Things perked up briefly. The kicking game, which up until now had produced very little, finally worked and thanks to an excellent carry from Alex Goode, Sarries were back in the Wuss 22. Several waves of attack were repelled with some worrying ease by Wuss until finally Will Skelton powered his way through but spilled the ball on in grounding it so no try and the frustration continued. Sarries managed to win a lineout from the resulting scrum and set up a maul which rumbled its way encouragingly forward. It briefly paused and wobbled before Mako was finally driven over and seemed to ground the ball lying on his back, behind his head. Faz's kick, like Weir's, hit the post but bounced back so no conversion. When the Gods are against you there is no winning.
Worcester were awarded a penalty shortly after and stretched the lead to 17-8. As half-time approached, a Faz grubber kick bounced awkwardly forcing Humphreys to clear his lines but not very far. Sadly the line-out failed again (this is getting worrying) allowing Wuss to clear but then concede another penalty. This time Faz went for the corner. For once the line-out was secured and Sarries again attacked the try-line, but with no more success than earlier and in the end, Faz cut his losses took the penalty advantage and half time ensued with a 6 point margin.
Half-time was somewhat sombre – this was not what we hoped for or expected! Before the game started we would have expected 5 points but now most of us would settle for a win – any win!!
Things didn't really look up as we restarted. A Sarries' line-out was knocked on. Somehow Sarries contrived to get the ball back and attacked the Wuss 22. There did seem to be a bit more purpose about them but handling errors crept in, this time Skelton, and Wuss cleared. Sarries lost yet another lineout (what is going on?) Wuss offended at the scrum giving Sarries attacking ball but after some very messy and unconvincing play, Loz put Spencer through but the usually reliable scrum mirrored Skelton and knocked the ball on in the grounding. More attacks seemed to go nowhere. A lineout drive was defended by Wuss with worrying ease (compare & contrast with Exeter!) and the attack broke down when Loz was the culprit this time, knocking the ball forward. Tompkins was guilty of ambling back after the ball which was hacked on and it was left to Alex Goode to not only save the day, but make the break into the 22 which allowed Faz to offload to Skelton. Spencer recycled to Earl who found Tompkins. He threw a little dummy then found Clark outside and a couple of others outside him but Clark needed no help and this time the try was scored. Faz converted and after 54 minutes, Saracens took the lead 18-17.
A loud cheer greeted David Strettle's appearance for Lewington and Burger replaced Skelton. Stretts was in the action straight away with a lovely break which led to a Sarries' penalty some way out but in front of the posts. Faz missed the kick. It really wasn't his day.
Finally Sarries looked a bit more interested. But still the good stuff kept being undermined by handling errors. Worcester replaced their hooker, Jack Singleton, with Joe Taufete'e, a man who has to sport the worst 'barnet' in Barnet. Saracens with more purpose, pushed back into the Worcester half. Faz carried well then a lovely delayed pass found Strettle inside him and those little legs propelled him to the try line just to show what we've been missing these past few weeks. This time Faz kicked the extras and finally Sarries had a cushion, 25-17.
10 minutes left to try and secure the try bonus but in all honesty they neither looked like nor deserved it. With about a minute left, Faz summed up his afternoon by over-egging his penalty and kicking the ball dead. In his final act, with the clock red, Faz opted to kick the ball out to Stretts on the wing and inevitably, ball and Stretts were bundled into touch and that was game over. Scarcely has "Sweet Caroline" sounded around Allianz Park with so little conviction!
But a win is a win – take it and move on. From 14-0 down after 12 minutes, we would probably have taken that but again there was a feeling of tries left out on the pitch and as a result it is Exeter, not Saracens, who top the table at the end of the year.
Let's hope that Billy, Maro, Liam and especially Brad are not too far off fitness because on this showing, boy do we need them! Ben Earl got MOTM – I would have given it to Alex Goode who at times seemed to be trying to win the game single-handed. Faz is looking worryingly out of sorts at the moment and the team seem to take their mood and magic (or lack of it) from him. Let's hope whatever it is, it's fixable, and quick!
As I write this I have just watched the highlights of Sale taking 5 points over Gloucs at Castle Grim including a typical try from Ashy. We will need to be a whole lot better at the A J Bell on Friday night if we are to start the New Year with a win!
SARACENS
Goode, Maitland, Tompkins (Bosch), Lozowski, Lewington (Strettle), Farrell, Spencer (Whiteley); M Vunipola (Barrington), George (Woolstencroft), Judge (Lamositele), Skelton (Burger), Kruis, Isiekwe (Day), Clark, Earl
WORCESTER
Pennell, Heem, Venter, Te'o Humphreys, Weir, Hougaard (Arr), Black (Waller), Singleton (Taufete'e), Milasinovich (Kerrod), Bresler (Barry), Fatialofa, Hill (Cox), Lewis, Van Velze
SCORERS:
Saracens (25) Tries: M Vunipola, Clark, Strettle; Conv: Farrell (2); Pen: Farrell (2)
Worcester (17) Tries: Weir, Te'o; Conv: Weir (2); Pen: Weir
Attendance: 9,758
Referee: Karl Dickson