Sarries fumble, stumble, grumble, tumble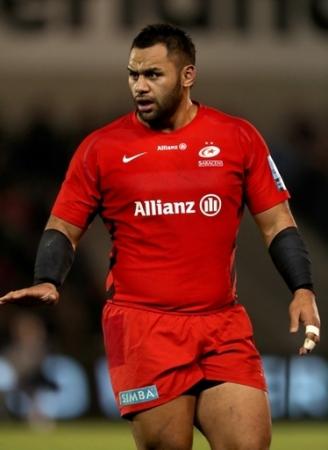 By Innings
January 5 2019
Let's get the good news out of the way, it will take one sentence. Billy Vunipola is back, fit and his from was a welcome part of the Sarries armoury this evening.
Now for the rest of this report. At the moment, not one team in the Gallagher Premiership can face Sarries without a genuine belief that they can beat the champions. Sarries are getting back, beyond the dark days of seven in a row last season, to re-visit the petulance, lack of basic skills and loss of team harmony that I thought had been left behind at Vicarage Road. Nobody goes to the AJBell on a Friday night without anticipating a tough old struggle, but even before the reported upheavals of being a reporter facing Steve Diamond last week I cannot imagine that any neutral observer expected any kindness or New Year goodwill to radiate from Sale tonight.
Sarries began well, with a well-worked team try ended as popularly as it could be for their support, with Billy claiming the honours for the first try of the game. And that was the signal for Sale to wake up and begin to address the way to nullify the Sarries' threat. Pressure, niggle, defence always arriving behind the gain-line, tackles hard and sure, all Sarries' trademark attributes, used against them. Steve Diamond noted in his in-game interview that they wanted to play wide as much as possible, and with his back three players, Solomona – one try - Ashton and McGuigan why not? With centres like O'Connor – one try - and James, why not? So, when Sale found themselves ahead after two excellent tries, it was no surprise that both came from playing the ball wide, showing up the falseness of the old saying about 'earning the right' to go wide.
By the end of the first quarter, I was absolutely sure that Sale had the game for the taking. Sarries were under the pressure that causes teams to fumble, offend, lose shape and irritate the referee. And sure enough, it began to tell. Referee Matthew Carley was unimpressed by Billy's comment to one of the assistant referees, and frankly, Billy was lucky to be penalised, when allowing the game to carry on would have delivered an easy Sale try. I can only assume that Mr Carley saw a Sale subsequent action that caused him to call play back to the infringement. And as the half ground to its end, Owen Farrell was carded for a sloppy tackle at exactly the height that causes penalties and yellow cards.
The second half was not pretty. Sale had a good crowd tonight, probably one of their better ones this season, but neither side had much to offer by way of entertainment. The error count just rose and rose, largely because Sarries were losing confidence, composure and cohesion. Individually, and spasmodically, Sarries players did some good work, but the overall team delivery was simply not there. Knock-ons, sometimes with no apparent cause, dog-legs all over the defence, lack of ball-retention, and then some moment that made one think that just perhaps, this game could be turned. A couple of brilliant touch-finders by Owen, some great reception and counter-work by Alex Goode and Alex Lozowski, some really good ferret work by Ben Spencer, generally looking after the ball and his own game rather than trying to be too clever. Ben will have learned from seeing one of the best 9s in world rugby in his pomp; he did what he had to do, even when under extreme pressure. His game was greatly better than last time I reported, when he was caught out, not concentrating, more than once.
However, the pressure was telling. Mr Carley told Owen that he does not expect to put up with the latter's aggressive confrontations with the officials. Mr Carley told Owen to call his team together and get a grip of their behaviour, a stupid card for Christopher Tolofua for a ridiculous charge into a ruck, spillages that would have closed the M6 to traffic if the players ran on diesel, and 24-13 with moments to go. A final penalty, driving maul and try for Sarries, ending things 24-18, and an undeserved LBP.
As a side issue of watching tonight's game, I think we are seeing one of the great signings of the professional era. Faf de Klerk is a brilliant scrum-half, the inspiration of the team, the setter of their standards, and the source of quick, well-delivered ball and with a smart kicking game. Just as Sarries always raised their game when Justin Marshall came onto the pitch, so Sale Sharks draw inspiration, raise their game and deliver more than perhaps they imagine they are capable of achieving, when Faf is around.
Sarries on their best form would have won tonight, but they are nowhere near their best. Sale on their best form are a real handful, and they are on perhaps the best form of recent seasons. Sarries tumble, as if by accident, into top spot, on number of games won, and Sale go fourth. I doubt that either team will be in these exalted places come Sunday evening. Harlequins will be looking for the points in Newcastle, Bath will fancy the short trip to Sixways, and Saints are resurgent now, looking for points at the Ricoh. Come Sunday, Sharks could lie anywhere from fourth to eighth. With all that happening, other eyes than Chiefs' supporters will be looking up from the M5, to Sandy Park and what should in reality, be the banker forecast of the weekend, Exeter Chiefs to take the full five points off Bristol.
So, a less than Happy (start to the) New Year. Sarries are short of something. They have a squad that is a group of greatly talented players, lost as a team for now. It happened last year, and they 'only' won the consolation prize of the Premiership, for such is their ambition. They need Brad fit and in command, they need Maro Itoje and Michael Rhodes fit and in form. And they need several of tonight's 23 to re-discover the discipline, work-rate and humility that are three of the watchwords of their mantra. 'Honesty' is the fourth, and doubtless the coaches and players will use honest appraisal and assessment as the basis of their analysis and remedy over the coming training periods. Most teams would love to have Sarries' problems, if they could have the European and league positions that go with them, but Sarries want a dynasty, and they want to keep up the annual tradition of hoisting at least one big cup. They seem to prefer doing it the hard way, the way that causes nerves to jangle. Mine certainly were tonight.
Sale: Ashton; Solomona, O'Connor, James, McGuigan; du Preez, de Klerk; Harrison, Webber, John, Beaumont, Phillips, Ross (capt) Curry, Strauss.
Replacements: Langdon, Bristow, Jones, Evans, Curry, Cliff, James, Reed.
Saracens: Goode; Williams, Tompkins, Lozowski, Strettle; Farrell (capt), Wigglesworth; M Vunipola, Woolstencroft, Koch, Skelton, Kruis, Isiekwe, Burger, B Vunipola.
Replacements: Tolofua, Barrington, Lamositele, Clark, Wray, Spencer, Bosch, Maitland.
SALE (24)Tries: James, Solomona; Conv: Du Preez (2); Pen: Du Preez (4)
SARACENS (18) Tries: B Vunipola, Tompkins; Conv: Farrell; Pen: Farrell (2) Yellow cards: Farrell, Tolofua
Referee: Matthew Carley.
View a Printer Friendly version of this Story.
SARRIES FUMBLE, STUMBLE, TUMBLE, GRUMBLE
Discussion started by TheSaracens.com , 05/01/2019 11:51
TheSaracens.com
05/01/2019 11:51
Thanks Philip
Super report and as you say, another difficult one!



Edited 3 time(s). Last edit at 2019:01:14:20:45:48 by Darraghgirl.
Convex Hull
05/01/2019 12:09
Thanks, I stopped watching around 60 minutes, as the dog was getting alarmed by me yelling at the TV.
Regardez mon visage. Suis-je bovvered?
TonyTaff
05/01/2019 12:24
Quote:

Convex Hull

Thanks, I stopped watching around 60 minutes, as the dog was getting alarmed by me yelling at the TV.
I stuck it out until the end, but it was Mrs Taff MkII who was yelping and growling!
Thanks Phillip, another insightful article.
£721.05 (*) donated to the Saracens Foundation due to visits to the Sarries frontpage [
www.rugbynetwork.net
]
Please read and submit articles for publication. (*) As at October 31, 2018.
SarrieSaint
05/01/2019 12:47
Well done Innings.

One thing I do feel is a few too many seem to feel it will be sorted when X, Y, Z return (many suggested for this game it would be Billy and Williams return that would do it) whereas I'd like to see evidence of the team coping without those players so their return is a bonus rather than a necessity. So for example the return of Barritt might solve things in the short term but we still need to address the longer term and what happens when he isn't available.
darktagnan
05/01/2019 22:12
think this is an excellent & balanced write up (although I only had the TV to go on). Could be an interesting week for the coaching staff!
David@Sarries
06/01/2019 12:34
Congratulations! This is a very well written report and expresses all of the concerns that I have.

My one addition to the above is the question whether Owen is the right captain for the team. We've had Jamie in the past and Billy has expressed a desire to captain too.

This is the second time that Owen has been called out for this and we can't afford to lose the ref.
Too true. Bath saw what happened when they lost the ref this weekend!

Innings

Points win matches: tries win hearts and minds.
Sorry, only registered users may post in this forum.