A WEEKEND IN LYON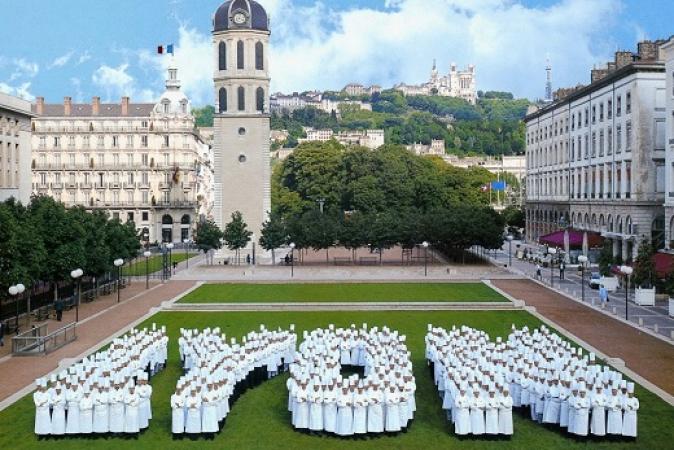 By Darraghgirl
January 9 2019
So time for a period of French leave! Sarries have struggled in the past 3 league games, gathering just 5 of the 15 points on offer and, more to the point, looking out of sorts. A change is as good as a rest they say so hopefully a different competition and a change of scenery will do the trick. Lyon is a city with good memories for Saracens – the site of their first European Champions Cup victory in 2016. This stadium may not be quite so grand but hopefully the positive vibes from the Grande Stade de Lyon will drift across the city to the Stade de Gerland.
Lyon is France's 3rd city and capital of the Auvergne-Rhone-Alpes region. Lyon sits at the confluence of the rivers Rhone and Saone – the rivers meeting to the South of the old city and forming a peninsular "the Presqu'ile". The peninsular is bounded by 2 hills. "La Croix Rousse" (the red cross) at 833 ft is between the 2 rivers to the north and is nicknamed "the place that works" because of the number of small silk workshops there. Visit Parc de la Tete d'Or, complete with free zoo and lake, on the banks of the Rhone then cross into Croix Rousse proper and wander around the ancient Traboules (or passageways) of which the most famous is at the junction of Colbert Square and Rue Diderot and allows you to descend through the entire quarter.
Fourviere is to the west (nicknamed "the hill that prays") – the most historic part of the city topped by the Basilica of Notre-Dame de Fourviere which rises above Lyon rather as Sacre Coeur dominate Paris . Together they form a UNESCO World Heritage Site. The Basilica is said to be worth a visit because of its impressive architecture, Museum of Sacred Art, and the Crypt of St Joseph. Fourviere itself is apparently the place to go. It houses a version of the Eiffel Tower, "Le Tour Metallique", the ancient Roman Theatre Antique de Lyon, built in 15BC, L'Eglise Saint-Just and a funicular railway. The Old Town, Vieux Lyon, sits just west of the Saone. Here you find the Palais de Justice and the Cathedrale St-Jean-Baptiste. The narrow streets around the Cathedrale are beautiful and medieval in feel. There are also many more Traboules to explore here.
Modern Lyon sits to the east of the Rhone "La Part-Dieu". The Matmut Stadium Lyon Gerland lies just to the south of the river confluence, adjacent to the Rhone and close to Parc de Gerland. It was completed in 1926 and is registered as a historic monument in its own right. It has been refurbished several times since then. It was home to Olympique Lyonnaise but the football club moved out to the new Grande Stade de Lyon in 2016 and it has been home to LOU since 2017. Outside Paris, Lyon has the most extensive public transport infrastructure in France. Stade de Gerland has its own metro station – on Metro Line B or alternatively bus No.60 to Feyzin Les Razes.
Lyon is well-known for its gastronomy – indeed it has been referred to as "the gastronomic capital of the world". Traditional restaurants (or "Bouchons") serve local fare such as sausages, duck pate and roast pork. But the region is also home to some classic French dishes including Coq au Vin, and Salade Lyonnaise. Some of the more interesting dishes that I am looking forward to sampling include Cervelle de Canut ("silk worker's brains") a rather delicious sounding cheese dip and Machons, a brunch made of local charcuterie. Wash all this down with a couple of glasses of the local wine (Beaujolais or Cote de Rhone) and I expect to be a very happy bunny regardless of the result! Hopefully there won't be too many of the Gilets Jaunes about!
And so to the game. Lyon are out of the competition having lost all 4 of their games so far. It is tempting to hope that they might not be too bothered about this match and will field a "development" team but one never knows with the French just who will turn up. In their first European game against Glasgow, when technically they could still qualify, they put out a decent team but for the return on 15th December, they rested the majority of their star names (and arguably put up a better performance at Scotstoun, holding Glasgow to 21-10 and denying them the try bonus. So you never know!) Lyon are currently 5th in the top 14, but just 2 points behind La Rochelle in 3rd so let's hope Les LOU are concentrating their energies on the domestic competition. Lyon might well field a team of youngsters and marginal players who have a lot to prove! Should they wish to, Lyon can field players like Xavier Mignot, Noa Nakaitaci, Jone Tuva, Lionel Beauxis, Jean-Marc Doussain, Jonathan Pelissie, Carl Ferns & Alexis Palisson. (I note they also have the interestingly named Dylan Cretin in their squad) but I would expect Nakaitaci & co will be putting their feet up somewhere.
And so to Saracens – no such luxury for them, they really need to nail qualification this weekend to take the pressure off a potentially tricky clash at home to Glasgow next week. I would expect McCall to put out his strongest team (please God may that include Barritt). So we will probably see something like:
Goode, Maitland, Lozowski, Barritt, Williams, Farrell, Wigglesworth; M Vunipola, George, Koch, Itoje (please), Kruis, Wray, Earl, B Vunipola. Or at least something along those lines.
We're off on the Eurostar on Friday for a weekend of gluttony and hopefully an entertaining game of rugby. Au revoir!
View a Printer Friendly version of this Story.
A WEEKEND IN LYON
Discussion started by TheSaracens.com , 09/01/2019 17:12
TheSaracens.com
09/01/2019 17:12
Fascinating DG, thanks.
Click here to Register
.
Edited 2 time(s). Last edit at 2019:01:18:08:06:39 by Darraghgirl.
Sorry, only registered users may post in this forum.