FRENCH LESSONS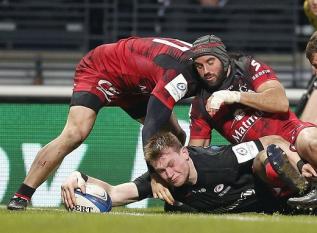 By darraghgirl
January 14 2019
So all in all a pretty good weekend then. We arrived in Lyon after a relaxing, easy and punctual trip on Eurostar and SNCF. I was a little surprised to find our hotel room on the 36th floor of the Tour de Crayon but the view across the city was amazing. Friday dinner was arranged by our travelling companions Mr and Mrs Farmer at L'institut -the late Chef Lyonnaise, Paul Bocuse's training kitchen and it was VERY good. Michelin star food at affordable prices!
Saturday dawned cloudy but mostly dry and we arrived at Place Bellacour to meet our guide Marc along with the early starters from the Gilets Jaunes. Perhaps we were lucky but at that stage they were in good spirits and happy to join Mr Farmer in a rendition of all 3 verses of God Save the Queen! Young Marc did a brilliant job with his free walking tour of Lyon (lyonexplorer.com). Vieux Lyon is a beautiful city dating back to Roman times and still steeped in history. The Traboules are amazing - who knew there were so many secret passageways hiding innocuously behind wooden doors! We watched the riots from 800 feet up on the Basilique Notre Dame where the progress of the Gilets Jaunes could be clearly and safely observed by following the helicopter, flashing blue lights and tear gas!
Sunday dawned wet which was bad news for Mr Farmer and Mr DG as the girls decided to hit the new shopping mall at Part Dieu and yes it definitely was 'God's Piece'. So many different stores all with huge genuine sales on! Sorry guys!. Lunch was at a Bouchon where we enjoyed the Quenelles (sauce Nantua) and Saucisson en Brioche and a bottle or 2 of gorgeous St Joseph. Then off to Stade de Gerland Matmut. So easy on the efficient clean Metro! We could learn a thing or 2 about transport systems from the French! The Stade itself appeared to be a new stadium built within the old one. Plenty of food and drink outlets on the "peripherique" - including one selling oysters and enormous crevettes! Now you don't get that in Barnet! There was an excellent turnout of Sarries fans but a fair number of very vocal and musical locals as well as drums and a brass band competed throughout the game. The LOU mascot was a sort of delinquent Mickey Mouse - no match for Sarrie!
And so finally to the game. Any thought that LOU were just here to make up the numbers was quickly dispelled. The Sarries kicking game was working pretty well though until Farrell put one out on the full which led to the first sign of danger from LOU which was halted by an excellent tackle from Maitland. LOU kept the pressure on and a good break from Foure got them into the 22. I have to admit some surprise that Wisniewski opted for the drop goal rather than something more. Things didn't improve for poor Owen. He didn't get hold of the restart at all, it barely went 10 feet let alone 10m and we were back for a scrum. He looked bewildered, like a wizard who had lost his powers and suddenly become a mere muggle. The magic had deserted him and he had no idea where to find it again. Finally after 12 minutes some front-foot ball for Sarries. Nothing came of it but it was progress. The LOU backs were proving a handful and although NakItaci was well marshalled, his opposite winger Alexis Palisson in particular looked dangerous. Sean Maitland was clearly unhappy with a hamstring and departed after 20 minutes to be replaced by Alex Lewington (a late replacement for the ailing David Strettle).
Then from above came a few grains of stardust. Farrell hoisted a hanging ball that was just right for Williams to chase and he nearly made it to the line. The attack continued until Tompkins collected a pass from Mako and his little legs propelled him round 3 defenders and under the posts for a 7 pointer. You could almost hear a communal sigh of relief from those around use. Perhaps things were finally on the mend. Encouraged by the up and under, Owen put a penalty deep into the LOU 22. But whatever Owen had found was still eluding Jamie George and as has been the case in recent weeks, another attacking lineout was lost. LOU showed they were not afraid to run at Sarries but they were losing out badly at the scrum and Owen found a good touch from another Sarries' penalty. This time the line out was secured and a nicely worked move saw Mako pop one up for Jackson Wray this time, who scored Sarries 2nd try. A few more twinkles of stardust fell from the darkening sky and Owen kicked a lovely conversion. You could see the change in his body language as a few more cares lifted off his young shoulders.
It could have been a 3rd try when LOU knocked on and Maro picked up the ball and headed for the try line but Mr Brace had already blown so he had to trudge back. Another promising opportunity fell by the wayside when Farrell, perhaps a bit ahead of himself after recent successes, over hit a grubber and instead of a score it was a 22 drop out. More trouble for Owen when he again went for a long touch from a penalty but the ball went dead and once again his shoulders sagged. The magic that had briefly returned had deserted him again. LOU won a penalty as the clock ran into overtime. Instead of a kick at goal, LOU went for the line out. Burger forced a knock on amid howls of protest from the Lyon supporters and handbags from the players that the tackle was high. Mr Brace and his assistant (and presumably the TMO) had several looks at it before deciding it was legal and both sides disappeared down their own little tunnels for tea and croissants.
Half time entertainment consisted of some dodgy dancing (for once there were some blokes taking part as well) and then an entertaining little session where contestants had to run round and round a cone until they were dizzy then attempt to kick a goal. Amazingly one guy succeeded!
The second half started promisingly with a goode break from Alex that won a penalty. Owen found a solid touch, the line out was secured and just about everyone piled in to the rolling maul. Just as it seemed to stall, Tompkins broke off the back and powered over the line dragging 3 Frenchmen with him, for Sarries' 3rd. Owen kicked the touchline conversion and was visibly pleased with himself - good to see him smiling. At this point LOU were supposed to give up gracefully and save themselves for greater things however they hadn't read the script. They launched a series of attacks forcing Sarries to concede several penalties, 2 of which were for high tackles. Mr Brace had a chat with Owen (one assumes along the lines of 'next one's in the bin'), LOU changed their front row and Skelton replaced Jackson Wray. Doussain departed and one felt that finally LOU might have decided enough was enough. Oh no.
Mr Brace lost his patience with Itoje for knocking the ball out of McLeod's hands (from where we sat I can't comment on whether or not it went backwards) and off he went to the bin. Potentially LOU had a great attacking penalty until the TMO (I assume) drew Mr Brace's attention to a stamp on Skelton by replacement prop Albertus Buckle (now he really does sound like something out of Harry Potter). The decision was a yellow for the Frenchman and a reversal of the penalty so all in all a result for Sarries. Bens Earl and Spencer replaced Burger and Wiggy. Goodey made another lovely break from deep but lost the ball in contact. LOU seemed to be supercharged and launched a series of frenzied attacks which were well defended and a second lovely break by Goode from his own 22 took him beyond the 10m line where Spencer was on his shoulder in true Ashton style to receive the pass and score the bonus point try. Faz completed 4 out of 4 conversions and with 20 minutes remaining the game was won. McCall replaced Mako and Koch. Jamie lost another line out (a third I think) and was replaced by Tolofua. Faz also departed with Goode moving to 10 and Loz to 15. LOU continued to batter the door down and eventually found a crack, probably down to so many changes of personnel and position in their opponents. Pallison burst down the left wing and scored a consolation try which Wisniewski converted for 10-28.
Fortunately that was that as far as the scoring went. LOU could have scored another but for a forward pass and worryingly Spencer was again caught out when McLeod stole the ball from under his nose at the subsequent scrum. LOU continued their frenetic play and both sides had chances to score but it seemed Sarries had got what they came for and were content to put the shutters up and no matter how hard LOU pushed, Sarries weren't budging.
So after round 5, Saracens are the only team to have qualified for the quarter finals but with work still to do to secure a home tie against Glasgow next Saturday. Unless Exeter come up with a miracle, Sarries will once again be England's only representatives at the knock-out stage. We should be proud of the boys for that if nothing else. Don't get me wrong, this performance is not the finished article but a definite improvement on previous weeks. Faz is still out of sorts but there are little glimpses that the real Faz may be on the way back and at least he has found his goal kicking boots. He has also had lessons on referee-liaison and the petulance of recent weeks was happily gone. Goode was once again incredible (no I won't say it again, we all know it), Kruis tackled superbly, Tompkins had one of his best games for the club, Itoje went about his work as he does and it is no coincidence we competed much better in the loose, Billy looked much more like the Billy we know and love and Mako proved that props too can have the hands of an angel with 2 superb try-assisting passes.
The wheel is back on the wagon. The tyre is still a bit flat but the puncture is mended. Hopefully by next week, we'll have a brand new tyre on the car ready to hit the high road.
LYON
Arnold, Nakataici, Barassi, Regard, Palisson (Wulf), Wisniewski (Buttin), Doussain (McLeod); Menini (Buckle), Lacombe (Maurouard), Kodela (Yameogo), Roodt, Van der Merwe (Oosthuizen), Puricellie (Fourie), Cretin, Fourie (Gill).
SARACENS
Goode, Williams, Tompkins, Lozowski, Maitland (Lewington), Farrell (Bosch), Wigglesworth (Spencer); M Vunipola (Barrington), George (Tolofua), Koch (Judge), Itoje, Kruis, Wray (Skelton), Burger (Earl), B Vunipola
Scorers:-
LYON (10): Try Palisson, Conv: Wisniewski; DG Wisniewski
SARACENS (28): Tries: Tompkins (2), Wray, Spencer; Conv: Farrell (4)
Att: 13,013
Referee: Andrew Brace