GLASGOW SUFFER FROM WIND - RENNIES ALL ROUND ON MONDAY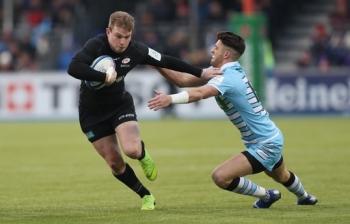 By Innings
January 20 2019
First things first. My first sighting of a Glasgow Warriors supporter on Sunday was a Scot wearing a kilt. My sister in Scotland is passionately proud of our Highland heritage, and her wardrobe includes no fewer than three versions of the many, nine or ten, variants of the Gordon clan septs, as the tartan patterns are correctly called. One of her plaids is Dress Gordon. So, when I saw a Scotsman wearing the pattern, I said "Nice to see the Dress Gordon." Cue misunderstanding and a cold weather front, because he heard me say "Nice to see the dress, Gordon." Not to worry, I escaped the dreaded Glasgow Kiss, and moved swiftly on to see the end of the warm-up drills.
Much muttering about the late decision not to start with Owen Farrell. That was not, to me, as big a worry as it seemed to many: I have thought him to be out of sorts for some weeks, and I certainly thought that his confrontational behaviour in recent games would be a penalty magnet in this one: M Pascal Gauzere is his own man, not liking his ear being bent with petulant rants. When the new line-up was revealed to be Alex Goode at 10, David Strettle on the wing and Liam Williams at 15, it seemed to me that Mark McCall had called his cards exactly as most would have seen as the best option. I then caught the first glimpse of the warm-ups and was as confident as I could be that a functioning Sarries team, with or without Owen, would do the business. The reason? Sarries were at their preferred end, meaning that they would go in a half-time knowing what had to be done thereafter, and that Glasgow would go in at half-time knowing that whatever had gone before in the first 40 was a great deal easier than what would face them in the second half. In addition, my post-retirement years include a great amount of dog-walking, so I am more aware of weather forecasts than since my days for fooling around on the Solent in small sailing-boats. I knew that the forecast was for worsening conditions and rising wind speeds as the game progressed. Glasgow simply had to be at least 20 ahead at half-time if they wanted a chance to win. As a side question – Why do commentators so rarely mention the wind at Allianz Park? I'd say it is as big a factor as the famous breeze up from the estuary at Sandy Park, but few ever note the effect it has in Barnet, and the way in which Sarries manage their game depending on whether they have the wind or face it.
And so, to the game. We'd seen drummers, the weekly spectacle of forty small children unfurling one of Billy's shirts on the halfway line to remind the visitors of the ball-carrying Daemons that await them, and the sight of Brad Barritt - Welcome Back to him - meeting the day's match mascot and doing the phot opp. bit with the lad as courteously as ever. How does the team captain manage to be so able to set the youngster at ease when his own mind must be full of the game that's about to begin?
Sarries started well, and at about seven minutes were at 10-0, a silly penalty error and a brilliant cut-through line run by David Strettle, finished by excellent support work by Ben Spencer. Sadly, it was to be David's last effective contribution, and on 14 minutes he had to be replaced by Alex Lozowski, giving an encore of his recent appearances in his' third-best' position. As this turned out, Alex would be much in demand as a supplementary full-back.
Glasgow, very creditably, took a mental re-think and set to work with determination and skill. Tries by Seymour and Price, Adam Hastings converting the second, gave them the lead, 10-12, and we were relieved of any idea that they were here to make up the numbers. Glasgow's supporters have a clear effective message – "WE Are Warriors, we are WarrIORS." And indeed their team were in town for the battle. The scoreboard is rattling along at a point a minute, despite a chalk-off try by Alex Lewington, foot in touch. However, from the ensuing line-out, Vincent Koch is the last man up from the ground, to claim a drive-by try, and Spencer converts his third kick of the afternoon. 17-12. Ali Price, for me Glasgow's stand-out player, strolls down the Welcome mat laid out by Sarries midfield, for his second, 19-17. A difficult chance for George Kruis, scrambling in from several metres out, but Hastings knocks the ball out of his hands in the act of grounding. Should George have passed to the accompanying Jamie George? I think that was a hope, at best; George K was surrounded by a sea of light blue. Not to worry, scrum, Glasgow set for a quick pass by Ben, but Billy sees the gap, swiftly filled by himself and two defenders. Five metres out, Billy rampaging, only one outcome, 24-19. Thirty minutes or so played, 43 points scored.
As the next ten minutes played out, I pondered, as much as one can ponder anything when the game is played at this pace, on why Glasgow were doing so well except where it matters. Three tries scored, plentiful possession, plenty of runners able to do damage, plenty of carriers to batter at the Black wall. Two very obvious reasons were identified. The Sarries line-out gun, aimed by Geroge Kruis, with Jamie as the trigger and Maro Itoje as the bullet was firing brilliantly. Every single line-out was straight off the training ground, but for Glasgow it seemed as though they could only win cleanly about a half of their attempts, losing several outright. This matters when both sides are playing the kicking percentages. Equally importantly, Glasgow were coughing up their ball, about eight or nine times so far, in open play. Maro, in particular, was a force of nature, thinking clearly, knowing when to go in and when to stay out, constantly disrupting and all too often stealing the ball clean out of Glasgow hands. A truly magnificent performance.
There was actually a third reason for Sarries going in up at half-time. Whilst Glasgow had given up six penalties, Sarries had given just two.
Half-time, and the tills in the Olympic Bar were back in action. The shiny new cash-free till system, operated by Goodtill, a name new to me, was not working on half the tills before the game, great for the concessions around the ground, but was in action at half-time. I noted that the broken hand drier in the Olympic Bar mens' loos is approaching its third anniversary as a non-runner, and fretted over the lack of forks, useless though they may be, for one's half-time pie. Then back to the action.
It was immediately clear that Sarries had used the break well. Glasgow were denied the out-wide spaces that they had enjoyed, Sarries were tighter, more attuned to each other, and this showed in their management of the defence line, a bit ragged in the first 40, then, after the break, much more like the line we expect to see.
Then for nearly half an hour, nothing. Forty-three points in 30 minutes, nil in the next 40. As the third quarter winds down, benches are unloading, and for Sarries two names that will light up the final quarter. Wiggy is on for Ben, the latter having had a good game, focussed and precise, and Will Skelton is on for Jackson Wray, Maro moving into Jackson's place at 6, Will joining George K in the second row.
On about 73 minutes, a prod through, for lack of options, by Nick Tompkins, the ball running down and down towards the northeastern Coffin Corner. It rolls on and on, but Adam Hastings, covering back must play it, with Wiggy and Alex bearing down. Hastings is distracted by the approaching Men in Black, fumbles a knock-on, and suddenly a speculative clearance is a brilliant attacking option, perfectly executed. Glasgow are defending their line, and the outcome is extraordinary, a perfect backs' move with no backs involved. Maro pounces on a semi-loose ball almost under the posts, Billy plays 9, Jamie is first receiver, passes to Will Skelton, who off-loads out of the tackle, to Maro, who has tracked round to take the off-load and score, the bonus point, 31-19.
Chrostopher Tolofua comes on, determined to deliver 80 minutes of performance in three, which he almost does, rampaging through, round or over Glasgow defences at will. The last act is largely due to his interventions, with Will going over in the 80th minute with a powerful drive, twist and drop for Sarries' fifth, Alex Lozowski's second conversion and a final score of 38-18.
As I thought, Glasgow needed to be 20 ahead at half-time, but they were 5 behind. Sarries scored 'only' 14 in the second half, but Glasgow score nothing. It's a long road back to Glasgow, and doubtless David Rennie, the head coach will be handed out the indigestion tablets this week: coughing up possession as freely as his players had done suggests a severe upset. Will the Rennies Tablets do the trick, if, as almost certainly, we shall see the Warriors back again in the Q-Finals?
And finally on the game: Surely Alex Goode is now Eddie Jones's biggest mistake, the most skilful player whom many of have seen in years, and integral to all that is best about Sarries. Brad shows by his absences what we enjoy when he's there, and everyone else seems to be a current international. However, they are not the players on whom to focus now. I think we all know what some of the squad players do week in and out, but yesterday, three were integral to everything. Some may think Nick Tomkins to be a lightweight, but he is actually becoming a part of the Sarries core, the players who do what they have to do, week in, week out, with increasing effect. Schalk Burger can still play an exceptionally important part in the game, and yesterday he was at the heart of all that is excellent, in attack and defence. And – literally - the biggest hero of all, the Man-Mountain himself, Will Skelton. If ever a player came to Sarries and both parties benefitted from the move, Will is that player. He is fitter, better-skilled and more aware of the team's needs than many thought could ever be possible. He was only on for a short while yesterday, but it was no chance that saw him deliver the pass that put Maro under the posts, and none that saw him deliver the final act of the game's many scoring moments. Even my seat-neighbour had to admit that Will was a bit good yesterday.
SARACENS
Williams, Strettle (Lozowski), Tompkins, Barritt, Lewington (Gallagher) Goode, Spencer (Wigglesworth), M Vunipola (Barrington), George (Tolofu'a), Koch (Judge), Itoje, Kruis, Wray (Skelton), Burger (Clarke) B Vunipola
GLASGOW WARRIORS
Hogg, Seymour (Malawalu), Grigg, Johnson (Jones), Van der Merwe, Hastings, Price (Horne), Kebble (Allan), Stewart (Bryce), Halanukonuka (Rae), Swinson, Gray (Ashe), Harley, Fusaro, Wilson (Smith)
Scorers:-
SARACENS 38: tries: Spencer, Koch, B Vunipola, Itoje, Skelton; Conv: Spencer (3) Lozowski Pen: Spencer
GLASGOW 19: tries: Seymour, Price, Wilson; Conv: Hastings (2)
Att: 10,000
Referee: Pascal Gauzere (FRU)