AND ON THE OTHER HAND....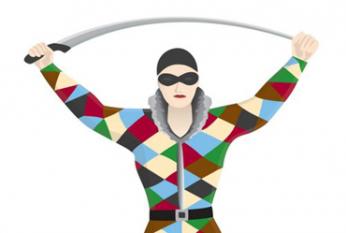 By Darraghgirl
January 23 2019
Something of a change in intensity and focus this weekend. After the drama and challenges of the Heineken Cup, attentions change to the Premiership Rugby Cup competition this weekend. And I guess players and spectators alike can be forgiven for that "After the Lord Mayor's Show" feeling.
Just to recap – the format of PRC competition is almost as unfathomable as its predecessor, the Anglo-Welsh Cup. This time there are 3 pools of 4 teams who at this point have each played each other. The final round involves a "derby" against a local team from another pool (in Sarries' case, Harlequins). The points from the pool games and the derby game all count. The 3 pool winners plus the highest placed runner up go through to the semi finals. Just to complicate things even more, the "Derby day" fixtures are held over 2 weekends with half this weekend and the other half next weekend, followed by the sem-finals on the weekend of the 8/9 Feb. Are you with me so far?
Sarries currently lie in 2nd place in Pool 2 with the same points total as leaders Worcester Warriors (11) but having scored fewer tries. They are also currently the highest placed runner up. Just to extend the anticipation even further, Wuss don't play their final game until 3rd Feb – when they will be home to Wasps (who are bottom of pool 3 and therefore out of it). Sarries visit the Stoop on Saturday to take on Harlequins who are 3rd in Pool 1, on 5 points so can't finish in the top 4 teams. So there we have it.
The cynic might suggest this is a game neither team much wants to win as they would probably both prefer a couple of weeks on the beach! However for the Storm and fringe players, I am sure it is a game Sarries will want to come out on top.
The Sarries team is likely to be mostly Storm and Academy players. I have no doubt that anyone close to the first team will not be risked given our loss of players to the Internationals and our need to keep 23 fit players for the forthcoming games that matter. Many of our younger players are out on loan at the moment – Bedford (Jack Nay, Tadgh McIlroy) London Scottish (Tom Griffiths, Elliot Obatoyinbo), Nottingham (Billy Walker) Ampthill (Vilami Hakalo)– and I have no idea if we can have them back! Or whether we would want to?
So we may see something along the lines of:-
Gallagher, Crossdale, Bird-Tulloch, D Morris, Segun, Malins, Whiteley, Thompson-Stringer, Gray, Lamositele, Nay, J Kpoku, Christie, Reffell, Vailanu - but to be honest your guess is as good as mine!
As to the Quins team?
I ventured on to "comeallwithout" and stole this preview from one of their faithful:-
Morris, R Chisholm, Lasike, Cheeseman, Walker, Catrakilis, Saunders; Auterac, Ellia/Musk, Ibuanopke, Horwill (Apparently due back so needs game time), South, Robshaw (As Horwill), Wallace, White. All I can say is, that poster will have far more idea than I do!!
Incredibly, the referee for this "non" game is none other than Wayne Barnes! (And the assessor is Tony Spreadbury). You wouldn't believe it would you! After all the less than brilliant "sirs" we've had for the big ones, Barnesy is rostered for this! Quins also say the game is sold out! Some people clearly want to watch any Saracens team play!
Sarries have more to gain (and to lose) so I tip them to win but I'm not sure how much anyone will care either way!
We still urgently need a reporter for the game so if anyone has acquired one of these much sought-after match tickets, please can you offer to pen a few words about hob-nobbing with the prawn-sandwich brigade!
View a Printer Friendly version of this Story.
AND ON THE OTHER HAND....
TheSaracens.com (IP Logged)
23/01/2019 22:45
What do you think? You can have your say by posting below.
If you do not already have an account
Click here to Register
.
Edited 1 time(s). Last edit at 2019:02:10:14:08:15 by Darraghgirl.
Re: AND ON THE OTHER HAND....
24/01/2019 12:18
Excellent!
£721.05 (*) donated to the Saracens Foundation due to visits to the Sarries frontpage [
www.rugbynetwork.net
]
Please read and submit articles for publication. (*) As at October 31, 2018.
Sorry, only registered users may post in this forum.