THEY'VE FINALLY DONE IT!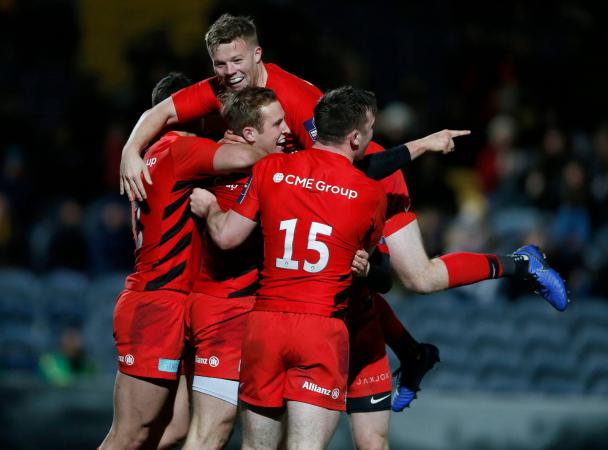 By Darraghgirl
February 10 2019
Sarries travelled to Sixways for the first semi-final of the Premiership Rugby Cup. As best runners-up, Sarries were destined to be the away team for both semi final and final, should they get there but in other ways, the bizarre scheduling favoured Sarries: their game against Quins had given the squad almost 2 weeks R & R while Wuss had to cope with a 5 day turnaround.
The scheduling certainly didn't favour the supporters (when does it ever) – with most fans unable to rearrange their lives and travel up the M5 on a Friday night at short notice and that combined with storm Erik and some pretty foul weather meant most of us were watching on TV.
Sarries remained true to the squad who had got them to the semi-final: mainly academy guys plus a sprinkling of experience from Loz, Ben Earl, Nick Isiekwe (making his 50th start at the tender age of 20) Calum Clark and notably the front row where Barrington and Koch were starters. Wuss fielded a rather weaker team than many might have expected. Presumably the short turn-around and the need to prioritise premiership survival were key factors. Alex Goode was a very insightful and articulate co-commentator. Surely there is a future career for him in the media if he wants it.
Sarries weathered early Worcester pressure and the first scrum was a sign of things to come when Sarries were awarded a scrum penalty, the first of 5 they claimed throughout the match. With barely 5 minutes gone, from a charge down Tom Whiteley kicked the ball through, it bounced all round Darren Berry but he couldn't lay a hand on it allowing Whiteley to hack through; the ball bounced perfectly into his hands and he scored. Loz converted and Sarries were up and running. Koch could have added a second almost straight away but the ball bounced just over his little head, allowing Wuss to clear. However it was only a temporary reprieve. After 11 minutes, Ben Earl broke off the back of a scrum, found Ali Crossdale, whose mazy run (reminiscent of Jonny May in his early days) eventually found Morris, on to Loz and out to Segun who just squeezed inside the post to score a second. Loz didn't manage to land a tricky kick in the swirling wind, the only one he missed all evening, but Sarries were clear at 0-12.
Wuss dominated possession and territory for the rest of the half but gained very little. Sarries seemed happy to defend and the red line was unbreachable. Loz landed 2 nice penalties to put Sarries even further ahead at 0-18. Segun could have had a second but took his eye off the ball at the crucial moment and knocked on. Wuss lost their hooker Annett with an arm injury. As we approached half time, Wuss were camped in the Sarries 22 but never really looked like crossing the try line. When David did finally get the ball down, referee Christophe Ridley struck the score off for a knock-on and eventually, as the clock went red, Wuss cut their losses and Van Breda took 3 points. In many ways it was something of a repeat of the first half of the game between Wuss and Wasps – all the possession, all the territory but nothing on the scoreboard. Sarries' supporters would have to hope that the 2nd half wouldn't also be a repeat of last week. The commentators also (helpfully) told us that in the 2 previous meetings between the teams, the side which had been in the lead at half time had gone on to lose the game!
Wuss started the second half with more intent and more ideas. They were kicking more and gaining territory. They almost scored with a lovely move but Gallagher and Whiteley managed to hold Cox up over the line. Wuss, probably wisely, opted to get the ball straight out of the 5m scrum and eventually the ball came out wide to Nick David who scored in the corner but seemed to dislocate his shoulder in the process. Van Breda couldn't land the extras and for some reason Wuss didn't immediately replace David. Sarries took advantage of the man short with a beautiful kick from Gallagher into open space in the Wuss 22. Jonny Arr had no choice but to kick the ball dead ahead of Dom Morris looming down on him and concede a 5m scrum. Duncan Weir came on with Van Breda moving to full-back. For once Wuss managed to disrupt the Sarries' scrum, preventing the penalty try which had seemed the likely outcome but the clearance kick was poor allowing Sarries to run the ball back through Gallagher. He was felled by a high tackle and Malins seemed to be taken out off the ball but Mr Ridley decided it was only a penalty. Loz kicked the points for 8-21. Time for change and Sarries swapped their front row with Tolofua, Adams-Hale & Walker replacing Woolstencroft, Barrington & Koch. Another Loz penalty took Sarries further ahead and Wuss cannot have been over-pleased when Sarries increased their carrying power with Skelton coming on for Dom Day.
Wuss then scored a lovely individual try with a kick ahead from Tom Howe down the wing. It was an awkward bounce for Whiteley allowing Howe to collect the ball and score. Weir kicked the extras for 15-24 and suddenly Sarries were in a scrap. Wuss certainly looked far more threatening with Weir pulling the strings. Step up Max Malins for a superb effort of his own. He collected a neat inside pass from Reffell and went straight for the try line. Loz again converted for 15-31. Into the final quarter and Vailanu replaced Ben Earl (who put in another solid performance). With the might of Tolofua, Skelton & Vailanu in the pack, it wasn't surprising to see Sarries win 2 more scrum penalties. Taylor replaced Whiteley who had a pretty useful game at 9. Sarries attacked the try line but Wuss turned the ball over however Weir missed touch with a long clearance allowing Malins to claim the ball deep in his own half. He shaped to pass, dummied and then ran the length of the pitch, off-loading to Gallagher on his shoulder. Gallagher probably should have scored but was well tackled however he got the ball back to Taylor who popped the ball up for Vailanu to score with probably his first touch of the ball. Loz added the conversion for 15-38 and Sarries were home and dry. Wuss took Jonny Arr off and Matt Gallagher limped off to be replaced by Viliami Hakalo (a late change for Tom Griffiths). Loz was also replaced by Manu Vunipola (as Goodey said, you can never have too many Vunipolas) although Manu is a totally different breed to his cousins!
Wuss, to be fair, kept going to the end. Malins had to intervene with a try saving tackle when Van Breda seemed to have put Kirwan through. As the clock headed for 80, Butler off-loaded to Van Breda who got up to the 22. The ball was recycled out to Olivier who found Howe outside him for his 2nd score. Weir converted beautifully from out wide but that was the end of the game. Sarries march on to yet another final at Franklins Garden on 17th March against their old rivals Northampton Saints. That one could be a bit spicey!
Worcester Warriors
David (Weir), Howe, Olivier, Butler, Hammond (Hearle), Van Breda, Arr (Heaney), Waller (black), Annett (Miller), Milasinovich (Kerrod), Barry, Bresler (Dodd), Williams, Kirwan, Cox
Saracens
Gallagher (Hakalo), Crossdale, Lozowski (Vunipola), Morris, Segun, Malins, Whiteley (Taylor), Barrington (Adams-Hale), Woolstencroft (Tolofua), Koch (Walker), Day (Skelton), Isiekwe, Clark, Reffell, Earl (Vailanu)
WORCESTER WARRIORS (22) Tries: David, Howe (2); Conv: Weir (2); Pen: Van Breda
SARACENS (38): Tries: Whiteley, Segun, Malins, Vailanu; Conv: Lozowski (3); Pen: Lozowski (4)
Referee: Christophe Ridley
View a Printer Friendly version of this Story.
THEY'VE FINALLY DONE IT!
Discussion started by TheSaracens.com , 10/02/2019 14:07
TheSaracens.com
10/02/2019 14:07
What do you think? You can have your say by posting below.
If you do not already have an account
Click here to Register
.
Edited 1 time(s). Last edit at 2019:02:20:18:24:39 by Darraghgirl.
Sorry, only registered users may post in this forum.