SARRIES WIN A GAME, A SPORT LOSES FRIENDS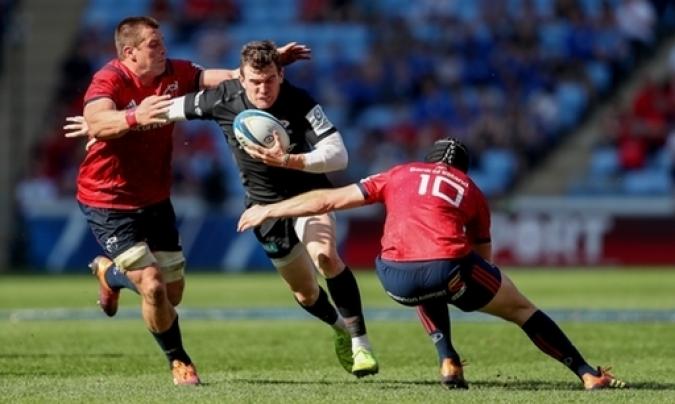 By Innings
April 21 2019
Let's get the second part of the title out of the way. Yesterday a small number of people in a small crowd behaved in ways that reflected ill on themselves, the clubs they support and the game in general. There too many incidents to be swept away: language, undercurrents of racist bigotry, of religious intolerance and of other aspects of tribalism in sport that has bedevilled other sports, and been sneered at by rugby supporters. for years. The day of rugby supporter segregation must have come bit closer after what has been reported in some quarters. Sadly, supporters in groups no longer expect others in their groups to moderate behaviour, as a result the behaviour of the few fulfils the old saying, "The only thing necessary for the triumph of evil for good men to do nothing." (Apparently Edmund Burke never said that, not wrote it, but President Kennedy said that he did, so that's the end of that discussion.)
It is said that broadcasters dislike greatly showing a sporting event that nobody is watching live. Yesterday they cannot have liked having to be very careful to show carefully selected crowd shots, a challenge in a stadium just half full. Why did this game fail to attract support? Munster turned up, probably about two-thirds or even more of the total crowd, but where was the home support? I might have brought a son and son-in-law, but this is Easter weekend and both had taken their families away for a few days during the school holiday and long weekend. Was I alone in finding that happen? Others might have balked at the ticket price, which seemed very top end to casual or occasional supporters. Others might have better ways to spend the time and money, in preference to watching two sides that are slated as boring. Whatever the reason, EPRC must think of lessons to be learned from this marketing failure, for failure it was. If 16,000 empty seats had been occupied at an average cost of £25 a seat, a lot of advertising spend would have been recovered.
And so, to the game. The first thing is to say that the ground was magnificent, the pitch in perfect condition, the whole feel being light and spacious. The second is that the Munster travelling army can do some things brilliantly, and the best was that on the inside of every turnstile there were people handing out red flags to every supporter coming into the stadium. Where were Sarries handing out flags? At the far end of carpark C. No wonder that the Munster support seemed to be so numerically dominant.
I had a pie. It was advertised as a steak pie, but was a travesty of that description. I would say it was a gravy pie with a minimal addition of steak.
Then, with plenty of time to spare, I found my seat, wanting to observe one aspect of the modern player. It used to be said that a dominant punt return kicker in NFL can hang a ball in the air for four seconds. Having always wanted to know what top box kickers in rugby can do I was keen to time Ben Spencer, Owen Farrell and Conor Murray as they warmed up. The answer seemed to be that in early warm-up all three achieved hang-times of 3.75 – 3.9 seconds. These lengthened as the session went on, and the longest I recorded was 4.21 seconds from contact with the boot to contact with the catcher's hand. The difference between 3.75 and 4.2 is better seen as the extra four or five metres that a chase runner can cover whilst the ball is in flight.
For me there were three pivotal moments. The first was on exactly one minute. CJ Stander was caught clearly offside in the first ruck, and penalised. He was apparently bemused by the call, yet he is a player who must be aware that Jerome Garces has a no-nonsense approach to the breakdown. Interestingly, after 30 minutes, with the score 9-6, breakdown penalties were the principal, (or did it feel like the only?), source of points, on both sides. Both CJ and Peter O'Mahoney were finding that their turnover skills, much heralded as the most successful in this year's competition, were not adaptable to the referee's interpretation.
The second pivotal moment came a little later, with the realisation that Munster had apparently little attacking intent beyond the high ball and hoping for a turnover. With Alex Goode and Liam Williams in the back three, supported by David Strettle, a late change starting instead of Sean Maitland, there was little probable benefit in this tactic. When they had the ball, and ran it, Muster seemed little able to do more than ask one of their small number of heavy carriers to run straight ahead. This was never going to work for 80 minutes, when Sarries could play the same tactic with any of about eight carriers, whilst snuffing out many Munster runs with near 100% tackling success from a like number of forwards, with Ben Spencer and Owen Farrell always ready to join in. As the half went on, it was also clear that Munster were not adapting to the referee, with increasing concern about the loss of the impact expected of Stander and O'Mahoney.
Half-time was a chance to think on what we had seen and to hope for something a little more inspiring than a scoreline of 12-9, the lot coming from penalties. Munster clearly had to change their plan, Sarries clearly would do so. Some expected the Fergie hair-dryer in both dressing rooms: whatever other coaches may do, I felt it more likely that MMC and Alex Sanderson would use the time more profitably for a bit of reasoned analysis and instruction. The first ten minutes or so of the second half would identify the outcome.
The first few minutes produced a clear answer. Sarries had decided to play with ball in hand. On about 43 minutes it was impossible to say with certainty exactly who contributed what. We had reached over 20 phases of uninterrupted play, and the ball reached Titi Lamositele on the left wing. He made a few vital steps of gain, went to ground and delivered the ball quick and clean. A couple more phases, and suddenly, ten metres out, three Sarries players could have taken the pass, but only two Munster players could cover them. The player left unmarked was Mike Rhodes, who stepped in, then swept right along the in-goal area to touch down.
The pattern was now set. Sarries were to play with skill, precision and intent. Munster were beginning to have to chase the game, not helped by further infringements, punished by Owen, thoroughly on song all afternoon, and eventually a second try from Billy Vunipola, converted.
Strangely, as the game drifted from them, Munster tired and without a workable plan, suddenly sprang a surprise, a try taken from a Sarries scrum on Sarries line. The ball sq uirted out, perhaps encouraged by a little Murray footwork, perhaps not. Quick hands down the line, a slip in turning by Alex Goode, and a try for centre Sweetman in the corner.
The game was over not long after, and Sarries had done the business. Bookies in the Republic cleaned up, the betting market having supported a win for Munster with as much as a 15 points margin.
This win was not in doubt from early on. Munster supporters are aware that in Ireland the IRFU seems to have a pecking order. Leinster first, Munster and Ulster joint-second, Connaught only fourth because they cannot be fifth in a four-horse race. With the professional game controlled by the national body, Munster can only dream of better days to come, when they might have resources to mount their real challenge to be, once again, the bride and not the bridesmaid.
We should address the contribution of two or three players, only recognised by us as key to Sarries' operations. Titi was awesome, certainly his best game with Sarries. Jackson Wray never delivers less than excellence, and in this game he shone again. Nick Tompkins is developing his importance to the squad, and whilst I yet know nothing about his leadership development, it might be reasonable to suggest that in playing terms we already a natural successor to wear the 12 shirt.
And so, at the end to the referee team. According to the vile, racist bigot seated behind me, Jerome Garces was bribed by Sarries to ensure that Munster would lose. Rather, it seemed, M Garces was even-handed, penalised both sides according to the same interpretations, and was able to ensure a spirited contest that was played in the hardest of struggles but in sporting spirit throughout. Everyone should know what this referee wants, so not adapting to it reflects less than well on those who coach sides that are about to be subject to his whistle.
Saracens: (12) 32 Tries: Rhodes, B Vunipola; Pens: Farrell 6; Cons: Farrell 2
Munster: (9) 16 Try: Sweetnam; Pens: Bleyendaal 2, Murray; Con: Hanrahan
Saracens: Alex Goode, David Strettle, Alex Lozowski, Brad Barritt, Liam Williams; Owen Farrell, Ben Spencer; Mako Vunipola, Jamie George, Titi Lamositele, Maro Itoje, George Kruis, Mike Rhodes, Jackson Wray, Billy Vunipola.
Replacements: Nick Tompkins for Barritt (41), Vincent Koch for Lamositele (59), Will Skelton for Wray (59), Richard Barrington for M Vunipola (63), Schalk Burger for Rhodes (74), Richard Wigglesworth for Spencer (74), Alex Lewington for Strettle (75), Joe Gray for George (75), Titi Lamositele for Kruis (80)
Sin-bin: Koch (77).
Munster: Haley; Conway, Farre, Farrell, Scannell, Sweetnam; Bleyendaal, Murray; Kilcoyne, Scannell, Ryan; Kleyn, Beirne; O'Mahony (C), O'Donoghue, Stander.
Replacements: Archer for Ryan (51), Goggin for Hayley (51), Hanrahan for Bleyendaal (54), Loughman for Kilcoyne (61), Holland for Kleyn (61), Marshall for Scannell (67), Botha for O'Donoghue (67), Mathewson for Murray (74)