TRY, TRY, TRY AGAIN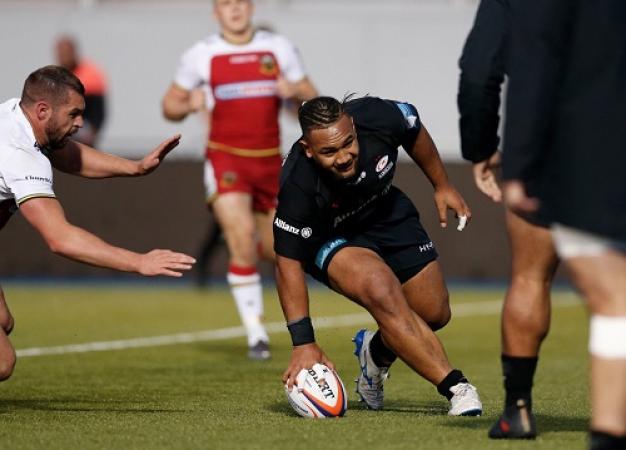 By Darraghgirl
April 30 2019
I quite like a bit of Monday night rugby and as I am going to miss the Euro-Final because of (a rather nice) holiday, I thought I would pre-load with a bit of Storm. Little DG & Mr Farmer were happy to join me so after a remarkably easy ride to Allianz and free on site parking, we purchased drinks and some food and took our seats – Platinum Plus for one night only! (I have to admit I could get used to sitting there!)
It was good to see a countdown clock AND a scoreboard in operation (even if the lights were so bright you couldn't read it) – as these are often lacking at Storm fixtures. Sarries made a promising start and the writing was probably on the wall after the first scrum – a Saints' put in but a massive effort from the Sarries boys and the scrum was over the tryline for a Sarries put in. This time the pack drove inexorably forwards and the referee went straight under the posts. 4 minutes gone. 7-0 up and sSints down to 14 with Will Davis in the bin. Saints won a penalty from the kick off but Grayson hooked it. After 14 minutes, Sarries doubled the lead when lovely play from Malins found Isiekwe who scored under the posts giving Max another straightforward conversion.
Sarries had to do a bit of defending in their own 22 with successive Saints penalties but eventually Morris made a lovely break and after some excellent interplay, Vailanu scored Saracen's 3rd again under the posts for another easy conversion. 21-0 after 18 minutes. (Pause for thought – what has Vailanu done to his hair? Very close cut on top but with a long thin ponytail trailing out behind - think Nowell but 3 times as long). 2 minutes later and the bonus point would have been secured (had such a thing been available) when Morris fed off the back of the scrum into the 22 and found Whiteley who scored in the corner. Malins was on a roll now and made nothing of a tricky conversion. 28-0 and barely out of the first quarter! A 5th try went begging when Gallagher broke free but Malins just over-ran the pass when all he had to do was catch the ball for a clear run in. Malins made amends soon after when he broke out wide then lobbed a lovely inside pass to Ralph Adams-Hale and the prop's little legs carried him over the line. Another successful conversion, a 5th try and a 35-0 lead.
Grayson left the field for Saints, adding to their injury problems and was replaced by Matt Worley. It made no difference to the match. Sarries secured a 5m line out and the catch and drive rumbled over the line with Tom Woolstencroft emerging with the ball. Once again Malins kicked the extras. 42-0. Could we make 50 by half time? Whiteley tried hard with a lovely show and go and a break into Saints' 22 but he was hauled down. Saints messed up the line out and from the subsequent scrum, Vailanu picked up the loose ball and ran under the posts for his second try. Another successful kick for Malins (7 out of 7 so far in case you've lost count) and Sarries led 49-0. As the clock headed for zero, a dodgy pass out to Dom Day landed on his foot. He neatly chipped it up into his hands and set off. Eventually he found Obantoyinbo who used his pace and guile to bewitch most of the Saints defence and score. Malin's last kick of the game was a successful conversion and at half time, Sarries led 56-0 with 8 converted tries.
Over half-time drinks we felt pretty satisfied. Those Storm players who have had first team exposure have definitely come on. Malins in particular seemed to be playing half a yard faster than his team-mates which led to the odd dropped pass. The team showed the same confidence passing the ball that the main squad showed against Munster – lots of deft flicks, out the back passes, running from deep onto balls and quick one-twos which I haven't seen before from Saracens Storm. The pack looked very powerful and were certainly too hot for Saint's forwards to handle.
Inevitably the second half saw changes. Malins, Isiekwe, Gallagher and Adams Hale did not return to the scene to be replaced by Henry Taylor (with Whiteley moving to 10), Jon Kpoku, Charlie Watson and Hayden Thompson-Stringer. Almost before everyone got to their places, Saints had scored when Matt Worley made a lovely break, evaded the entire Sarries defence and scored. Tom Emery had taken on kicking duties and landed the extras so at least Saints were up and running. 56-7. Ben Earl and Tom Griffiths almost conjured up a 9th try between them before Saints intercepted the final pass but we didn't have to wait long for the next score. Sarries had a lineout near the Saints 5m line. A lovely training ground move saw the ball passed to Woolstencroft who ran back round the front of the lineout and down the blindside to score in the corner. Trickiest conversion so far but Whiteley didn't disappoint. 63-7. Half an hour to go and another wave of substitutes. Dom Morris, Ben Earl, Tom Woolstencroft and Christian Judge departed to be replaced by Reuben Bird-Tulloch, Anthony Maka (guesting), Christopher Tolofua and to a big round of applause, Juan Figallo. By now it was completely dark but I could hear a Robin singing loudly behind us (sadly not a Nightingale).
Back to the game (such as it was), and a lovely break from Whiteley who then sprinted half the length of the pitch and scored try number 10. He must have forgotten he would have to convert it because I'm sure he would have made the kick a bit easier for himself if he had. As it was this was the first and only kick missed all evening. Still at 68-7 who's to complain? Almost at once, Sarries were back on the attack. There was a period of play more akin to volleyball than rugby with both teams tapping the ball all over the place and nobody, least of all the referee, had a clue what was going on. Vailanu emerged from somewhere with the ball and scored his third and Sarries' 11th try. Whiteley kicked the extras and with 10 minutes to go the score was 75-7. Could we make it to 3 figures? Saints didn't help themselves with a long penalty kick for touch that bounced over the dead ball line. Tolofua managed to throw a lineout ball to Saints who then reciprocated with a not-straight themselves and a knock on which found Kpoku with the ball. He headed off for the try line with all the gangling "grace" of baby giraffe, desperately looking around for assistance which wasn't forthcoming. In the end he was hauled down just short but Saints knocked on and from the resulting scrum, Anthony Maka collected the ball and, making a special guest appearance, scored the 12th try. Whiteley again converted for 82-7.
The 13th and final try was made by Whiteley and scored again by Maka. Whiteley chipped and collected and made it almost to the try line where he was hauled down. He managed to recycle the ball, despite picking up a knock and Maka scored his second in almost as many minutes. Griffiths took over kicking duties and took the score to 89-7. And that was that. Saracens Storm are through to the Premier Shield Final – venue and opponents tbc. It's a shame that Northampton's injury crisis meant they couldn't field the A team they would have wanted – there were 4 guests in the starting 15 and 3 more on the bench. But hey, you can only play what's in front of you! Figallo got 30 minutes run out and seemed to come through unscathed. Vailanu looked very good – Wasps could have something of a gem there if he keeps this up. Whiteley showed his versatility and finally convinced me that we have done the right thing keeping him and letting Taylor go. And well done Anthony Maka, formerly of this parish but now at Letchworth who seems to be a regular guest for Storm this season. He didn't let the side down.
SARACENS STORM
Gallagher (Watson), Obatoyinbo, Morris (Bird Tulloch), Griffiths, Segun, Malins (Taylor), Whiteley; Adams-Hale (Thompson-Stringer), Woolstencroft (Tolofua), Judge (Figallo), Day, Isiekwe (Kpoku), Reffell, Earl (Maka), Vailanu
NORTHAMPTON WANDERERS
Emery, Sleightholme, Kellaway, Strachan, Pisi, Grayson, Davies, Davis, Newman, Painter, Jubb, Carrick-Smith, Coles, Onojaife, Tui Uru
Replacements: Taylor, Trinder, Ford-Robinson, Betteridge, Laxton, Tupai, Freeman, Worley
View a Printer Friendly version of this Story.
TRY, TRY, TRY AGAIN
Discussion started by TheSaracens.com , 30/04/2019 22:08
TheSaracens.com
30/04/2019 22:08
What do you think? You can have your say by posting below.
If you do not already have an account
Click here to Register
.
Edited 1 time(s). Last edit at 2019:05:07:14:35:23 by sutton_sarrie.
Maroon Tyke
01/05/2019 09:37
Excellent report Dg. How do you manage to record such detail??

You can take the man out of Yorkshire but you can't take Yorkshire out of the man.
Sorry, only registered users may post in this forum.