SHALL WE CALL IT A DRAW?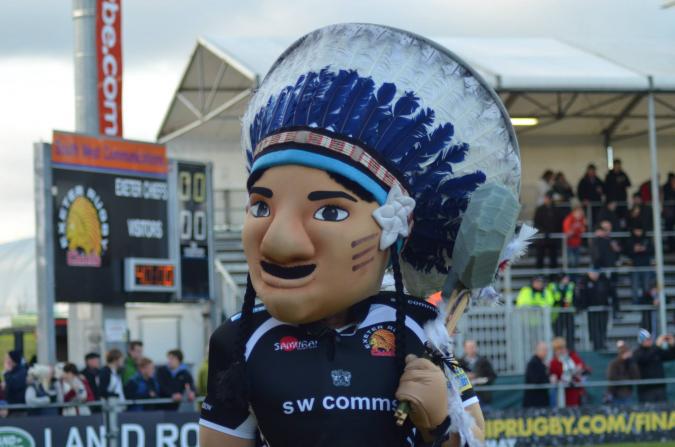 By Darraghgirl
May 2 2019
When the fixture list came out last summer, I remember thinking this Saturday's clash between Sarries & Exeter Chiefs would be a game to look forward to. For once it is not in the International window and both teams might just need to get something out of the game so it should have been a match to savour. Fast forward 9 months and I see I was wrong.
This is effectively a dead rubber. A win for either side makes no difference to either club. Their positions can't change, they have both secured home venues and the result cannot influence their potential semi-final opponents. There won't even be any bragging rights as I assume neither side will select anywhere near their first team! Exeter are well known to hate our plastic pitch lest any of their players break a toenail on the fake grass, while Sarries will want to wrap the first team in cotton wool so they arrive fit and healthy in Newcastle. Sarries have more to lose with that European Final to come next weekend while Exeter twiddle their thumbs until the semi-final comes around. Their main danger is boredom! So let's agree a 3-3 draw and everyone can go home!
Of course it is highly likely these 2 teams will meet again at HQ on 1st June and that game WILL count but until then we mark time. In regular games, Exeter have got the better of Sarries over the last couple of seasons. In 2017-18 Chiefs did the double over Sarries and they also won the earlier encounter at Sandy Park this season (all 3 games being during the International Window). Saracens last beat Exeter in the League in September 2016 (at Sandy Park) – the return leg in London being a 13-13 draw. But of course Sarries won the one that mattered – last year's final.
I don't see McCall risking anyone likely to be involved in Newcastle so I suspect we will see more of a Storm team with a sprinkling of fringe players who need a bit of game time. The possible exception would be David Strettle – he deserves a good send off and this is a more likely game than the semi-final. For the same reason I would expect Marcello Bosch to start on Saturday as well and possibly Vailanu? Hopefully Christian Judge will also get a farewell run out but probably from the bench. I expect Tolofua's suspect throwing won't be risked even in this one. I think Burger's farewell will wait a couple of weeks. Figallo may be risked as he needs a bit of game time. Whiteley took a bit of a knock on Monday and played the whole game so Wiggy may start if he's fit, again to get some game time. So we may see something like:
Gallagher, Strettle, Morris, Bosch, Lewington, Malins, Wigglesworth; Thompson-Stringer, Gray, Figallo, Day, Kpoku, Clarke, Earl, Vailanu
As for Exeter Chiefs – well to be honest I have no idea. Apparently Rob Baxter wasn't happy with his sides' performance against Quins last weekend and stated "At this stage of the season we've won the big prize and it's created this emotion vacuum". He was particularly unhappy with the performance of his pack who were apparently "bullied" for 70 minutes by their Quins counterparts. So will he put the same tight 5 out and hope they can improve, or will he shake things up a bit? Given he said "I've challenged them to snap out of it" maybe the former? Chiefs don't have a game next weekend so this is "last chance saloon" time for Baxter's forwards to show him what they are made of! We definitely won't see the likes of Jack Nowell on our pitch and Cordera is out for the season. Chiefs also have an A League semi-final on Monday evening so, strange as it may seem, may prioritise that fixture and "rest" some of their "Braves". So stab in the dark but maybe something like:-
Whitten, O'Flaherty, Slade, Devoto, Woodburn, Steenson, Maunder, Hepburn, Yeandle, Williams, Dennis, Hill, Capstick, Lonsdale, Kvesic
The referee is Ian Tempest – although after Barnes' display last weekend maybe he isn't so bad after all. We shall see! After the game I'm off to Heathrow for a couple of weeks in Botswana – give the lads a cheer for me!
View a Printer Friendly version of this Story.
SHALL WE CALL IT A DRAW?
Discussion started by TheSaracens.com , 02/05/2019 11:10
TheSaracens.com
02/05/2019 11:10
What do you think? You can have your say by posting below.
If you do not already have an account
Click here to Register
.
Edited 1 time(s). Last edit at 2019:05:20:13:28:01 by sutton_sarrie.
GazzaFez
02/05/2019 11:44
Great summary of something which is as you say very difficult to second guess. For me I think the best we can hope for is Chiefs to put out a stronger team than us, they do have a more tricky run in to manage than us, and for us to get a good win with a largely Stormesque team and thus walk away with some limited bragging rights. It's difficult to see what else is on offer.

There is however no excuse for anything other than a good flowing attacking game of rugby with nothing to lose and no pressure on either side. Lots of players with something to prove should help to achieve that. Let's hope that Mr Tempest does his bit as well.

An end of season 'Premiership Barbarians' match between the top two teams? Here's hoping.
derbyshire fan
02/05/2019 12:54
Funny old game to look forward to - I always want us to win, especially at home, because that helps momentum and helps that fortress AzP mindset; but on Saturday I think my only concern is not breaking anyone who is going to be needed in Newcastle. So if I were Mark (which thankfully for you all, I am not) I would put out our youngsters and just see how they get on
PurfleetSarrie
02/05/2019 18:52
Many thanks for a great preview. Enjoy Botswana
BramleyRoad
03/05/2019 06:54
Mako might need some game time?
I love watching Malins at 10.
TonyTaff
03/05/2019 10:57
I am not MMcC either. I would pic Cello and Chippi, with the other 21 all being U23.
£721.05 (*) donated to the Saracens Foundation due to visits to the Sarries frontpage [
www.rugbynetwork.net
]
Please read and submit articles for publication. (*) As at October 31, 2018.
seems to me that selecting a B team is a Win, Win for Sarries - especially as the B team already beat the Braves recently.

IF Exeter win, then it was only against the B team (flat track bullies)
If Sarries win, then you can't even beat our B team what hope have you got against the proper side

It was interesting that Sarries B side beat the braves recently; they have come on a lot this season. The earlier fixture (on Freeview TV) at AzP was so men against boys that it was almost embarrasing.
Quote:

JO'G
It was interesting that Sarries B side beat the braves recently; they have come on a lot this season. The earlier fixture (on Freeview TV) at AzP was so men against boys that it was almost embarrasing.
I was trying to work this one out, both teams lost their home games! Us 24-47, them 26-51.
There were only 5 players that started both games for us, so could just be the impact of a different team. But I wonder if it was something to do with how we prepped for the start of the season. In previous years we've treated the first league games as slightly warm-up games. And starting with Falcons away and Bristol at home gave us the option to do the same this year. It means we start a little flatter, but the benefit comes at this stage of the season.
PurfleetSarrie
04/05/2019 17:49
I'm glad we didn't call it a draw. An unexpected result much appreciated
Squawker2
05/05/2019 14:18
Quote:

PurfleetSarrie
I'm glad we didn't call it a draw. An unexpected result much appreciated
Indeed - though I suspect Gareth Steenson might have taken it!
-----------------------------------------------------
Stuart Barnes is a Cock Womble
Sorry, only registered users may post in this forum.