End of the road for Gavin Henson?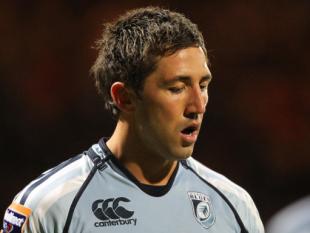 A dejected Gavin Henson
By Rhys Thomas
April 6 2012
After his dismissal by Cardiff Blues, has Henson's career come to a seemingly premature end?
Back in October, when Cardiff Blues signed Henson, many saw this as his last chance to redeem himself. Indeed, he secured a place in the Wales Six Nations squad, but didn't get to play a game. After all his appearances on reality shows, he was given an eight month contact by Peter Thomas. At the end of it he could've expected a potential extension, or at least an enhanced reputation. Alas, it was not to be. Ice cubes were thrown on a Flybe flight back from Glasgow, and Henson was thrown out of the Blues. The man with the world at his feet in the noughties – he won iRB player of the year in 2001 and won Grand Slams in 2005 and 2008 – has botched another chance at making a comeback and pulling on that Welsh jersey. His last appearance in a Wales jersey was in a World Cup warm up against England – he played thirty minutes of quality Rugby before he suffered a wrist injury, and missed another chance to appear in a World Cup – and that performance was the high point for him in the last four years or so.
Let's be frank – he's had his chances, and this was almost certainly his last. After he left the Ospreys, he played for Saracens and Toulon, and hardly played for either, whilst still showing his inability to act like a responsible adult. It's hard to have sympathy with him, he was told that any stupid behaviour would be treated severely, and so it was. It's clear to me that the Blues wanted to get rid of Henson, probably due to money issues, and they were looking for anything to give him the sack for, and they found it.
This is all the more painful for Blues supporters considering that Jamie Roberts is injured for their Heineken Cup quarter-final against Leinster tomorrow – how Henson would have relished the opportunity to face Brian O'Driscoll, the man he so comfortably outplayed in that Grand Slam match in 2005.
It's unlikely now that Henson will ever get to fulfil his Rugby ambition, by playing for Wales at a World Cup. What he's achieved in his career is never achieved by other players, but we were expecting so much more from him.