Match Review - Australia v Wales - 2nd Test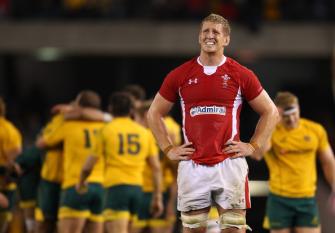 By Rhys Thomas
June 17 2012
With two minutes left, Wales were on course to secure a historic victory Down Under.
The Pick and Go was the simplest and most effective tactic in this situation – all truly great teams have done it, from England in 2003 to Munster in 2006 to New Zealand throughout the decades. Wales, unfortunately, aren't a truly great team. Rhys Priestland decided to kick the ball to Australia, and we all know what happened then. A wonderful opportunity had been squandered, and the test series was gone.
It's a mystery to me why Wales couldn't close this game out. Sam Warburton says "It wasn't what the forwards were planning. Just a little bit of composure and patience was what was needed. I thought we had learned the lessons of that when we lost against the Barbarians last summer. As captain, I remember saying to myself that I wouldn't let that happen again. But it has, so obviously the message wasn't clear enough." The message wasn't clear enough? How could that be? Surely that must have been one of the main things that was drilled into the players time and time again. How is it that they can't remember a simple tactic, or are the coaches at fault for not dedicating enough time to it? I think it's the former – Welsh players have a history of making wrong decisions and not being quick-witted enough to modify the gameplan during a match.
Priestland is not the only one who should take the blame however, and Mike Phillips kicked fairly poorly as well, with one of his kicks out on the full leading to an Australian try. Although his service had improved exponentially, his kicking did not. For next week's test I would favour a half-back partnership of Lloyd Williams and James Hook. Priestland cannot be allowed to keep making errors like this. The rest of his game stood up well, but all that means nothing because of his heinous error.
As Priestland kicked it, there were five Welsh forwards on their feet in front of him, and two backs outside him. He wasn't isolated, nor was he under much pressure from the Australian defence. Despite this, he shouldn't have been put in that position in the first place. Rhys Webb made the choice to pass to him when there were other options available – so both players should take some blame. Although I would hasten to add that Priestland is the more senior player and actually took the decision to kick, the end blame rests with him.
So where does that leave Wales? 2-0 down in a series with the Sydney test to come next week. Even if Wales win that, the tour will have been disappointing. Rob Howley's premiership hasn't gone well so far, and Wales will be relieved when Gatland comes back for some of the autumn games. This will go down as the tour that should've been, and Wales only have themselves to blame.
Man of the Match – Berrick Barnes (Aus)
Barnes has continued to be a thorn in Wales' side ever since Shane's last game in December, where he scored a try. In Melbourne yesterday he bossed the game – his tactical kicking put Priestland to shame, whilst he kicked five out of six attempts, missing the last due to injury. That nearly let Wales of the hook, but his colleagues were able to finish the game in his absence.
View a Printer Friendly version of this Story.
Match Review - Australia v Wales - 2nd Test
Posted by: Wales (IP Logged)
Date: 17/06/2012 21:29
What do you think? You can have your say by posting below.
If you do not already have an account
Click here to Register
.