The 'Wasps Way'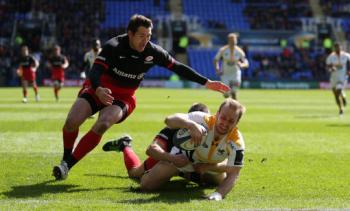 Dan Robson Scores
By Gaz
April 30 2017
Would you trade entertainment and flair for a trophy?
Internet forums are a rallying point for opposing opinion. On the one hand, you have contributors openly stating their preference to be entertained, to be able to regularly watch the most collectively talented back line in the country cut loose against more pragmatic opponents, even at the cost of silverware. Some go as far as to state that they would not choose to watch some opposition teams on a regular basis. Yet on the other hand, there are those, often the supporters of those 'other' clubs, who measure success with silverware alone. But does success need to be at the cost of entertainment? Is it an either/or question? I will use two imaginary teams to illustrate;
Let us imagine Team 1: the backs are invariably big, direct runners and are not averse to seeking out contact, perhaps with a preference towards driving opposition defenders back a few metres. The game tends to go through passages of kicking for territory, it becomes obvious that one team is made for this tactic and has practiced it as part of their game plan, more often than not winning the territorial and aerial battle through well-timed chasers or just making life difficult at subsequent line-outs and breakdowns. Emphasis at scrums and mauls is on winning penalties and feeding off opposition mistakes through phases of pick-and-go moves among the forwards. Until gaps appear when the ball is sometimes passed to a back in space who invariably has a short run in to score a try. If this fails, they will win a penalty at some point and choose to take the three points. Of if feeling ambitious, will take a 5 metre lineout and driving maul option.
Or at the other end of our imaginary spectrum there is Team 2: whose forwards are smaller, lighter and more mobile. The backs have pace, flair, a preference for space and have practiced the art of the late pass and offload. Handling skills have an emphasis on catch and pass as opposed to ball retention. Intricate decoy runs, mis-passes, and strike moves are developed on the training ground. Forwards tackle often and the backs overwhelm the opposition with pace and step, and move the ball quickly and fluidly. Possession and territory are often conceded at the expense of looking for space, or at least having players who prefer to pass or find space. A try is often scored as the outcome of individual brilliance, and the move often originates from beyond the 22-metre line.
So, common opinion, and this is not a hypothesis I would necessarily advocate, suggests that Saracens and Exeter are fine exponents of the former. And that Wasps are exponents of the latter. Team 1's have the physical power and composure and know what to do to win, while Team 2's are just 'Fancy-Dans' and will be found out by a well-drilled Team 1 at some point. "Forwards win matches, backs decide by how much".
The purpose of this article is not to criticise other teams' methods or styles.These are lazy stereotypes and I have used two extremes. In my view, to be one of the top 4 teams after a 22-game league requires an all-court game, they say the table doesn't lie. A team containing the likes of Kurtley Beale, Willie Le Roux, Christian Wade, Elliot Daly and Danny Cipriani (team 2) has every chance of winning a one-off game against anyone. Wasps winning try last Sunday was the outcome of driving mauls and finally a pick-and-go move scored from 5 metres by Matt Mullan (team 1), and that was the most valuable try Wasps have scored this season so far, turning a loss into a bonus point win at a key stage of the season.
Perhaps the art of a consistent, or dependable winner is to be able to be both, and to know how and when to adapt, often in the heat of the battle. This is where Saracens have the edge and others have some catching up to do, the gap can only be closed through experience of playing in big one-off games, and perhaps in this regard, Exeter also have a slight edge on Wasps having recent experience of finals.
But the worry for some Wasps fans is do we still have belief in our philosophy and have the confidence to take our game to a final or semi-final? Does our style sacrifice defensive organisation too much? Are we too 'Fancy-Dan'? Some say we lack 'structure', whatever that means. I think it means having the situational awareness to know when to close a game down, and Saracens are excellent at knowing when and how to do exactly that, and that should be admired and replicated, in our own Wasps way, of course.
It's great to be a Wasps fan at the moment. We will just have to wait to see whether the season ends in silverware, but would it be enough to be gallant losers? It would for me. But there is that other word the creeps into discussion from time to time: expectation.