Was that a Gorilla on the pitch?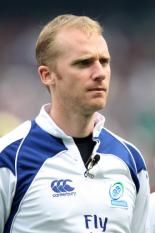 By Lindsay Clayton
January 29 2012
Or did Barnesy miss a forward pass? January 26th saw the latest of WRSC Meet the Ref evenings, this time with Wayne Barnes.
After being introduced by WRSC Chairman Darren Birch, Wayne started by admitting he is a Gloucester fan!!
Wayne's Intro
Which rather set the tone for the night, very entertaining to say the least.
Wayne then took some time to tell us about the charity that the proceeds of the evening were going to. The Charity Get Ahead raises money for those who suffer from head and neck cancers he showed us a news clip about a sufferer of Adenoid Cystic Carcinoma. ACC for short, who Wayne went to school with. Here a couple of links to the charity and to a charity cycle ride from John O'Groats to Lands' End in aid of Mel and ACC sufferers. (Wayne did one 90 mile stint!)
On to the main part of the evening, Wayne did a recap of his first visit 4 years ago by getting members of the audience to say when a penalty occurred on 3 video clips. He used footage from Wasps v Worcester this season that he reffed. In two of the clips Wuss players "could" have been given off side and we all decided that there was no need to give a penalty, as play had not been interfered with. Then there was a clip show a Wasps player doing much the same thing and we all said "Penalty!" but after reviewing we agreed there was no effect on the play so no penalty. The point being that referees try not to blow their whistle for every offence they see as they want to keep the play going and not stop start all the time. That means we, the paying public, get to see more rugby.
Observation Test video
We were asked to watch the following video and count the number of passes the players in white make.
Observation Test video
So how many of the other things did you see? I had seen a video very much like this before and knew there would be a gorilla! I got the number of passes right but failed to notice one of the players in black walk off and the curtains changing colour! So his point was? Referees can't see everything on the pitch for the gorillas! Well something like that. If you are looking for something in particular, often you will miss other things, which happens to refs quite a lot!
Wayne is a very entertaining speaker which makes sure his points are remembered as you have so much fun!
We were also shown a fan favourite video of refs getting caught up in the action, as all fans love it when the ref gets totalled!
He then challenged members of the audience to a "Who wants to be a Millionaire" type quiz, but no money involved! The alternative title to the quiz was "'Who wants to be the T*sser in Black"
Members of the audience were selected and shown a video clip and had to say what the ref (always Wayne) should give from a choice of 4. To their credit, most got the right answer, if not with a bit of heavy prompting from Wayne. The one we all got wrong, was a try not given as the player hit the base of the corner flag which is counts as touch in goal so a 22 was given. I didn't know that the base of the corner flag was touch in goal! Just like the base of the posts is in the in goal area.
The final Million Dollar question was addressed to all of us and was "Will Worcester stay in the Premiership this season?" to which there was only one answer from us, a resounding Yes!
That was the end of Wayne's presentation and there was a break for the raffle then we went on to the question and answer session.
Around the room at half time
Q & A session.
He was asked about the recent criticism of himself from Steve Diamond about being a bit tardy arriving at LI v Sale. To which Wayne's repost was, his routine for that game was the same as it is for every game, Premiership, European or International. He gets to the ground about an hour and half before kick off, meets with his touch judges and then goes to check studs etc, at which point in the game in question the Sale players were still getting changed! He asks just one thing form his touch judges "If I miss anything please tell me, but only if it's clear and obvious".
There were loads more but if you want to know more you will just have to ask those who were there!
At the end if the evening Wayne apologised for not staying longer but had to get back to the Twickenham area that night as he and his young lady were off to New York early in the morning, as this was the only weekend he will have free until June! Oh the life of an International Referee!
At the end of the evening Darren gave Wayne a presentation cheque for £542 that was raised on the night for Get Ahead! Then someone promptly gave Wayne another fiver so that was a total of £547 Thanks to all for their generosity!
View a Printer Friendly version of this Story.
Was that a Gorilla on the pitch?
Comeonyouwarriors.co.uk (IP Logged)
29/01/2012 21:32
What do you think? You can have your say by posting below.
If you do not already have an account
Click here to Register
.
Edited 1 time(s). Last edit at 2012:02:09:20:20:30 by Powick Eastander.
Re: Was that a Gorilla on the pitch?
29/01/2012 22:02
An excellent evening and a great write up.

If you haven't been to one of the Supporters' Club nights and was wondering whether it would be worth it, I can recommend it, certainly!

Whatever you do, do it safely!
Sorry, only registered users may post in this forum.
More Worcester Warriors headlines
Worcester Warriors Poll