Season Review 25th April 2012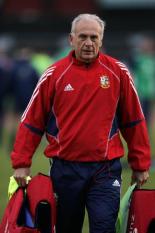 Phil Larder
By Silver Warrior
February 20 2012
Warriors Rugby Supporters Club will be holding a 2011 – 2012 Season Review on Wednesday 25th April at 7.30pm in the Pitch View.
These evenings have been held over the past few years and have always been very well attended. This year there will be some changes. Richard Hill and Phil Davies will be doing their normal presentation but we have a very special guest attending for the evening.
The Supporters Club are pleased to announce that Phil Larder MBE has agreed to come along for this year's event. As many of you know Phil has been working alongside the other Warriors coaches in helping tighten up our defence, and I am sure you will agree that he has done fantastic job.
For those of you who don't know much about Phil Larder MBE, he was originally involved with Rugby League where he coached both England Rugby League team at the 1995 World Cup and the Great Britain and Ireland Rugby League side on the 1996 tour of New Zealand. When he changed codes to union his first coaching roll was with Sale Sharks, he later moved on to Leicester Tigers where he helped them win 4 premiership titles and two Heineken Cups. Phil then went on to become England Rugby's first specially appointed defence coach, a position which he held during the 2003 Rugby World Cup, which England of course won! He was also involved in the 2001 and 2005 Lion's tours.
We are also hoping to be able to present our Player's awards on this evening and we will be holding a raffle for a signed shirt which has been kindly donated to us. Tickets for this raffle will be available at all home games from the Supporters Desk. All of the money from the raffle will go to the Academy to help provide vitamins and supplements which the young players require to improve their conditioning and recovery.
The WRSC look forward to welcoming you seeing you in The Pitch View on 25th April at 7:30. Please note that tickets are limited and with over 80 booked already this looks like it will another successful and busy night.
If you wish to come along to the Season Review then please pop in and see us at the Supporters' Club desk in the Lower Sixways / Scrum Bar before every Premiership home game or alternatively email us on wrsc.committee@gmail.com.
You can also vote for your Player of the Year and the Peter Watkins Young Player of the Year by picking up a voting form from the supporters' club desk and placing your votes in the box provided.