Heart Felt Thanks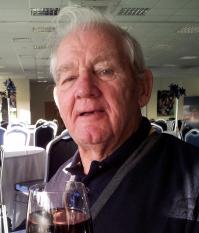 By Lindsay Clayton
March 4 2012
As many of you may know my Dad is the reason I am a Rugby nutter. He played and refereed and generally passed down his love of Rugby both union and league to me, of which the Union bit has well and truly stuck.
I have fond childhood memories of being glued to the TV during the 5 nations and being regaled with tales ofmy Dad's kicking prowess and how many tries he scored in 7's , all from my Mum who watched pretty much every game he played! Subsequent to this I have infected one of my offspring with my love of the game.
What most of you don't know is that my Dad is now suffering from Alzheimer's and has become fixated on the time in his life when he was at the height of his powers and playing Rugby for Sheffield Tigers and then Eastbourne and Sussex in the middle to late 1950's culminating in getting his 5th Sussex cap in 1958 and being awarded a Cap or a blazer badge. He proudly wears his Sussex RFU 1958 blazer badge whenever he can. Well the badge is getting a bit frayed from being transferred from blazer to blazer so I thought I would get in contact with Sussex RFU to see if I could replace the Blazer badge and put the original in a frame to preserve it for posterity.
Originianl 1958 Badge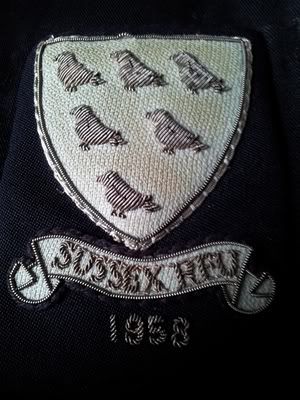 So I fired off a speculative email to the Sussex RFU and to my total amazement received in return a Sussex Tie, Blazer badge in the post and confirmation of the games Dad played in by email.
I am not sure that many can understand how truly touching this sort of thing can be to an Alzheimer's sufferer and their family and carers. Dad is over the moon with the badge and tie and is amazed that there are still records of his games for Sussex.
I have thanked those involved but wanted everyone to know that real kindness is still to be found in this busy world of ours.
New Sussex Badge and Tie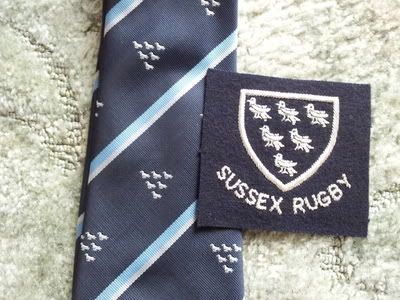 View a Printer Friendly version of this Story.
Heart Felt Thanks
Comeonyouwarriors.co.uk (IP Logged)
04/03/2012 13:53
What do you think? You can have your say by posting below.
If you do not already have an account
Click here to Register
.
Re: Heart Felt Thanks
04/03/2012 18:03
Proper rugby response I'd say, thanks for sharing it, as you say, Heartwarming.
Sorry, only registered users may post in this forum.
More Worcester Warriors headlines
Worcester Warriors Poll