So, what have I seen so far this season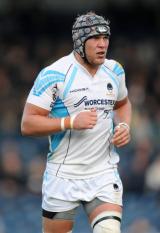 James Percival
By WarriorPhill
October 24 2012
This Friday (26th October) we go into a home clash that could have a massive impact on our finishing position in the premiership this season, with a team many, prior to the start of the season, predicted big things for. This got me thinking about my preseason expectations, where we are against those and what has actually happened so far.
I admit that I am an optimist and based on the preseason games I went to, I 'predicted' that we might be able to finish in 7th place, come the end of the season. In part that was based on the following assumptions:
1. Some quality signings and clever replacement of leaving players 2. We have a new back room structure designed to bring victories 3. Some of our younger talent coming of age 4. Most importantly, these guys scoring less than us: a. Welsh b. Irish c. Wasps d. Bath e. Gloucester
We no longer have our international window advantage over other teams so a great start and solid home performances were needed.
Before the season started I expected, after having played; Bath, Tigers, Gloucester, Saints, Irish and Wasps 16 points in the league. We currently have 11. Now this could be 'justified' by the lost points due to the referee's in the Bath and Gloucester games; but at the same time you could argue that if we had been further in front by the 80th minute that such decisions would not have had any affect in us.
What we have seen, so far is a host of great performances, records being broken, set and re-broken (admittedly in Europe not so much the premiership) and the emergence of some attacking rugby from the blue and gold of Worcester Warriors.
Andy Goode has played well and kicked well in all of our games, to such an extent that Joey has not really had a look in. This has led to him spending most of his pitch time at 12 or 15.
James Percival, for me, was in our top 2 or 3 performers last season and he is right up there again this season. Adding to his performances with his first Warriors try, against Bath. I wonder how many canny Warrior fans would have been on the 66-1 he would have returned that day?
Shaun Perry has been unlucky with a recurrence of his injury from last season, it would seem, but his start to this season had not been going too well, especially with his extremely cynical actions at Tigers, leading to his yellow card and our second yellow card of the game, following Chris Pennell's earlier binning. Considering we spent 25% of the game with 14 on the pitch our 34-26 result, just missing out on the LBP could / should be considered a good performance.
I think the Gloucester game was the start of the young guns coming through and pushing for places. James Currie arrived on the scene scoring a great forwards try, though his performance and 69th minute score were not enough to prevent the eventful 16-16 full time score.
The Saints game was one of the strangest performances I have ever seen in the premiership. Having only scored 3 points in the first half and Saints already in possession of the try scoring bonus point we proceeded to score 4 tries in 16 minutes, scored by 4 subs including Ollie Hayes, on for Aleki Lutui. This game also saw a performance from Josh Drauininui that landed him in the premiership team of the week.
The London Irish game woke the fans up, after a slow start and being 0-8 down after 18 minutes Aleki Lutui got the score board rolling, in the right direction, followed by 3 consecutive kicks from Andy Goode and Lemi, Taulava and Clarke dotting over to end an emphatic bonus point victory 35-11.
The following game, away the Wasps brought us crashing back down to earth! Having sat through last seasons 0-6 win away to Wasps I wasn't expecting another score line like the one against Irish, but I was hopeful, maybe even expectant of a victory. 1 penalty and 1 drop goal from Andy Goode provided the losing bonus point, but the performance did not seem to be there to dig out a victory. It was at this point the management declared, maybe rightfully so, that some players had been tired due to playing so much rugby, caused by the absence of 12 first team players due to knocks picked up during pre season.
The facts:
We have played 6 of 22 games, scoring 137 points and conceding 132 with 11 points including 5 bonus points. There are 5 teams that have scored less than us, and 4 teams that have conceded more than us. Currently we have the most bonus points in the league, shared with Wasps, one place above. There are 2 teams below us that have won more games, but one massive improvement from last season is we are keeping or ending games closer or close enough to get a point.
If we can continue in this form, then it would be possible to end the season on:
40 points including 18 bonus points
502 points scored
Now I know there are flaws in my thinking, but based on the numbers above and last seasons table, I figure this puts my prediction of a 7th place finish just off pace and potentially would result in another 10th place for Worcester Warriors. Though it would mean we scored 180 points more than last season and on a par with last seasons 7th place finishers London Irish. With all of that in mind I think I will adjust my prediction to 8th but that we will score more points, bonus points and tries than any previous premiership season.
Last season we only scored 23 tries in the entire premiership season. This season we have averaged 2 per game and using my self-acknowledged unscientific extrapolation to the end of this season we should end scoring 44 tries, almost double that of last season. So if nothing else, I am confident we are and will be seeing more exciting rugby as Worcester fans this season, which cannot be a bad thing!
View a Printer Friendly version of this Story.
Comeonyouwarriors.co.uk (IP Logged)
Unregistered User
So, what have I seen so far this season
What do you think? You can have your say by posting below.
If you do not already have an account
Click here to Register
.
Edited 1 time(s). Last edit at 2012:11:20:11:03:37 by Powick Eastander.
Reply•Quote
Brummagem Bertie (IP Logged)
Registered User
Date Joined: Apr, 2007
Location: Our living room, usually.
Posts: 4553

WarriorPhill (IP Logged)
Registered User
Date Joined: Mar, 2011
Location: Worcester
Posts: 2288

Sorry, only registered users may post in this forum.