The Last Farewell.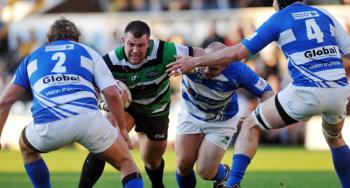 Last tango?
By Haxbytyke
April 18 2012
This Saturday the curtain comes down on a very disappointing season for Leeds Carnegie when they take on Cornish Pirates in their final game of the Championship season.Only a few weeks ago, Leeds gained a very creditable draw down in Penzance in the first of their play off games, and hopes were high we could progress through the group stages, to qualify at least for the semi final play off games.Sadly, results and performances since, have decreed otherwise, and this weeks' fixture has become a fairly meaningless game. Much has been said, unofficially, about the internal problems at HC, but whether they are true or otherwise, Saturday gives the players a chance to end the season in style. Many will be pulling on a Leeds shirt for the last time, so we can only hope they will go out to prove a point, and give us a winning finale
I don't think anybody would doubt, that on their day, the current Leeds squad are a match for anybody in this league, but inconsistency has been their downfall, and not only have Leeds failed to gain promotion, but in some ways the whole future of the team we support has been thrown into doubt.
Players, who were outstanding in the Premiership, have not been the foundation we had hoped this time around, while others, who struggled last season have looked completely at home playing at this level. How many of these will be here next season remains to be seen.
What happens to Leeds as a club may become clearer next week, but whoever is selected on Saturday must show the fans they care about the club. My hope is that Diccon Edwards knows who these players are, and selects them in his team, regardless of whether they are staying at Leeds or not.
The result on Saturday will have no bearing on where either side plays next season, but I want to see a Leeds side committed to the cause, and end the season with a bang.
If I was picking the side, and they were all fit, then I would go for, Mac., Plug. Denman, Dents, Pendelbury, Beck, Walker, Rowan, Hampson, Ford, Stevo, Barrow, Bell, Blackett, and McColl. I'd have Freer, Lockwood, Mo, Danny, Hohneck, Cliff, and Davies on the bench, and hope we would see a performance filled with pride, regardless of the result.
I know that would not be everybody's choice, but it would give players who have given 100% to Leeds Carnegie a chance to say farewell. I would like to thank them for their efforts, and say they will be missed.
More Yorkshire Carnegie headlines
Yorkshire Carnegie Poll