A first time for everything.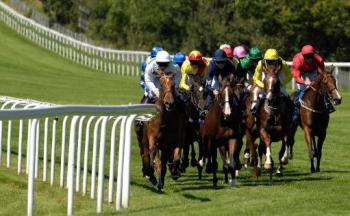 One horse race?
By WW
November 21 2016
On Friday night Yorkshire Carnegie travels to West London for a first meeting with Richmond rugby club. As things stand the Richmond lads are adrift at the foot of the table so this is unlikely to become a regular fixture. However Richmond won the game against its kilted tenants at the weekend and will want to consolidate that with a win against our squad.
The lads finally gave a good defensive account of themselves in last Friday's derby match against Doncaster. For the first time this season we stopped the opposition scoring a try.This has been one of the aspects of our game that has caused much concern amongst supporters. It would appear that someone at the club, hopefully the head coach, has finally realised that strong defence is an integral part of the game if you want to be considered as a serious contender.
We kept a fairly unchanged team for the Doncaster game. The two changes, Beck in at lock and Casson into the centre will have strengthened our defensive capabilities. I am hopeful that we did not sustain any injuries last Friday. Continuity has to be part of the programme going forwards though I appreciate that changes will be necessary as we get into the winter programme.
On paper the game at the RAG on Friday night looks to be a formality. I hope that the players and coaches do not make any assumptions about the opposition other than that they will throw everything at us. Observers have noted that the Richmond pack has been improving week on week. After the club got it's first win against London Scottish last weekend there will only be one thing on the players' minds this week - how to knock over Yorkshire Carnegie. Our pack will have to see off the home eight if we are to prevail. That said I seem to recall that the RAG is a big pitch so if we have possession we will have the space to take advantage of.
This week's game is the second of three consecutive Friday night games for Carnegie. Friday night is the marmite of the fixture days. You either love it or loathe it. One advantage of getting your fixture completed on Friday is that you can then relax and watch everyone else slip up. It will be interesting to see if the club arrange more games under lights.
A defeat for Carnegie on Friday would undo much of the good work put in since the LI game. We do not need anything spectacular just a solid performance with good game management and few unforced errors. I think we can and will win this game. I am taking Carnegie to win by 12 points.
More Yorkshire Carnegie headlines
Yorkshire Carnegie Poll