Lack of preseason matches shows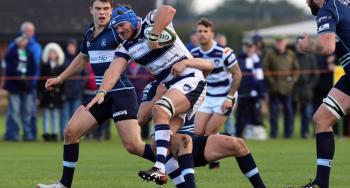 By Gelbel
September 3 2017
Anyone can read the match report to learn Yorkshire Carnegie's injury-riddled, small squad lost their season opener against London Scottish under a cloudless sky at Richmond.
Yes, the lack of preseason matches told, the penalty count in the second half was high, the attacking lineout was still on holiday, there were handling errors and the kick-off was a horror show. But for all those boo-hisses, we're doomed, it'll all end in tears moments, there was a twenty five minute spell of optimism and several pockets of skill to be seen.
Jack Whetton, who came on during the first half for Sanderson, got the ball from several rucks and mauls, ripping out any loose ball from them and carried well.
Elder was fearless under the high-ball and not distracted from his father 'coaching' any time the ball was near the full-back. He's an eye for a gap and scored two good tries.
Joe Buckle is from the Joe Graham School of Hookers – not great at hitting his man but mobile in the loose.
New winger George Watkins was lively in the first half, not so in the second due to lack of opportunities.
Green and Davies were, on the whole, delivering quick ball. The box kick was used twice to good effect.
New loanee Will Homer might be a scrum half but he's as fast as anyone I've seen on the wing for Yorkshire Carnegie. He's also strong and has great spatial awareness as he avoided touch when he was bundled towards it while keeping the ball alive.
Callum Irvine doesn't do long kick offs – we nearly got hold of the ball on his first one.
Lucock and Beech had good matches, Captain Mayhew was quiet but effective.
The away kit is really quite nice – think chocolate limes!
It's not all good.
Davies needs a lot of kicking practice – for penalties and conversions, at the moment I'd be worried in tight matches. He doesn't make much yardage kicking for touch – standing at too acute an angle. Quite a few conversations with other supporters (we always see lots of Yorkshire Carnegie support from Yorkshire Exiles when we're in Richmond) went down the "Why not give it to Stevie to hoof it?" route.
I've mentioned the lineouts – too many long throws were turned over, the shorter ones were more effective.
In the second quarter, London Scottish looked tired and were puffing and blowing and sweating more in the hot sun. That's when Yorkshire Carnegie took control of the match. We thought that was a good omen for the second, but the lack of match fitness from no preseasons showed with the penalty count and mistakes racking up.
The Scottish bench was used for impact, ours was used to cover knocks and injuries.
One of the opposition's bench was a product of the Curtis Wilson School of Hairdressing!
After the match, a few players shared some honest, disappointed views and a determination to fix it by Friday. Time will tell – how fortunate an evening match at Nottingham is on the way to a big family celebration weekend in Bristol!
More Yorkshire Carnegie headlines
Yorkshire Carnegie Poll